In the last few weeks I had occasion to book several last minute domestic flights.  In each case, there were cheap cash or mile-redemption options, but only with connections.  Nonstop flights were insanely expensive.
On the outbound portion of one trip, I booked United Airlines for only 12,500 miles (and I used the trick described here to avoid close-in ticketing fees).  The flights were fine.  I didn't get beat up.  But I spent half the day flying a route that would have taken less than two hours direct.
My return flight was also booked through United, but as a separate ticket.  Since I had booked it the day before, I knew that I had until midnight to cancel with no penalty.  I decided to take another look at non-stop options.  Each flight that worked with my schedule was listed at $465.  Could I find a cheaper option?
Award prices for these flights from Greensboro to Detroit were also very expensive, but I remembered a trick I had written about before.  Delta often prices awards from Greensboro to Buffalo much cheaper even if the flight includes a layover in Detroit.  In this case, that wasn't so, but it reminded me to try skiplagging (AKA hidden city ticketing).
Hidden city ticketing is the technique of saving money by booking a discounted flight with a layover in the city where you actually want to go.  The idea is simply to get off at your intended destination and skip the final leg of the trip.
ITA Matrix vs. Skipplagged
I often use a tool called ITA Matrix to find the best flight deals.  It requires a modest learning curve to get up to speed, but it's incredibly powerful.  For my destination, I selected all airports within 1000 miles of Detroit.  And, in the advanced routing codes I put "DTW DL+".  This meant that the tool should only search routes that include a stop in Detroit (DTW) and with one or more Delta segments (DL+).  Since I knew that only Delta flew nonstop to Detroit, I didn't want to bog the tool down looking at other airlines.
This trick worked.  ITA Matrix found a $200 flight to Chicago with the 7:25am nonstop to Detroit as the first leg.  It also found a $249 flight to Toronto with the 12:45pm flight as the first leg.  I decided to splurge and booked the flight to Toronto so that I could sleep in.
Another option I could have used was Skiplagged.  Skiplagged is a consumer friendly tool which requires almost no training and it is able to find not just hidden city fares, but also cheap round-trips where you can discard the return.  Out of curiosity, I checked Skiplagged to see if it could find the same or better options than ITA Matrix.  In this example, it found the $200 Chicago option, but not the $249 Toronto flight.
Nervous flying
One downside to booking hidden city tickets is the potential for things to go wrong.  Of course, you should never check bags when doing this since you wouldn't want those bags to end up at the ticketed final destination.  But what if there are weather or mechanical issues?  If the first leg of your flight is cancelled or massively delayed, the airline may try to reroute you to your final destination.
Even though I've known about hidden city ticketing for years, I think this was the first time I've actually flown one.  As a result, I was a little bit nervous.  If anything went wrong, Delta could easily reroute me through Atlanta or LaGuardia to Toronto.  So, I had a story ready…  Since this flight to Canada was booked last minute (true), I didn't have my passport with me (false).  I had to stop in Detroit to get my passport.
Fortunately, I didn't have to use my "I have to stop in Detroit" story.  The flight was fine.  And there were no repercussions.  I earned miles and medallion qualifying dollars based on the segment actually flown.  Excellent.
A couple of weeks later, I had to fly to Los Angeles for one night.  I again turned to ITA Matrix, but I believe that Skiplagged would have worked just as well.  For my outbound flight I booked Detroit to LA to Oakland.  I booked the return separately: LA to Detroit to Kansas City.
This trip required being prepared with more creative stories since both itineraries were on the same carrier.  In case someone noticed the odd back to back bookings, I wanted to be ready to answer why I was flying to Oakland one evening and flying from Los Angeles the next morning?  My prepared answer went something like this: I have a quick meeting in LA and an evening meeting in Oakland.  The next morning I'll fly Southwest to LA to position for my next flight. 
The flight to Los Angeles was uneventful.  I was even upgraded to first class.  That evening, at a US Bank event, I met the New York Times' Frugal Traveler, Lucas Peterson.  We talked about credit cards, points & miles, and travel.  When I mentioned that I had used hidden city ticketing techniques to book the trip, he said that he wouldn't do it.  He had heard that if you put your frequent flyer number on the flights, the airline could close your account and take away all of your miles.
I hadn't thought of that angle.  I knew that airlines didn't like people to use these tricks to save money, but I also knew that it was perfectly legal.  At the same time, it is also legal for airlines to take away your miles for almost any reason.  This had me a bit worried.  I had used my Delta SkyMiles number on these flights.  After all, I have top level status and hoped to get upgraded both ways.  Even though I knew that the chance of repercussions were very small, I realized that the potential loss was great.
That night I Googled to see if it was common for airlines to shut down customers who do this.  I found a Skift article that said that "Intentionally dropping airline segments can easily get one kicked out of a loyalty program citing an airline's contract of carriage."  That was scary, but they didn't post any evidence of this actually happening.  Through other search results, I found a few mentions of airlines warning passengers not to do this, but I didn't see proof of actual shutdowns.  Admittedly, I didn't search very long or hard, but just enough to satisfy me that the chance of repercussions were extremely low.
My final flight worried me for another reason.  The flight to Detroit was oversold.  And, coincidentally, a direct flight to Kansas City, one gate over, was scheduled to leave just 5 minutes earlier.  Remember that I was booked to Kansas City via Detroit.  If Delta was clever, they would realize that they could offer me a direct flight rather than a connecting flight and save the cost of bumping someone else.  Of course, in this case, I wouldn't take that offer, but normally it would be a win-win for everyone involved.  Just in case, I had to have a good "must get to Detroit" story ready: I didn't pack for my Kansas City trip. My wife is planning to meet me in Detroit with my packed luggage.
In the end, nothing bad happened.  I wasn't asked to change flights.  I got to Detroit on time.  Delta credited my account with the flight.  The only bad part was that neither the flight's wifi nor the in-flight entertainment worked.  Normally I'd ask for compensation (extra miles) when this happens, but I didn't want to draw extra attention to this flight.  I let it go.
Is it wrong?
Booking flights with the intention to skip segments is legal, but whether it is ethically right or wrong is a matter of debate.  The NY Times ethicist says that skiplagging is totally fine.  He writes:
Purchasing something doesn't mean you're obligated to consume it in totality. You can use whatever portion of the purchase you choose. If you buy a loaf of bread, you don't have to eat every slice.
Yeah, but… when you book a ticket you presumably agree to the airline's terms which bar this practice.  Isn't it wrong to agree to something that you don't plan to adhere to?  Also, one could argue that not only is it wrong to lie, but simply planning to lie in case of irregular operations is wrong too.
Personally, the ethical considerations don't bother me nearly as much as the practical worries I described above, but you should decide for yourself whether you feel it is right or wrong.  I'll respect you in the morning either way ;).
Skiplagging Rules and Suggestions
I don't plan to book hidden city tickets often, but when circumstances demand it, it can be a useful tool.  If you decide to try it, consider the following suggestions:
The segment you plan to skip must be the last segment of your itinerary.  If you fail to show up for an earlier segment, most airlines will cancel the rest of your trip.  In general, this means that you should book these flights as one-ways as I did in the Los Angeles example, above.
This technique only works when you are flying to a connecting airport (ideally a hub).  For example, Detroit to Greensboro would not work because Greensboro is not a connection point to any other destinations.  However, Greensboro to Detroit worked because Detroit is a Delta hub.  Many connecting flights go through Detroit.
Never check your bags.  You do not want your bags to end up at your ticketed final destination.  There are exceptions to this rule when flying internationally since you sometimes have to retrieve your bags along the way, but you seriously need to know what you're doing if you rely on this.
Avoid gate checking bags.  In some cases when gate checking bags, the gate agent may try to check your bag all the way to your final destination.  If you are forced to gate check your bags, make sure that it is checked only to your intermediate destination.
Consider leaving your frequent flyer number off the ticket.  If you're worried about the possibility of losing your miles, you may be better off simply not earning miles at all for the flight.  One big downside of this approach is if you have elite status: you won't get any benefits during the flight and you won't earn elite qualifying miles.  Personally, I think I'll continue to chance it.
Always have a story ready.  In case of irregular operations, the airline may try to reroute you to your final destination.  Have a story ready about why you need to get to that connecting airport.
Don't try this with kids.  I would only do this when flying alone.  By myself, if I get stranded somewhere I didn't mean to be, I can deal with it.  I think it would be much harder to deal with if an entire family was traveling together.
Try it with miles.  The techniques presented here can work just as well with airline awards, but it can be a bit harder to find those opportunities.  Airlines that tie award prices to ticket prices, though, are pretty easy.  If you see a hidden city opportunity with Southwest or JetBlue, for example, you will probably find that you can get similar savings by booking that route with miles.
View from the Wing offers additional tips here: Using Hidden City and Throwaway Ticketing to Save Big Money on Airfare.
Skiplagging Tools:
Skiplagged is ridiculously easy to use, but it doesn't always find every possible hidden city opportunity.
ITA Matrix is much less intuitive, but it is also more powerful.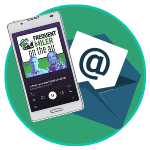 Want to learn more about miles and points?
Subscribe to email updates
 or check out 
our podcast
 on your favorite podcast platform.