With airfare prices going sky high these days, it was high time for me to update this post. This post is intended to be a quick lookup guide.  Before you book a flight, skim through these options to see if there's a viable option to save money or miles.  If you know of additional tips that belong here, please comment below!
Companion tickets & discounts (save money or miles)
Click through any applicable companion discount listed below to go to the relevant section in our Complete Guide to Travel Companion Tickets.
Book round trip instead of one way (save money)
It's less common than it used to be, but airlines still sometimes charge far less for round trip flights than two one-ways.
Book positioning flights separately (save money or miles)
Let's say there's a great sale to Europe from your home airport, but your desired European destination is not included in the sale.  You can often still save money or miles by booking that flight and then buying a cheap flight to your desired destination.  This can also work at the other end.  For example, perhaps there's a great deal on a flight from Chicago to somewhere in the world you want to go, but you don't live in Chicago.  You can separately book a cheap flight that positions you in Chicago.
Caution: Leave extra time for connecting from one airline to another. When flights are booked separately like this, it's up to you alone to deal with missed connections.  It can also be a hassle dealing with checked bags when doing this since airlines will usually refuse to check the bags through to flights booked separately (there are exceptions though so it's worth asking).
Vacation packages (save money)
Bundled air + hotel vacation packages sometimes offer far better flight prices than those available directly from the airlines unbundled.  If you don't need the hotel portion, you may be able to book the cheapest hotel option for just one night (and throw it away) even if you plan to stay at the destination far longer. Alternatively you may be able to bundle a car rental instead of a hotel.  As an example, I've saved tons of money in the past booking Delta Vacation flights + car rentals to Hawaii.  In those cases, it was significantly cheaper to buy the vacation package, with the needed rental car, than airfare alone.
Book flights with partner airline miles (save miles)
It's weird but true that it's often cheaper to book a flight with miles from a partner airline rather from the airline operating the flight.  For example, you'll sometimes do better booking Virgin Atlantic flights with Air France miles, and you'll sometimes do better booking Air France flights with Virgin Atlantic miles!
Use a tool like AwardHacker to find the best theoretical price in miles for the flight you want (it won't show you if the award is available, but it will show how much it would cost in miles if it were available).
More tools can be here: The tools we use (for playing the game)
Book saver business class instead of standard economy (save miles)
When searching for award flights, don't forget to check for business class awards even if you're fine with economy.  Sometimes the cheapest economy award flights simply aren't available when you need them.  But, you may find that cheap business class awards are available.
Maximize value on pay with points bookings (save points)
Many pay with points reward programs offer a fixed value of 1 cent per point.  In some cases you can do better.  Here are some examples:
Amex Membership Rewards: Get up to 1.5 cents per point value with the Amex Business Platinum card, or up to 2 cents per point with the Centurion card.  More details can be found below, under "Earn a rebate on pay with points bookings".
Chase Ultimate Rewards: Get 1.5 cents per point with a Chase Sapphire Reserve card.  If points are in another account, move them first to your (or a household member's) Sapphire Reserve account before booking travel through the Chase portal.  You can similarly get 1.25 cents per point with the Sapphire Preferred or Ink Business Plus card.
US Bank: Altitude Reserve cardholders automatically get 1.5 cents per point value for travel booked through the US Bank portal.  It's also possible to get 1.5 cents per point value via Real Time Mobile Rewards.
Wells Fargo Visa Signature (no longer available to new applicants): Get 1.5 cents per point value when points are used for airfare.  Spend $50K on the card within a year to bring that value up to 1.75 cents per point.  If you have points on another Wells Fargo account, such as the Propel card, you can move those points to the Visa Signature card to make them more valuable.
Earn a rebate on Amex pay with points bookings (save points)
The Business Platinum card offers a 35% Airline Bonus.  When you redeem Amex points through Amex Travel for either a First or Business class flight on any airline, or for any flights with your selected airline, you get 35% of the points back.  This results in just over 1.5 cents per point value for flights.  Even better, if you have the Centurion card and use points to book any flight, you'll get a 50% rebate.  This results in 2 cents per point value.
Amex Insider Fares (save points)
If you have enough Amex Membership Rewards points to cover the cost of the fare, then you'll be eligible for Amex Insider Fares when searching for flights via Amex Travel.  Discounts appear to range from less than 2% to about 15%.  This example shows a 13.5% discount:
When booking Insider Fares, you are required to pay with Amex Membership Rewards points.  Since it is often possible to get much better value by transferring points to airline programs, I don't recommend using this feature unless you have the Business Platinum card which offers a 35% Airline Bonus (Get 35% of your points back when you redeem points through Amex Travel for either a First or Business class flight on any airline, or for any flights with your selected airline), or if you have the Centurion card which offers a 50% rebate.  If you do have one of those cards, then insider fares are a great way to save more points.
Book premium cabin international flights w/ Amex Platinum card (save money)
Anyone with an Amex Platinum or Centurion card can potentially save money by booking international premium cabin flights through Amex.  Amex's International Airline Program has the following rules:
Travel must originate in and return to U.S. gateway (may exclude certain overseas territories) and select Canadian gateways.
One-way travel permitted on some airlines where routing originates in U.S. or select Canadian Gateways.
Available service classes in First, Business or Premium Economy are subject to airline availability.
Card Member and up to seven additional First, Business or Premium Economy Class passengers must travel on same air itinerary.
There's a $39 per ticket servicing fee for Platinum members (waived for Centurion members)
Via this program, I was personally able to buy Premium Economy flights for less than economy.  See this post for more: International Premium Economy for less than coach.  Amex's details about the program can be found here.
Book cheap then same day change (save money or miles)
Whether booking with miles or money you may find that the 5am flight is cheap, but the flight you really want is expensive. Each airline has different same day change policies, but it many cases it is possible to book that cheap flight and then call the day before (or day-of in some cases) to get a confirmed change to the flight you really want.
Most airlines charge a fee for this unless you have high level elite status with the airline.  In some cases you won't be able to confirm the change, but may be able to stand by for the desired flight.
This is the type of thing that you wouldn't want to do unless you're willing to go on the originally booked flight in case things don't work out the way you hoped.  I've occasionally done this when flying alone, but would never do it when traveling with my family.
Book throw-away segments (save money or miles)
This trick, which is known as hidden city ticketing or skiplagging, goes against airline rules but is not illegal.  I covered the topic in depth here: Skiplagging for the best flights at the best price.
In case you don't want to read that, here are bullet points from that post:
The segment you plan to skip must be the last segment of your itinerary.  If you fail to show up for an earlier segment, most airlines will cancel the rest of your trip.  In general, this means that you should book these flights as one-ways as I did in the Los Angeles example, above.
This technique only works when you are flying to a connecting airport (ideally a hub).
Never check your bags.  You do not want your bags to end up at your ticketed final destination.  There are exceptions to this rule when flying internationally since you sometimes have to retrieve your bags along the way, but you seriously need to know what you're doing if you rely on this.
Avoid gate checking bags.  In some cases when gate checking bags, the gate agent may try to check your bag all the way to your final destination.  If you are forced to gate check your bags, make sure that it is checked only to your intermediate destination.
Consider leaving your frequent flyer number off the ticket.  If you're worried about the possibility of retribution from the airline, you may be better off simply not earning miles at all for the flight.
Always have a story ready.  In case of irregular operations, the airline may try to reroute you to your final destination.  Have a story ready about why you need to get to that connecting airport.
Don't try this with kids.  I would only do this when flying alone.  By myself, if I get stranded somewhere I didn't mean to be, I can deal with it.  I think it would be much harder to deal with if an entire family was traveling together.
Try it with miles.  This technique can work just as well with airline awards, but it can be a bit harder to find those opportunities.  Airlines that tie award prices to ticket prices, though, are pretty easy.  If you see a hidden city opportunity with Southwest or JetBlue, for example, you should find that you can get similar savings by booking that route with miles.
British Airways stackable discounts (save money) for BA, AA, and Iberia flights
By stacking offers, it's possible to save a lot of money on AA, British Airways, and Iberia business class fares to Europe:
Up to $200 off for AARP members for flights.

10% off for British Airways cardholders (but you may be able to use any Chase Visa card)
Full details can be found here: Extreme Stacking British Airways, AA, and Iberia flights.
Delta round-trip awards (save miles)
Delta frequently prices round-trip awards considerably cheaper than two one-way awards.  In fact, it is sometimes possible to save miles by booking a round trip award even if you intend to throw away the return flight.
Earn a rebate on JetBlue award bookings (save miles)
The JetBlue Plus card and the JetBlue Business card offer 10% back on awards.  I previously determined that JetBlue points average approximately 1.43 cents in value.  After a 10% rebate, that value jumps to 1.59 cents per point.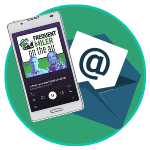 Want to learn more about miles and points?
Subscribe to email updates
 or check out 
our podcast
 on your favorite podcast platform.