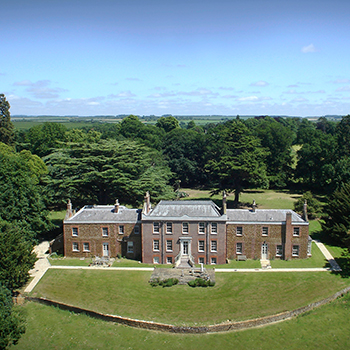 Wyndham Rewards is running a smoking hot promotion: You can book an entire "cottage" in Italy, France, Ireland or the UK for just 15,000 points per night.  I just got off the phone after booking the "cottage" pictured above. It has 9 bedrooms and 6 bathrooms. And that's not the biggest one.  This one has 10 bedrooms and a nice space for a dinner party:
Typically, these properties cost 15,000 points per bedroom.  I just spoke with a Wyndham rep about the promotion and I pushed to find out whether it is really limited to the first 50 people. The rep maintained that they really are capping it at 50. I was surprised to hear that I had been only about the 15th person to book.  I was also told that I was lucky to have called later in the day — apparently there was confusion over a value cap. Earlier today, reps had been instructed to tell people that the promotion had a maximum value of $300 per night, but this turned out to be incorrect — there is no cap as to the value of the property. (so I've been told). The cash rate for two nights at the property I booked would be $2,468.21, and it was bookable for 15,000 Wyndham Rewards points per night.
Worthy of note, you are not able to instantly book via the phone. Rather, they deduct the points from your account and put the property "on hold". This apparently reserves the date so that others can not take those dates.  I was told that a cottages specialist would reach out to me via phone or email within the next week to finalize the booking.  The cancellation policy I was given was 14 days prior to arrival, though I was told that this would vary by property.
Searching availability was relatively easy.  The phone agent was able to search by country, number of nights, and number of guests and then general dates (I gave a 3-month range).  Some properties are smaller — most of the available properties in France and Italy would sleep only 5 or 6 people while there were many larger properties in the UK.
Click here to see a list of some example properties and to search for availability online.
 Big hat tip to Doctor of Credit.