Update: Thanks for all of the reader input! It looks like this must have been a Staples POS issue that affected all stores for a short time yesterday and has since been resolved. Many readers reported success before and after.
Yesterday, we received a question in a private message from a reader at the Frequent Miler Facebook page:
We suggested that this was probably a fraud alert and that the reader contact Chase about it. That reader later wrote the following:
While somewhat concerning perhaps, on its own this did not seem out-of-the-ordinary. After all, banks randomly place fraud alerts all the time when they sense what could be a suspicious transaction. Typically, a simple phone call resolves the situation. This seemed like a mere fluke.
Or was it?
However, I noted with interest this morning a comment from another reader in our recent post about the current Staples $20 rebate on $300 or more in Visa Gift Cards.
That makes two readers who had trouble buying Visa Gift Cards at Staples using a Chase Ink credit card in the same day. If once is a fluke, maybe twice is a coincidence. Although it still seems notable when you consider that Paul was able to run the candy transaction successfully. It would seem that this isn't a fraud alert, but rather consistent with what our Facebook friend above reported — that the failure in transmission was on Staples' end. That wouldn't sound good.
Further Investigation Necessary
Of course, two isolated reports is still a very small sample size. I next went through resources like the reddit churning forum, where I didn't immediately find similar reports. However, when I went to the Doctor of Credit post about this week's Visa Gift Card rebate at Staples, I found this comment from yesterday:
Even if we disregard once as a fluke and twice as a coincidence….three times is starting to sound like a pattern. With two readers reporting that Chase specifically said the charge wasn't denied on the bank end and the third reader reporting that the Ink card still worked on a candy purchase (indicating that the VGC purchase was denied by Staples rather than Chase), it is beginning to look like there was either a repeated register malfunction yesterday or a change is brewing at Staples. If it is in fact a change, I would suspect it affects all credit cards, not just Ink cards.
More data points required
Three data points is still far too limited to know whether this is in fact a policy change. As this week's Staples Visa Gift Card rebate has a one-per-household limit, I would imagine a lot of people have already completed the offer for this week. I won't be in the vicinity of a Staples until this weekend to test it out. If you have purchased VGCs at Staples yesterday or today, please share your data points on this developing situation. Hopefully, these were isolated incidents. We appreciate your input in helping to determine that.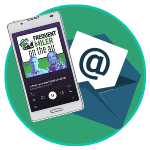 Want to learn more about miles and points?
Subscribe to email updates
 or check out 
our podcast
 on your favorite podcast platform.