While I love Hyatt's loyalty program, it's frustrating that they don't offer an award availability calendar.  Hyatt does offer a point price calendar, but it doesn't show whether award nights are actually available.  This is especially frustrating for the most popular hotels that rarely have availability (Ventana Big Sur, Andaz Maui, Calala Island SLH, etc.).  Now, thankfully, there's a tool that can help!  It offers calendar displays of availability and the ability to set alerts to be notified when award space to opens.  Not only that, StayWithPoints (affiliate link) also supports Marriott and Hilton.  Marriott and Hilton already have award availability calendars, but this tool is still incredibly useful for looking at an entire year at once and for setting both fixed and flexible alerts to find out (for example) when 5 nights in a row are available so that you can get the 5th night free with Marriott or Hilton.
Overview
StayWithPoints is a web tool that makes it easy to find award space at hotels around the world.  With many hotels it provides a full year view of availability.  Additionally, it offers the ability to set fixed date or flexible date alerts so that you'll be notified when award space opens.
Beta Details
Free to use
Max 5 standard (fixed date) alerts
Max 1 flexible date alert
Unlimited award calendar views
As I write this, StayWithPoints is still in Beta, but I've found it useful enough as-is to be worth recommending.  At the moment the tool is free, but once it is launched (which is expected within the next few months), there will be three pricing tiers:
Free Tier
1 standard alert (fixed dates) per account (3 hour frequency)
limited award calendar views
Basic Tier – $4.99/month
5 standard alert (fixed dates) per account (1 hour frequency)
Unlimited award calendar views
Premium Tier – $12.99/month
15 standard alert (fixed dates) per account (1 hour frequency)
2 flexible date alerts per account
Unlimited award calendar views
Obviously the tool is well worth using now while it's free.  Whether it will be worth paying for later on will depend on how valuable the tool's features are to you.
Monitored Hotels
StayWithPoints keeps track of award availability with a large number of popular hotels.  I don't know how they select which hotels to monitor, but many of the aspirational hotels that people tend to blog about are there.  For example, Nick has written about and compared the popular Conrad Bora Bora and St. Regis Bora Bora hotels and both are monitored by StayWithPoints: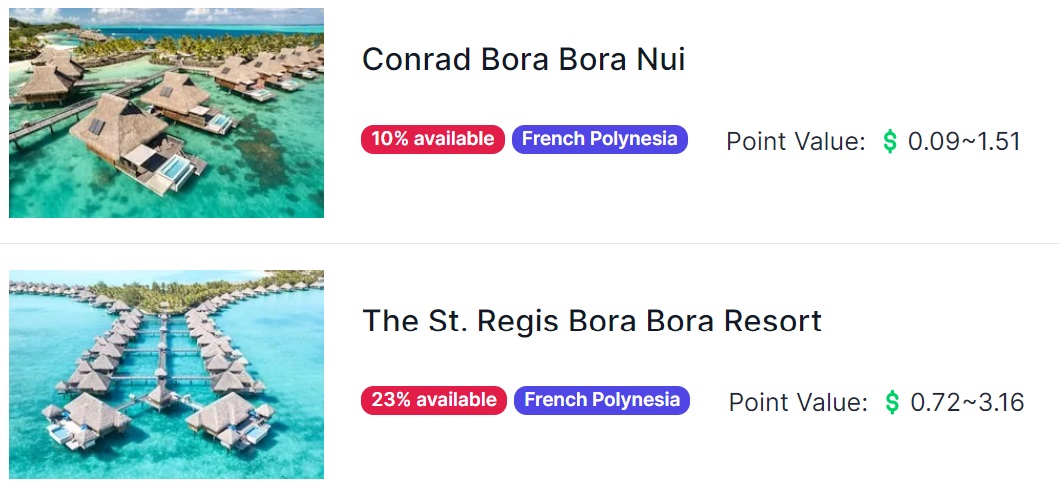 Other popular hotels that are monitored include Andaz Maui (Hyatt), Alila Ventana Big Sur (Hyatt), Calala Island (SLH property bookable through Hyatt), Park Hyatt Beaver Creek, Park Hyatt Maldives, Park Hyatt Paris, Zemi Beach House (Hilton), Grand Wailea Waldorf Astoria (Hilton), Conrad Maldives (Hilton), Mystique Santorini (Marriott), and many many more.
With each of these monitored hotels, StayWithPoints displays an overview showing percent available (e.g. percent of days across the year in which a room is bookable with points), and the range of observed point values.  For example, when you bring up the Andaz Maui, you can see that it is available to book with points only 11% of the year.  You can also see that the value of your Hyatt points can range from an abysmal (for Hyatt) 0.89 cents per point to an excellent 4.34 cents per point:
When you click the overview, StayWithPoints takes you to a full year display showing the number of points required each day, the cash rate, and the value you'd get for your points:
As you can see above, the Andaz Maui had (at the time of writing) many days available in early February for 40,000 points per day.  Some days, though, show the point price at around 80,000 points or even around 61,000 points (not shown above, but visible in StayWithPoints on later dates).  The dates costing around 70K to 90K are when only premium suites are available.  The dates costing around 56K to 66K are when regular suites are available but not standard rooms (there may be premium suites available too, but StayWithPoints shows the cheapest award bookable).
Available but unmonitored hotels
Many hotels can be found within StayWithPoints but they aren't automatically monitored.  This means that you can't see the percent available or a full year calendar.  These unmonitored hotels appear like this:
While a full year calendar isn't available for these, the good news is that you can create an alert to watch for availability for specific dates, or you can create a flexible alert which will give you a full month view of availability.
Point alerts
Once you find the hotel you're interested in, you can set alerts.  There are two types of alerts: Specific Dates alerts and Flexible Dates alerts and both are very useful…
Specific Dates Alerts
If you're looking for availability on specific dates, the Specific Dates Alerts are what you need.  By default this will alert you when any awards are available for your specified date range at the hotel in question.  I used this in September last year to get alerted when the Delta Hotel Toronto opened up (it was booked full at the time that I set the alert).  Sure enough, the hotel eventually had availability and I was able to book it! (I later had to cancel, but that's another story).
The alert came to me as an email from StayWithPoints:
Subject: Your Hotel is Now Available
Delta Hotels Toronto
Arrival Date 2022-09-22
Departure Date 2022-09-23
Status Available
Points 40,000
Cool!
I can think of a few different ways in which specific date alerts can be useful:
If your travel dates are fixed and you have your heart set on certain hotels, you can setup these alerts to notify you when the hotel opens up.  This is like my Delta Hotel example, above.
Sometimes the hotel you want is available for your specific dates, but not at the point price you want.  For example, the Alila Ventana Big Sur often has premium suites available for around 90,000 points per night, but you might prefer to book a regular room for half that price.  You can setup the Max Points in an alert to be lower than the premium suite price so that you'll get alerted if regular rooms or standard suites open up.
If you've already booked a hotel, you may want to use StayWithPoints to notify you if the award price goes down.  You could do that by setting the Max Points of the alert to slightly under the amount you booked.  While Hyatt is unlikely to change it's award pricing mid-stream, this could be useful for the other programs.  It can also be useful with Hyatt (like in the previous bullet), though, to alert you when lower priced room types become available.
Flexible Dates Alerts
The Flexible Dates alerts let you watch for availability across an entire month.  This can be useful, for example, to look for blocks in which 5 days in a row are available.  It can also be used to get a calendar of availability…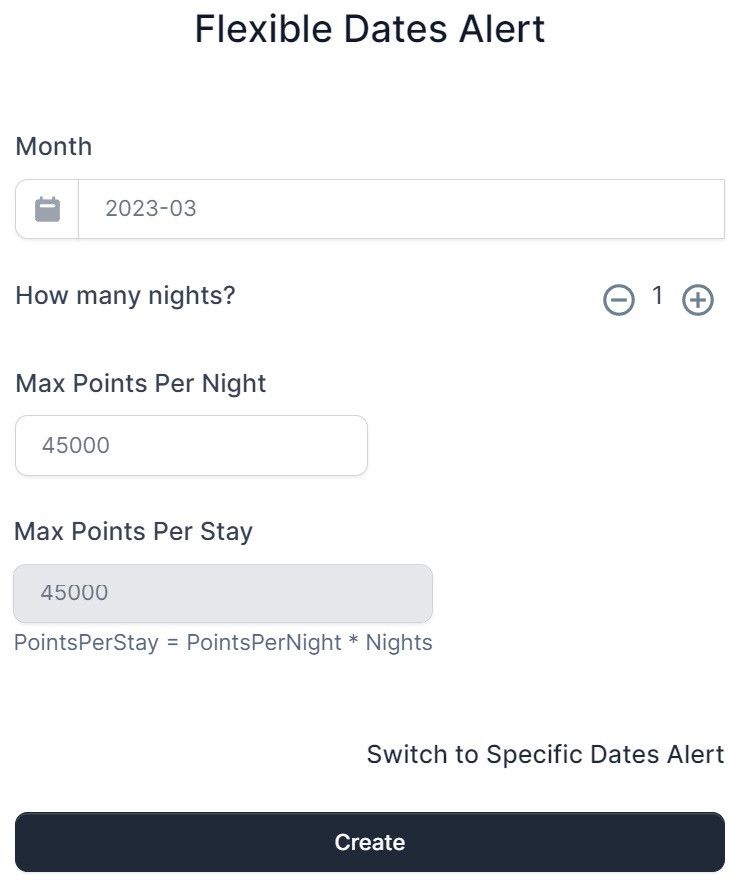 If you limit your search to 1 night stays, then soon after you create this type of alert, you'll get an email showing you availability day by day for the entire month that you chose.  For example, here's the first half of the email I received when setting up a flexible 1 night search for the Hyatt Regency Grand Cypress:
It's possible to build yourself a multi-month calendar by waiting for the alert email from the first month and then deleting that alert and creating a new one for the next month.
Here are some ways you may want to use Flexible Date alerts:
With Marriott or Hilton hotels, set the number of days to 5 to look for opportunities to save points with fifth night free awards.
With any hotel that has limited availability, set the number of days to the minimum number that you're willing to stay.  For example, you might not want to travel to the hotel unless you can stay there for at least 3 nights.
Build yourself an award availability calendar as I showed above.  This is most useful only for the hotels in StayWithPoints that aren't automatically monitored.
Hotels with minimum stay requirements
One of the most difficult things with finding hotel award availability is that some hotels impose minimum stay requirements.  If you look at a calendar of award availability for 1 night stays, you won't find any availability with these.  Fortunately, if you know the minimum stay requirements of a hotel, you can use StayWithPoints' Flexible Date Alerts to find availability.  For example, some hotels require a minimum of 3 nights and so if you setup a flexible alert for a 3 night stay, the system will find availability that won't be shown if you look for a 1 night stay.  Note that even though a flexible date alert is limited to one month, it will find multi-day availability that spans into the next month.  For example, it might show you that a 3 night stay is available checking in on May 31.
Not all hotels are available
Currently, StayWithPoints only supports Hilton, Hyatt, and Marriott.  I'd love for them to add IHG because then I'd be able to do things like watch for my favorite hotels to dip below 40K in pricing (I still have IHG free night certs that don't allow adding points); and after booking IHG hotels with points I'd be able to setup alerts to watch for the price to go down so that I could rebook at a lower rate.  Still, it's very useful with just the 3 supported programs.  But…
Not all hotels within each supported program can be found in StayWithPoints.  For example, I recently looked for the Hyatt Regency Orlando, but it wasn't there so I couldn't set alerts.  Fortunately, there's a chat feature in which I asked about that hotel and they quickly added it (I can't promise the same responsiveness for you — they know that I'm a blogger).  I also noticed that StayWithPoints doesn't currently show any of Hyatt's Miraval hotels.  That's not a problem for me right now — just an observation.
Real Example
Ever since Nick wrote his glowing review of the Grand Hotel Victoria on Lake Como I've been interested in trying it out.  It's an SLH property bookable through Hyatt for 25,000 points per night standard; 21,000 off-peak; or 29,000 peak.  Unfortunately, it's often unavailable.  With StayWithPoints, though, I was easily able to find available dates by creating a flexible date alert for the property.  I chose September because I thought I'd be more likely to get results for this test than if I used a peak month like June or July.  I set it to look for a 3 night stay.
A minute or two later, I received an email with results:
2023-09-01 N/A
2023-09-02 N/A
2023-09-03 N/A
2023-09-04 N/A
2023-09-05 N/A
2023-09-06 N/A
2023-09-07 N/A
2023-09-08 N/A
2023-09-09 N/A
2023-09-10 N/A
2023-09-11 75,000 for 3 days
2023-09-12 75,000 for 3 days
2023-09-13 N/A
2023-09-14 N/A
2023-09-15 N/A
2023-09-16 N/A
2023-09-17 75,000 for 3 days
2023-09-18 87,000 for 3 days
2023-09-19 N/A
2023-09-20 N/A
2023-09-21 N/A
2023-09-22 N/A
2023-09-23 N/A
2023-09-24 63,000 for 3 days
2023-09-25 87,000 for 3 days
2023-09-26 87,000 for 3 days
2023-09-27 87,000 for 3 days
2023-09-28 75,000 for 3 days
2023-09-29 75,000 for 3 days
2023-09-30 75,000 for 3 days
Seeing that both September 11 and 12 were available for 3 night stays, I realized that it should be possible to book a four night stay starting September 11.  Sure enough, Hyatt's website shows that as available:
Final Thoughts
There are some hotels where it is very difficult to find award availability and StayWithPoints provides a great way to overcome that hurdle.  It doesn't yet display all hotels within the supported programs, and it doesn't yet offer any hotels outside of Hyatt, Hilton, and Marriott, but I still find it extremely useful.
At the moment, while in Beta, the tool is free to use.  Soon, though, they'll introduce multiple tiers and will only offer limited functionality for free.  I recommend giving it a try now so that you'll have a better idea later whether it's worth paying for.
One feature that I'd love to see added is an on-demand full year calendar for hotels that aren't automatically monitored.  Even if there was a limit to doing these no more than once per day (or whatever), I'd find this extremely useful.  And who knows?  The team is still working on the tool and so we may eventually see features like that or others that I haven't thought of.
If you have feedback about the tool or suggestions for making it better, please comment below.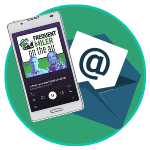 Want to learn more about miles and points?
Subscribe to email updates
 or check out 
our podcast
 on your favorite podcast platform.