When we came up with the idea for 3 Cards 3 Continents, I immediately knew that I wanted to draft an American Airlines card. My reason for wanting it was to highlight one specific sweet spot that I've mentioned a number of times but I feel don't get the attention it deserves, though during this competition both Stephen and I used it (albeit differently, which is a key to this post): American Airlines charges just 40,000 miles one-way for business class between the Middle East and Asia (or 50K in first class!). This is notable of course because of the long distances and opportunity to fly in what is widely regarded to be the best business class in the sky, Qatar Qsuites. I didn't end up booking this award the way I expected — I ended up booking it better and getting a day of rest and relaxation in the Qatar first class lounge for the business class price.
American Airlines award chart sweet spot: Middle East to/from Asia for 40K miles
The sweet spot here is quite broad in the sense that you can fly from a geographic region that spans from Egypt to Oman all the way to Korea, Japan, or the Southeast Asia for just 40K miles in business class. If Etihad ever gets the A380 apartments running again, this would be one of the best ways to book that at 50K miles one way.
In my case, I initially intended to fly eastward on Qatar with this award. However, I later settled on flying westward. That was partly influenced by circumstance: I determined that an Aeroplan award was going to be my best option departing the US. However, the unintended consequence was an opportunity that I couldn't pass up….
Getting the first class experience for the business class price
My only previous experience flying Qatar Airways was on an award ticket between Dubai and South Africa. On that trip, I had an overnight layover in Doha and got the chance to experience the amazing Qatar business class lounge in Doha. I was blown away — I don't think I've ever seen a nicer-looking business class lounge (and Greg seemed to agree with that assessment on his recent stop in Doha). Further, at the time, they poured Krug champagne in the lounge! It was pretty wild. I had been pretty excited about the prospect of returning to that lounge on this trip.
Then I found a seat in Qatar's A380 first class from Bangkok to Doha and that in turn got me checking into whether I'd have access to Qatar's frst class lounge if I bought a ticket arriving in first class. Amazing as the business class lounge was, the first class lounge seems even better: there are private rooms that essentially replicate a mini hotel room, there is a hot tub, and of course there is food and drink. It looked like an incredible place to spend some time.
However, some airlines require that your onward travel be ticketed in first class to use the first class lounge. I stumbled on this post from Thrifty Traveler that confirmed Qatar is indeed (perhaps temporarily) allowing first class lounge access on arrival (and they have always extended access to those departing Doha in first class). However, I wasn't sure that I really wanted to fly in Qatar's first class. Frankly, the business class Q Suites look nicer to me.
Thankfully, that Thrifty Traveler post pointed out what may be an even sweeter sweet spot of sorts: similar to the way that airlines within the United States market the forward cabin as "first class" even when the plane only has two cabins, Qatar markets the forward cabin as "first class" on many of its flights within the Middle East, even on planes that only have two cabins. This is true even on really short flights.
That seemed very interesting to me because if I were going to get first class lounge access, I thought it would be fun to really live it up in the lounge. You can get a bedroom for up to 6 hours. That seemed perfect for me as I had settled on departing Asia from Manila and I knew that I'd sleep some on the midnight flight from Manila and then if I got tired I could get a room and nap in the Qatar first class lounge for a few hours before going back to more gourmet food and fancy wine.
And it was worth it. Check out this Instagram reel for some highlights:
View this post on Instagram
Landing on Dubai as a destination point
I therefore started looking to maximize my layover time at Doha airport. I totally get that most people want to spend as little time in an airport as possible, but for me, the chance to totally chill out in luxury with an extended lounge visit that includes gourmet food and wine I wouldn't ordinarily buy is kind of the equivalent of a spa day for my wife. I'd like to stretch that out if possible. And so I did.
American airlines would allow a layover of up to 24hrs, so I based the next stop of my trip on which Qatar flights were marketed with a "first class" forward cabin within the Middle East that were scheduled long after my 04:15 arrival from Manila. I settled on Dubai for a number of reasons:
Qatar flies an A350-1000 on this very short 1hr route, so it would give me a chance to get the "full Qsuites experience" even if for a very short time. On my previous time flying Qatar business class between Doha and Dubai, we were served a full meal in business class on the 1hr flight!
September in the United Arab Emirates is usually prime time for finding slamming FHR deals. There are so many luxury hotels between Dubai and Abu Dhabi that competition keeps prices reasonable for much of the year, but due to the heat in September, prices get even better. I knew I'd find a luxurious place to chill out for a day (I ended up at the Waldorf-Astoria Palm Jumeriah – bottom line review still to come).
Because I've been to Dubai a number of times before, I wouldn't feel particular pressure to visit one site or another, which I figured might be beneficial in terms of giving me a mid-trip day where I could focus mostly on catching up on work without feeling guilty that I was missing out on something. I had videos to edit and posts to work on. I know that isn't part of a "dream trip" for most folks, but I knew I would be behind by this point of the trip and need a "catch-up" day.
Dubai helped me get the best deal for connecting the next set of dots on my trip. I'll be publishing a separate post about options I considered for connecting these dots, but you'll soon see why I chose Dubai. You may not agree with my choice, but keep an eye on our Instagram for more about where I am (or was) this morning.
The timing on the flight to Dubai worked out particularly well. I should note that not all frequencies from Doha to Dubai are operated by an A350. Some are on a 777 or 787 – and there are some regional flights scheduled on A320s (though I don't think they operate that on the Dubai routes these days). But the flight I chose was operated by an A350.
I chose that specific A350 route in part as insurance in case I didn't get Qsuites from Manila. I definitely wanted to be able to finally check out Qsuites and I was very surprised when I found that Qatar has 777s with an old, outdated, really lame-looking business class product. I was even more surprised to find how many of their flights to/from Asia are (at least initially) scheduled with that equipment. I was encouraged when I kept looking at flights from Manila to Doha and seeing that service changed to Qsuites-equipped planes within a few days of departure. But if I weren't so lucky on the long-haul flight, I wanted to at least get a taste of what I missed.
Sure enough, about a week and a half before my flight, Qatar stopped switching the midnight flight to Qsuites. I ended up with the old product from Manila. That turned out fine — I had a friendly seatmate and I got enough sleep on the flight — but I regretted not booking the 787 directly from Cebu since I booked a separate positioning flight to Manila hoping for Qsuites (and though I tried, I wasn't able to make a change in the days leading up to my flight). And the Qsuites flight from Doha to Dubai, while brief, certainly made me long for a longer flight. Qsuites is even nicer in person than it looks. Brief reel of my one hour flight here:
View this post on Instagram
But it was equally important that my Doha-to-Dubai flight was scheduled to take off at at 7:15pm — about 15 hours after my arrival in Doha. That appealed to me because it would mean that I could grab a bed for six hours upon arrival (availability-dependent of course) and wake up fully rested and with plenty of time to eat both lunch and dinner in the lounge, really taking in Qatar's first class ground game.
And I certainly did enjoy the chance to eat in the restaurant multiple times. While there is a small sushi bar and lite bites area of the lounge with things on display and an attendant to serve you, most dining in the lounge is sit-down-and-order dine-on-demand style in the main restaurant (and of course everything is complimentary). Here were the menus:
I was happy to enjoy several dishes during my time there. I highly recommend both the Foul medames (breakfast) and the rose champagne (whenever you want). I actually didn't enjoy the Arabic mezze as much as I do in Emirates first class.
Again, my type of stop here wouldn't be for everyone, but for me this meant that between the flight and the lounge, I should get a comfortable night's sleep (without digging into my budget) and that I'd get the full first class experience. Since my wife and I now travel with 2 kids, I have found it harder to really relax in the airport since I'm pretty frequently chasing / quieting / cleaning up after at least one of the kids. That's not a complaint; I legitimately wouldn't trade fatherhood for anything in the world and as I've said before I am excited to travel with my kids (I don't see it as a burden). However, a first class lounge with no supervision responsibilities sounded like the kind of luxury experience I could get down with for a day. And apart from a visit or two from the airport police and a brief walk with them out into the terminal that you won't need to worry about (yeah, that'll be a story for the what crazy thing segment on this week's podcast), it was very relaxing.
Personally, I was surprised to find that even passengers ticketed on ultra-short-haul "first class" within the Middle East (like this one-hour flight to Dubai!) get first class lounge access. I am reminded of the time I flew nonstop United business/first from Newark to Honolulu and couldn't access the lounge at Newark before my ten-and-a-half hour flight. Qatar makes their (tremendously better) first class lounge available to those ticketed in first on a one-hour flight.
How I'd take advantage of this in real life
I recognize that my 3 Cards 3 Continents trip isn't a pace that is of universal appeal. However, while you may not replicate exactly what I did, hear me out on how I'd leverage this "in real life".
I'll let a cat out of the bag since it's already on Instagram: my next stop is going to be in Europe.
I share that tidbit in order to explain what I was originally going to do and why I think this hack is so awesome.
Above, I noted that business class between Asia and the Middle East costs 40K American Airlines miles one-way. Stretch a bit further and you'll see that Asia to Europe is 75K miles one-way. I originally considered using the miles from my Barclays Aviator Business card to book business class from Asia to Europe.
However, I then realized that booking Asia to the Middle East and Middle East to Europe as separate awards would only cost a little bit more. That's because the Middle East to Europe costs 42.5K miles in business class. Combined with the 40K price from Asia to the Middle East, you could book separate tickets — giving yourself a chance to visit a destination in the middle East — for 82.5K total miles. I found that intriguing because American Airlines does not allow stopovers, but in this case you could book your own stopover (by booking Asia-to-Middle East and Middle East-to-Europe as two separate tickets) for 7.5K miles more than the one-way (with no stopover) price. Adding a stop for 7,500 miles is inriguing on its own, but . . .
I bet you can see where I'm going here! For that extra 7,500 miles, you could book something like Manila-Doha-Dubai and get to visit the first class lounge in Doha – and then book a separate award from Dubai-Doha-Europe and get to visit the first class lounge again. You don't even really have to want to spend much time in Dubai — you could book those separate tickets as a quick turn if you wanted and essentially buy yourself the chance to spend a day in the Qatar First Class lounge. In fact, since Qatar is currently allowing both those departing in first class and those arriving in first class to visit the lounge, you could spend time in the first class lounge both before your flight to Dubai and when you return from Dubai before your onward flight to Europe. I could see some enthusiasts booking that as a quick turn and looking at it as buying access to the first class lounge twice for the extra 7,500 miles you'd be paying.
Of course, more practical is the ability to visit a destination within the Middle East. You could use this small hack to visit a place like Muscat, Oman (go snorkeling with those whale sharks!!) or Amman, Jordan (or some of the other cool places to see in Jordan) and that first class lounge for 7,500 miles more than a straight trip from Asia to Europe.
Obviously you'll need some time flexibility to build a trip where you visit Asia and the Middle East and Europe, but for those with that flexibility I think this is a solid sweet spot.
Keep in mind that American Airlines also partners with Etihad, which is what Stephen flew from Cairo to Singapore. You could book business class from Asia to the Middle East with either Qatar or Etihad and then the Middle East to Europe with the other (Qatar does fly between Doha and Abu Dhabi also) if you wanted to try both airlines. That might become particularly appealing if Etihad brings back its A380 as has been rumored.
Keep in mind that the above isn't what I did for this trip. I had something else entirely in mind and Dubai helped me connect a dot for the right deal. More on that to come. Keep an eye on our Instagram over the next couple of days :-).
Kicking things up a notch further if Etihad brings back the A380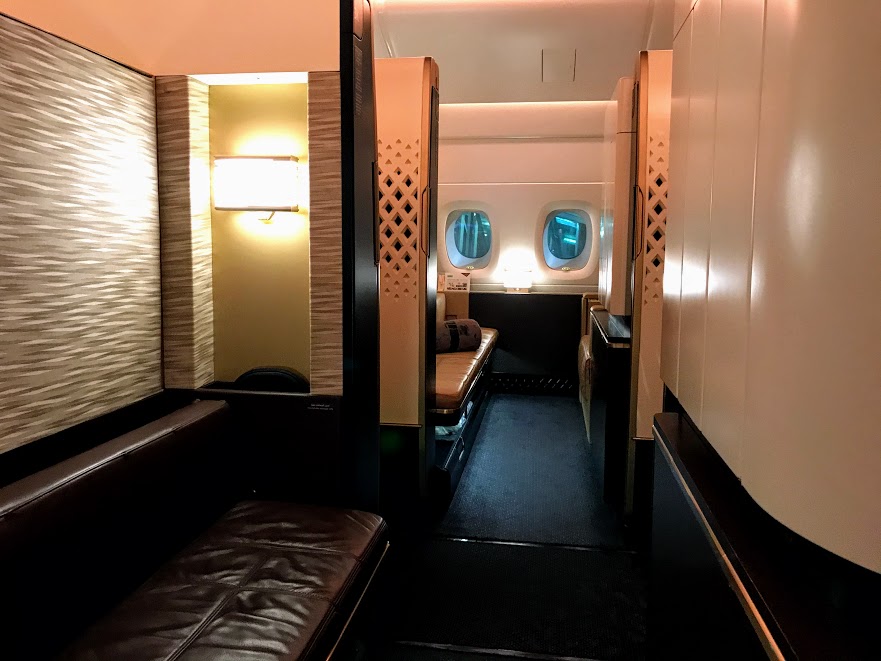 If Etihad does bring back the A380, you could kick things up a notch further: American Airlines charges 50K miles one-way for first class from Asia to the Middle East, so you could book Etihad First Class (hopefully in the A380 first class apartments!) for 50K miles. Then, book your separate award to Europe on Qatar in business class for 42,500 miles. Since they'll market that flight from Abu Dhabi to Qatar in first class and they are currently offering first class lounge access to those arriving in first class, you should get first class lounge access in Doha (though note that Abu Dhabi flights are usually on an A320, so you won't get quite the same in-flight experience – though on a 1hr flight you probably don't care).
In total, you'd pay 92,500 miles (50K for first class from Asia to the Middle East and 42.5K for business class from the Middle East to Europe) and hopefully get Etihad apartments, the Qatar First Class lounge, and hopefully Qsuites on the way to Europe (depending on the route). I think that would be a stellar redemption for someone who enjoys the premium cabin experience and everything it entails.
Note that flights within the Middle East aren't a good value with American Airlines miles unless you're connecting onward. For instance, for the 1 hour flight from Doha to Dubai, AA charges thirty thousand miles. Paying 30K miles for that very short flight seems ludicrous when you could book all the way to/from Asia for 40K miles. This trick really only works on connecting itineraries.
That said, Greg's post about finding Doha-to-Sofia in business class for only 6,000 Avios in business class certainly got me wondering about what other pricing anomalies might exist. I don't think Greg tried originating elsewhere in the Middle East to see how an itinerary priced to Sofia, but this does make me want to hunt around a bit for anything we may be missing in terms of ways to get cheap first class lounge access.
Bottom line
Any way you play this, I think that the ability to pick up a first class lounge day (in a particularly nice first class lounge) by tacking on a flight within the Middle East is a potentially appealing hack. I was certainly excited to pull it off for this trip. Was it worth it? What do you think?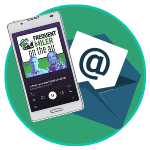 Want to learn more about miles and points?
Subscribe to email updates
 or check out 
our podcast
 on your favorite podcast platform.