I knew going in that Nick was going to be tough to beat.  After falling short due to a budget overrun in the 40K to Far Away Challenge in 2019, he was a man on a mission.  And as we recorded podcasts leading up to this year's 3 Cards, 3 Continents Challenge, he talked about the many ways in which it was possible to stretch Air Canada awards to their fullest.  I knew then that he was going to travel farthest and to the most exotic locations.
What is 3 Cards, 3 Continents?
Frequent Miler loves creating fun and competitive team challenges. This year Greg, Nick, and Stephen are competing to
book the most amazing 3-continent dream-trip using 3 credit card welcome bonuses.
His travel began with a bang.  First there was the quick visit to the Egyptian Pyramids, and then a ride across the Bosporus in Istanbul.  But I still thought I had a chance… a very good chance of winning.  After all, I had plans to travel around the world in business class with not just one person, but two, and to sample incredible foods, and to stay in great hotels, and to fit in some bucket-list worthy surprises.  Then Nick swam with whale sharks and sea turtles in Oman.  My confidence dipped.  He followed that with canyoneering in Cebu.  That was cool, but I didn't know how many people it would resonate with.  If I could just communicate better what was happening on my trip (something I admittedly need to work on for the next challenge) I'd still have a chance. I was still in the running.  At that point, I still had a Norwegian fjord trip in my future!  Then Nick flew into the artic circle and put together hilarious videos of his experience seeing Santa Claus.  But I still thought I had a chance.  And then… Northern Lights.  Mic drop.
Yes, Nick won this challenge by a large margin.  Congratulations Nick!
While Nick deservedly won the competition, I believe that you can look to any one of our journeys and see that we each built truly incredible trips out of the welcome bonuses from just 3 credit cards.  The challenge really did a great job of highlighting the best of what is possible with the points and miles game.
Everyone is a winner
I love these recent comments from readers…
Of course, the real winners are us, the readers!
Great content and this is why I value FM over the other blogs.
And Captain Greg followed up with this:
Good god, everyone wins. Everyone wins! 3 trips of a lifetime. 99.999% of people will never do anything like this, but all 3 of you put together incredible trips with just 3 sign up bonuses. Yes, I will vote for one trip I think was the best, but I'm not even going to say who that is because each trip was so impressive. Kudos to all. As always, Frequent Miler is the BEST!
Catch up on what you missed
If you missed our live Instagram updates, don't worry, they're all still visible on our "Highlight Reels". If you're not familiar with highlight reels, here's how you can find them within Instagram:
Search for "Frequent Miler" in your Instagram App and click on our name once it appears. (You'll recognize us by the picture of Greg and Nick in green.)

This will take you to our profile. Somewhere below our name and description, you'll see a row of little green circles. These are our "highlight reels". (Sometimes Instagram puts a "Suggested For You" area before it and sometimes they don't, but the main thing to remember is that you're looking for the row of little circles.)

If you look closely, you'll see cartoon sketches of Greg, Nick, and Stephen on the first three little circles in that row. Or, you can also look for the title "3C3C Team…" Click on each circle to see that person's collection of videos.
While instagram will give you the most complete picture of each contestant's trip as it plaid out, you can also catch the videos we've reposted onto YouTube below:

Thanks to everyone who followed along, everyone who voted, and everyone who kept us on our toes the whole way via blog comments, Instagram messages and more!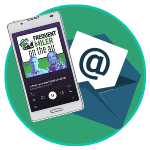 Want to learn more about miles and points?
Subscribe to email updates
 or check out 
our podcast
 on your favorite podcast platform.