The insanity continues: Today I received a targeted offer for 30% back at the Microsoft Store via Capital One Shopping. It's worth logging in to your account and knowing where to check for targeted offers, because if I had just searched at the top of the screen or just used the app, I might have thought that I only had 3% back. Note that there is also a stacking Amex Offer good for $50 back on $350 or more [enrollment required]. If stacked, that would equal a rebate worth north of 40% back depending on how you value the Capital One Shopping cashback. That's nuts.
The Deal
There are two targeted offers out today that could stack really well:

A new Amex Offer is out that's good for $50 back on $350 or more at the Microsoft Store
A new targeted Capital One Shopping offer that's good for 30% back at the Microsoft Store
Key Terms
Amex Offer terms:
Expires June 30, 2023.
Offer valid online at US website microsoft.com/en-us and via the Microsoft Store app.
Not valid on purchases shipped outside of the US and Puerto Rico.
Excludes B2B services, Bing ads, Skype, Microsoft Living Well health center, Microsoft Production Studio, Microsoft Theater, AppSource, Consulting services, Azure and Azure Marketplace.
Excludes authorized retailers.
Valid only on purchases made in US dollars.
Quick Thoughts
The Amex Offer is a pretty solid deal at $50 back on $350 or more. Despite the terms, I would expect that it would work on Xbox gift cards, which could subsequently be loaded to your Microsoft Store account for future use. Since the Capital One Shopping Portal does not require using or even having a Capital One account, this can stack.
The Capital One Shopping offer is yet another unbelievable return on spend. I've never seen anything remotely close to 30% back at Microsoft Store before. The 15-month history at CashBackMonitor shows a best cash back rate of 5%, though I've recently been seeing 10.5% through Capital One Shopping (note that it shows that Microsoft Store was 30x through JetBlue for a while, but many of the JetBlue historical rates are off because of a change in their portal at some point — I don't want to confuse things here by hashing that all out, just suffice it to say that I'm almost 100% sure it was never 30x).
Obviously not everyone will have the targeted Capital One Shopping offer, but it's worth talking about where to look for it since many people skim posts fast and have probably missed the key to finding deals like this.
First of all, Capital One Shopping does not require having a Capital One account. It is a standalone shopping portal and app — but it is complicated. I wrote a post a while back in an attempt to disambiguify: C is for Confusion: Capital One Shopping vs Offers vs Travel Offers. There is also a browser extension.
I am seeing this offer on the desktop website for Capital One Shopping. However, I am *not* seeing it via the search box at the top of the screen. That box shows 3% back.
However, if you expand the filters at the top and select the Microsoft Store, you may see personalized offers for a better cash back rate.
The same is true at other stores. The "personalized" deals are where it's at!
Notice in the screen shot above that the first banner ("Featured Offer: Spring Sale blah blah blah) only shows 3% back. That's a general offer for everyone. The boxes below that are the targeted offers.
We have mentioned this many times: you do not need to buy the advertised product to get the advertised cash back rate. While you can see above that it shows examples of 30% back on Surface Laptops or Surface Pros, those are surely not the only products that will earn 30% back. In most cases, we have found that buying any product through the link will earn 30% back (note that there are some limited exceptions. For instance, I've seen the banner advertise 15% back at Office Depot and show a Visa Gift Card as an example product, but I know from experience that gift card purchases from Office Depot are not processed by Office Depot and therefore will not earn portal rewards. I am not aware of similar exceptions at Microsoft Store). If you click through the link for 30% back in the browser where you have the Capital One Shopping extension installed, you should get a pop-up to activate the 30% back during the checkout process.
Keep in mind that Capital One Shopping only allows rewards to be redeemed for gift cards and the available merchants have changed over time (including several times recently). Still, even if you discount the value by 20%, you're still earning 24% back. That's pretty terrific.
If you bought exactly $350 worth of products, you would get $105 back from Capital One Shopping and $50 back from Amex (assuming you enrolled in the offer) for a net cost of $195 for $350 worth of stuff. That's a rebate of 44% if you take the Capital One gift card redemption at face value. You shouldn't take it at face value, but discount as you see fit and the return is likely still very strong.
If you didn't receive this offer, it's worth installing the browser extension and then browsing to the Microsoft Store site and perhaps putting some things in your cart and then leaving without checking out. That type of behavior has sometimes been known to trigger targeted offers from Capital One Shopping.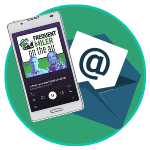 Want to learn more about miles and points?
Subscribe to email updates
 or check out 
our podcast
 on your favorite podcast platform.