Destination Hotels is an interesting little catch-all brand that was integrated into World of Hyatt between Summer 2019 and Spring 2020. It includes both traditional hotels as well as residences and is one of the more poorly defined and erratically-located brands in Hyatt's Portfolio.
There is one Destination Hotel in all of Arizona: Tempe Mission Palms. It's easy to confuse with the Royal Palms Resort in Scottsdale (which is part of the Unbound Collection). This "Palms" is smack dab in the middle of downtown Tempe. Given that we had a Destination-shaped hole in our brand explorer, we thought we'd give it a try. While it's not the trendiest locale in Phoenix…looking at you, Scottsdale…we found this hotel to be an excellent value, especially if needing to be in the downtown/airport/Tempe area.
The hotel is organized around a lovely orange and palm tree-shaded outdoor courtyard, which is where most folks eat breakfast in the morning. There is a surprisingly nice second floor outdoor pool with cabanas and a terrific view of Tempe Butte. The location couldn't be better for Tempe, right by Tempe Butte and the football stadium, with easy access to the light rail, Tempe Beach Park and all of the bars and restaurants downtown. The service couldn't have been friendlier or more helpful. The facilities, while feeling a bit like the convention/university hotel that it is, are in very good shape.
All in all, the Tempe Mission Palms is a lovely place to stay that exemplifies what a mid-range hotel should be.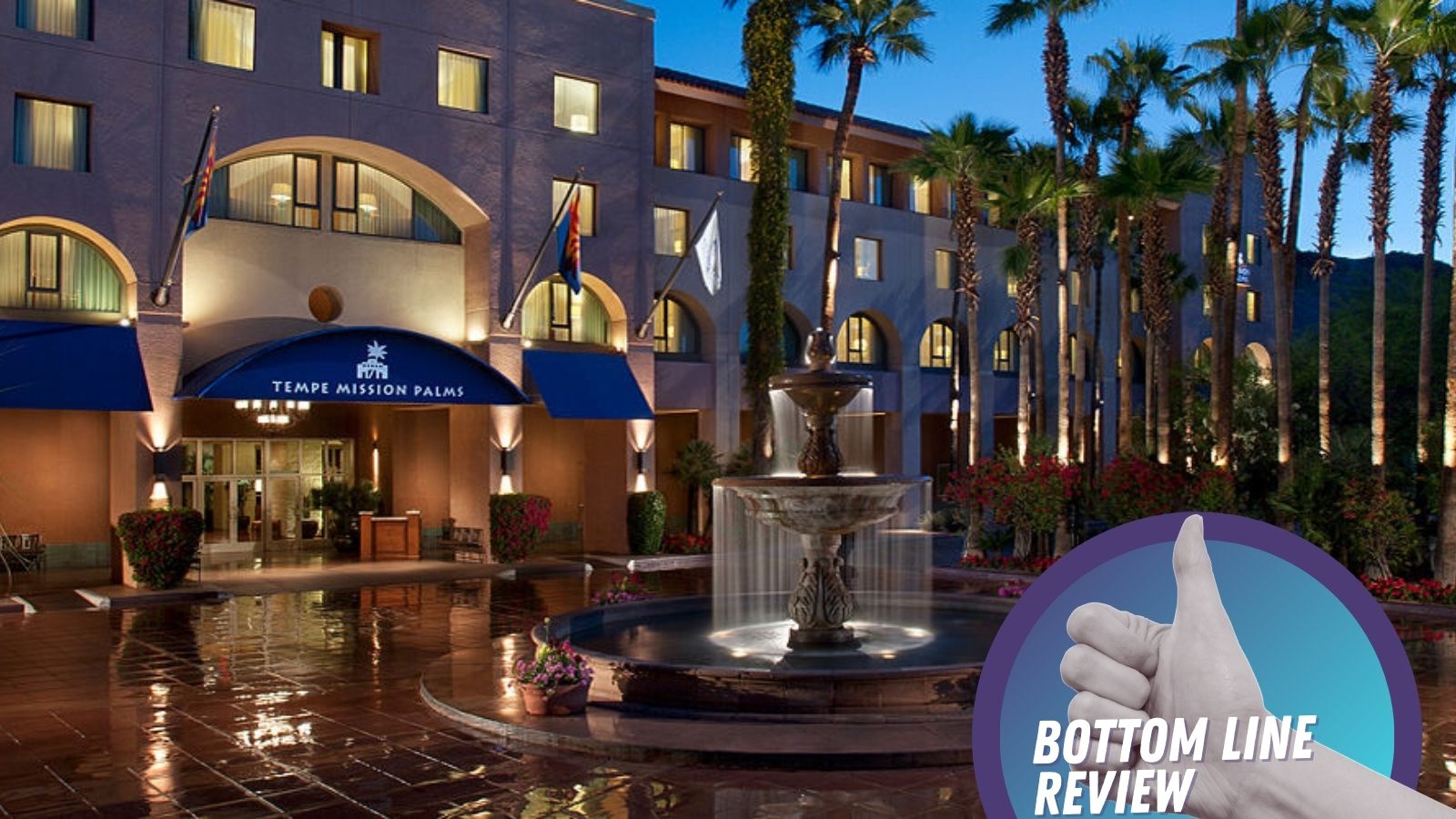 Tempe Mission Palms Bottom Line Review
Bottom line: Yes, it's in Tempe, but we found this hotel to be an excellent value (and an easy way to add Destination Hotels to our brand explorer). Proactive, friendly service, better-than-expected facilities and a terrific location for both Tempe and downtown made this a winner for us.
Points Price: Category 3, 9,000-15,000 points per night.  Bookable using a Category 1-4 Certificate from the Chase Hyatt Card.
Cash Price: Seems to normally hang-out in the $175-$250 range, except for ASU-related events when the price goes sky-high.
Points Value: Very good, normally. I didn't see any days that were showing peak pricing. We used an expiring category 1-4 certificate for one night (when the points cost was 12,000) and paid 9,000 points for the second night. The cash price for the both combined would have been around $400, so at 21,000 points, it's well above our reasonable redemption value of 1.6 CPP.
Resort Fee: $22.76 (includes valet parking and specialty coffee in the morning), waived on award stays
Parking: Both valet and self-parking are included in the resort fee (meaning the parking is free on award stays regardless of status).
Airport Shuttle: Every half-hour, 5:30am-12:00am, free of charge.
Turndown service: None.
Housekeeping: Everyday for all guests…and it actually happened that way!
Internet: Very good. Able to stream, cast and zoom throughout the property
Dining:

Breakfast: Served daily at the Mission Grille from 7:00-10:30. Choice of buffet (when available) or a small a la carte menu (shown here). Nothing fantastic, but good quality.
Lunch: Served daily at the Mission Grille from 11:00-1:30.
Dinner: Served from 5pm-10pm at Harry's Place, which seemed like more of a cocktail bar than a restaurant. It does have a nice. shaded outdoor patio with a fireplace in the evening.

Spa: None, but there is a nice rooftop pool area.
Fitness Room: Adequate. It has treadmills, ellipticals and stationary bikes and enough resistance equipment to be able to do a moderate circuit.
Hyatt Globalist Elite Benefits: Suite Upgrade: We were proactively upgraded to a junior suite before arrival and then they asked us if we wanted to move into a one-bedroom for the second night (one-bedroom suites were sold out when we arrived). Although we declined, it was a nice gesture that's fairly uncommon in my experience.

Club Lounge: None.
Free Breakfast: Served at Mission Grille, the courtyard restaurant on the first floor. Choice of buffet or a la carte items. F&B charges and gratuity removed from bill.
4PM Late Checkout: Applied automatically without asking
Free Parking: Free on award stays, otherwise included in the $22.76 resort fee.

Would I stay again?  Absolutely. It's rare to find a hotel functioning this well, especially in the price range. The staff was a pleasure to interact with, the Globalist benefits were excellent for a Destination Hotel and the location was great. Given the consistently good points value, I'd definitely return if the location was appropriate.
Tempe Mission Palms pros:

Great location in Tempe, right downtown at 5th and Mill. Easy access to all of the bars and restaurants downtown, across the street from the light rail and has Tempe Butte/A Mountain right behind it.
Some rooms (and the pool) have a nice view of Tempe Butte.
Friendly, helpful and proactive service. Very well-run overall
Unexpectedly nice public areas, both the courtyard and the pool.

Tempe Mission Palms cons:

It's in Tempe, not everyone's cup of tea when in the Phoenix area.
It does feel a little bit like a convention hotel.