Update: This post includes offers that were valid at the time of publication, but have since expired. Please click here to see the best offers currently available.
The Citi Forward card currently offers 5X Citi ThankYou points per dollar on restaurants, music, movies, and books.  As of June 4th 2016, though, the bonus will go down to 2X points per dollar in those categories.  I had previously used my Forward card as my single go-to card for restaurants, Amazon.com purchases (which qualify as bookstore purchases), and movie theaters.  Now, starting June 4th, those of us who previously relied on the Forward card will need a new approach…
Best credit cards for restaurants
As Travel With Grant pointed out recently, the best cards to use at restaurants are cards with 5X rotating categories during the quarters in which they offer restaurants as a bonus category.  This year, that means that one should use the Discover It card at restaurants April through June:
And, use the Chase Freedom card July through September:
Of course, keep in mind that both cards are limited to $1500 in bonus spend per quarter.  If you have extra 5X spend available, you can always buy gift cards from your favorite restaurants during the bonus periods in order to extend your 5X earnings.
Note that if you are in your first year of Discover It card membership, you should qualify for double cash back.  That means that you will ultimately earn 10% at restaurants through the end of June this year!
When 5X bonus categories are not available, you'll need a backup card for restaurants.  My Best Category Bonuses page shows that its possible to earn 5% cash back with the US Bank Cash+ card, but only at fast food restaurants.  Personally, I hardly ever eat fast food, so this card isn't a great option.  The next best options are a large selection of cards offering 3% cash back.
If you prefer miles & points, some cards to consider include:
Amex Hilton Honors Surpass: 6X Hilton points (but Hilton points aren't worth a lot, so I value 6X Hilton points at only 2.7% cash back)
Amex Premier Rewards Gold: 2X Membership Rewards
Chase Sapphire Preferred, Sapphire, or Ink Cash: 2X Ultimate Rewards
Citi Forward, Preferred, Premier, Prestige: 2X ThankYou points
It's a tough decision!  Forgoing 3% cash back for 2X Chase or Citi points, is like buying those points for 1.5 cents each.  Personally, I don't want to pay that much per point, so I'd rather go with a 3% option.  On the other hand, the difference in value between a 3% cash back card and a 2X transferable points card is negligible.  it's not worth adding a new card to my wallet if I don't need to.  If I happen to have a card in my wallet that offers 3% cash back, then I'll use it.  Otherwise, I'll happily get 2X Membership Rewards, Ultimate Rewards or ThankYou points depending upon which card I have with me.
Of the cards I actually have, my 3% options include the Discover It Miles card which gives me 3% cash back for all purchases for the first year of card membership, and the elusive CNB Crystal Visa Infinite card (details here).  The CNB card doesn't really offer 3% cash back, but it does offer 3X points, and points are worth slightly more than 1 cent each when used for airfare.  Both of these 3X cards are good options.
Best credit cards for Amazon.com
Amazon.com is significantly different from restaurants.  With Amazon, gift cards are readily available from many vendors so it's really easy to get 5X or better rewards for Amazon.com purchases.  Simply buy Amazon.com gift cards whenever there's a 5X (or better) deal available, then apply the gift card to your account.  From then on, your Amazon.com purchases will automatically use your gift card balance.  And, now that Amazon.com lets you pay for 3rd party gift cards with your gift card credit, this makes more sense than ever before.
The best deals for Amazon.com gift cards tend to be with Amex Offers (See: Complete guide to Amex Offers).  Sometimes offers are available directly with Amazon.com, such as the Spend $60, Get $15 offer from last year:
When this one was available, I added the offer to each of my eligible Amex cards and then proceeded to buy a bunch of $60 e-gift cards from Amazon.  Since each $60 purchase resulted in $15 back, I effectively bought Amazon gift card credit for 25% off!
Another option is to use Amex Offers indirectly with Amazon.  Often there are offers for stores that sell Amazon gift cards.  Examples include Staples, Lowes, Bed Bath & Beyond, and more.  In these cases, simply enroll your eligible Amex cards with the offer, and then take your Amex cards to the given store to buy gift cards of your choice.
When Amex Offers aren't available, there are many other good options.  For example, use a card with rotating 5X categories when they offer a bonus at Amazon.com.  Discover It is a particularly good choice when you are enrolled in the Double Cash Back for a Year promotion.  Discover It has Amazon.com as a bonus option for the entire second half of the year:
Or, use any card with a good category bonus at stores that sell Amazon.com gift cards.  For example, this quarter you can buy gift cards at grocery stores and pay with your Freedom card for 5X rewards.  It is also very likely that Amazon.com will be included in the Freedom card's 4th quarter Holiday Shopping bonus.
You can also use a Chase Ink card to buy gift cards at an office supply store for 5X rewards.  There are many variations on this trick.  See Best Category Bonuses for ideas.
Best credit cards for Movie Theaters
Personally, I don't spend enough at movie theaters to worry about which card I should use, but I will have to pick something.
One option is earn bonus points by buying movie theater gift cards at grocery stores, office supply stores, or even at Amazon.com:
I'll be honest, though.  In my case, chances are slim that I'll bother with gift cards.  Instead, I'll use my Discover It card this quarter for it's 5X rewards, and then I'll use my Discover It Miles card for 3% cash back until it turns into a 1.5% chicken about 6 months from now.  After that, I'll be back to the Forward card, or one of my other Citi ThankYou cards, for 2X rewards.
Summary
For dining, a great option is to pay with Discover It and Chase Freedom when they offer 5X category bonuses.  At other times, go with either a 3% cash back card, if you have one, or pay with any of the transferable points program cards that offer 2X for dining: Amex Premier Rewards Gold, Chase Sapphire Preferred, Chase Sapphire, Chase Ink Cash, Citi Forward, Citi Preferred, Citi Premier, or Citi Prestige.
For Amazon.com, I recommend prospectively buying Amazon.com gift cards whenever the best deals are available.  In particular, look to maximize Amex Offers when they come along.
For movies, the best options are to look for great deals on gift cards; or use a 3% cash back everywhere card (e.g. Discover It Miles, first year); or use one of the Citibank ThankYou cards that offer 2X for entertainment.  These include: Citi Forward, Preferred, Premier, or and Prestige.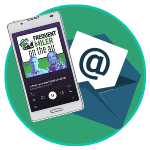 Want to learn more about miles and points?
Subscribe to email updates
 or check out 
our podcast
 on your favorite podcast platform.