Vacasa Vacation Rentals is my new favorite use for Capital One miles. I haven't checked in for my first stay with them yet, but this week I successfully made my first booking and I'm pretty sure it will not be my last. In the current climate, getting an entire cabin in the mountains with a recreation room, loft, and incredible views for 15,000 Capital One points transferred 1:1 to Wyndham Rewards seems like a huge win indeed.
Vacasa rentals calling my name via Capital One transfers
Vacasa Vacation Rentals can be booked via Wyndham Rewards points at 15K points per bedroom per night. Greg previously wrote about this sweet spot and why it looked interesting and readers reported it to be as good as advertised. Earlier this week, when Capital One increased the transfer ratio from its miles to Wyndham to an even 1:1, I was itching to get a place booked for my first trip since the pandemic began. Thanks to advice from readers and Travel With Grant's excellent write-up about his experience booking a Vacasa property in Kauai, I was able to make a booking for an entire cabin with a view in the Smokey Mountains and I can't wait to get there.
Rather than share the exact cabin I've booked, the pictures in this post come from multiple listings that were available for 15K points per night during the time I booked. I booked a cabin in the Smokey Mountains and in the area around Pigeon Forge and Gatlinburg where I was searching, it seemed almost standard that every standalone cabin came with a game room that housed a pool table — some also had foosball, air hockey, and various arcade games. Every place I searched had a hot tub, many with views like the one above, and many of the cabins I saw featured multi-level porches with views in multiple directions and plenty of windows for natural light.
I noted in yesterday's post about the strength of Capital One's transfer partners that while Chase has Hyatt to its credit, Wyndham is quickly becoming a key strength for Capital One. While I've stayed at a number of great Hyatt properties around the world for a reasonable number of points, it is amazing to me that I can book an entire house like this for 15K Wyndham points per night.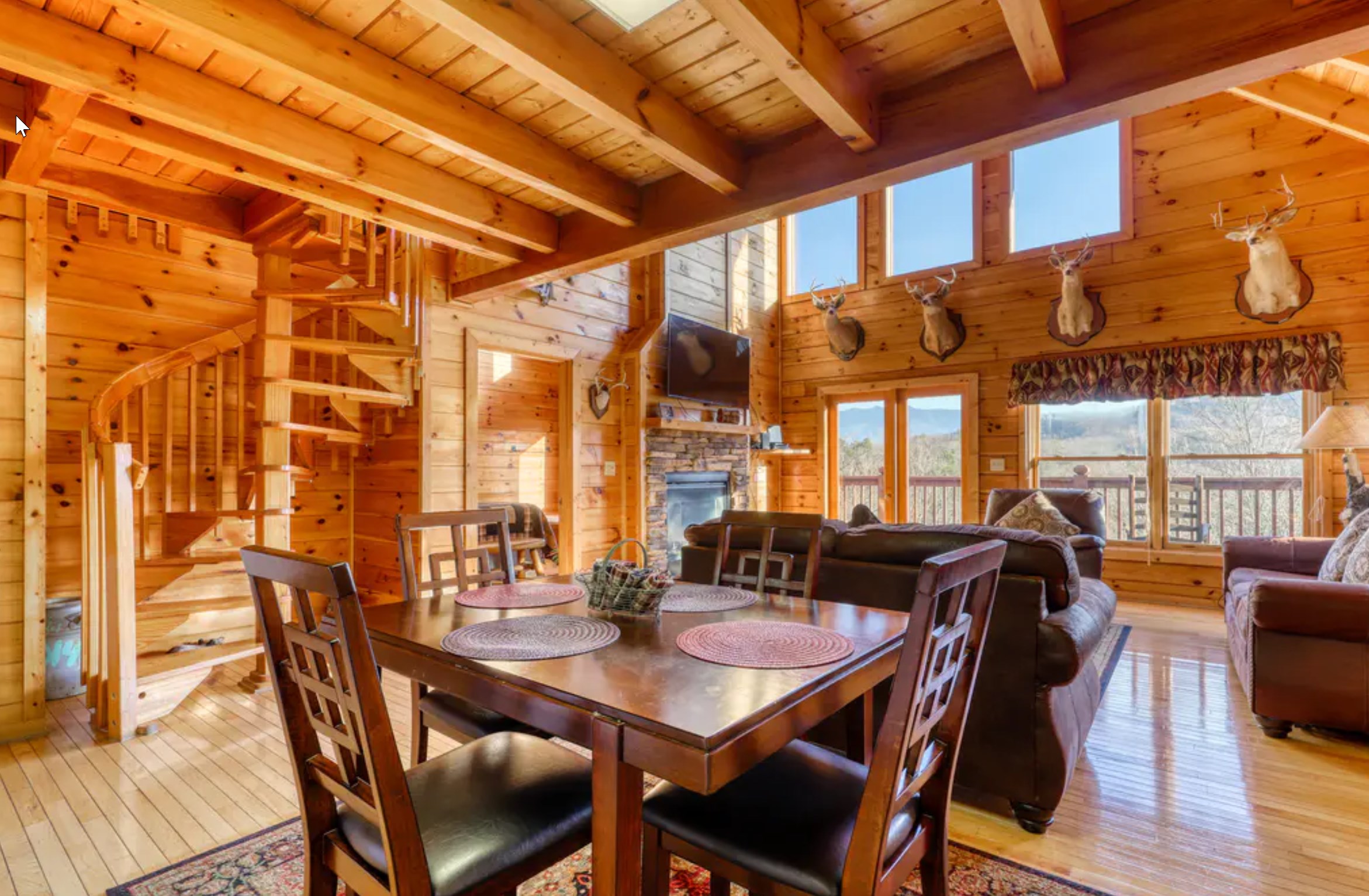 As Greg has previously noted, Wyndham charges 15K points per bedroom per night for Vacasa vacation rentals. Furthermore, there appears to be some sort of upper limit in terms of cash rates in order for a place to be "available" to book with points. To get the best possible deal, the secret is to filter to one-bedroom properties (you can use this handy link Greg provided) and figure on places over $400 per night before fees likely being unavailable.
But note that one bedroom doesn't necessarily mean one bed. In fact, I found a lot of places had a full bedroom and also a pull-out couch and also a loft that had one bed – or sometimes even more than one bed.
The max occupancy of some of the cabins was 4, but others were a max occupancy of 6, like the listing below that has 1 king bed, 1 futon, and 1 sofa bed and is listed as a 1 bedroom plus loft but goes for 15K Wyndham points per night since it is indeed a 1-bedroom.
How I booked it
Greg wrote these instructions in his previous post about booking Vacasa vacation rentals:
Start your search here: www.vacasa.com/search?maxbeds=1&place=/usa/
This link filters to a maximum of 1 bedroom.  If you want more than 1 bedroom, change the filter, but keep in mind that 2 bedroom units cost twice as many points.
Use the Vacasa website to find properties that are available for cash rates for your dates of interest.  I recommend finding at least three options that would work for you, if possible.
Email Wyndham to inquire about those properties and dates, here: triprewards.fulfillment@wyndham.com OR call: (506) 646-2943
Put a reminder on your calendar 31 days or more before your stay to remind you to cancel if it doesn't look like the stay will work out.  Bookings are non-refundable within 30 days.
In the time since, Grant at Travel With Grant wrote a post about booking a vacation rental in Kauai. In that post, Grant provided the following template to fill out for the email you send to triprewards.fulfillment@wyndham.com:
Member name:
Member #:
Site Name:
City/State:
Unit Number:
Number of Adults:
Number of Children:
Number of Bedrooms:
Arrival Date:
Departure Date:
I was hoping to book with minimal back and forth messages since Grant had reported that it took a day to get a response from Wyndham, so on Monday afternoon I filled out that template for four properties in my first email. Three of the four properties I chose were 1-bedroom. The fourth was listed as a 0-bedroom since the bed was really in a loft. I included the 0-bedroom property mostly to see if it would still price at 15K per night since I'd seen some nicer 0-bedroom properties in another area we intend to visit. Out of the places I inquired about in my first email the prices were as follows before fees:
$491/nt for option 1
$358/nt for option 1
$359/nt for option 3
$330/nt for option 4 (the 0-bedroom property)
I received a response from Wyndham on Tuesday morning. The only property that was "available" via Wyndham Rewards was the fourth option. I'd really only thrown that fourth option in my request to see how the 0-bedroom priced. It wasn't really the place we wanted to stay (it looked decent, just not quite as nice as other places), so I sat down to find another set of properties to check.
I was about to write back an hour later with several more places that looked better to us, but I decided instead to cut to the chase: I asked the agent if instead of me sending her a bunch of listings and going back and forth to check which were available if she could instead just give me a list of 1-bedroom places that were available for my destination and dates to save us both some time. I expected they would tell me that they couldn't do that and I'd have to check my desired properties one by one. Almost 24 hours had passed without having heard back and I was getting ready to fire off another email full of listings on Wednesday morning when much to my surprise the agent got back to me with a list of 13 properties that were available using points for my chosen dates, including names and direct links to the properties with my check-in and check-out dates (which was very convenient for the purposes of this post as I had single-click access to the pricing for my dates).
The most expensive of the 13 properties that were available with points was an average of $345.66 per night for the 3-night stay I planned. Note that the rate for each individual night differed during my dates, with one night pricing at $351 and the other two at $343 each. The total price with fees would have come to $1,451.07 for the 3-night stay at this property. Let us pause on that for a moment: 45,000 Capital One points, which for many years could only have been used to erase $450 in travel purchases, could get me a $1,451.07 stay with an entire mountain cabin to myself. Wow!
Somewhat interestingly, I found the same property that I ultimately booked was listed on other sites like Airbnb. Oddly, it wasn't available for booking via those other sites for my chosen dates — it was only available as a cash booking for my dates via Vacasa (it was available on other sites during other times). I have no idea why that is the case – I can't imagine that Vacasa is preemptively buying places out. Weird.
At any rate, I transferred points from Capital One to Wyndham (Actually, my wife first called Capital One to move some of her Capital One miles to my account and then I transferred those Capital One miles to my Wyndham account. Each transfer was instant). I emailed the Vacasa agent Wednesday afternoon to say that the points were in my account and I'd like to book. They asked for a phone number and time to call me to verify and book. Unfortunately, I just missed picking up their call in time, but a few minutes after I missed their call they emailed asking me to verify my name and address.
About 40 minutes later I had an email back from the agent confirming my reservation and that they had redeemed 45,000 Wyndham Rewards points for my 3-night stay. They provided me with an internal Wyndham confirmation number, told me to expect a second email from Vacasa within 24-48 hours with a rental agreement for me to sign, and they also highlighted the 30-day cancellation policy: if I cancel more than 30 days in advance, I receive a full refund. If I cancel within 30 days, I forfeit all points used for the redemption. That last part is a little scary in a world of uncertain travel. My wife and I will be fully vaccinated before the trip, but our kids won't be. And sometimes, stuff comes up. I hate nonrefundable reservations, but in this case we feel certain enough about plans that we are willing to take the plunge.
On Thursday morning, I received an email from Vacasa that included the Vacasa confirmation number and a link to view my stay online and sign the rental agreement. I was able to easily set up an account on Vacasa and add my confirmation number to be able to easily pull up details on the Vacasa site or in the Vacasa app. Note that I do need to electronically sign the rental agreement at Vacasa at least 30 days in advance – don't forget to click the link in the email that Vacasa sends you. The info indicates that they'll get me any access codes I need for the home on my check-in date. So far so good!
Was this a good use of Capital One miles?
First of all, absolutely yes. Of course getting a 3-night $1400 vacation rental cabin in the mountains with its own pool table, hot tub, and two stories of outdoor porches overlooking the Smokey Mountains for 45,000 Capital One miles is an amazing value that I'll take as often as I can while the Wyndham and Vacasa partnership lasts.
Still, I did stop to question my redemption from a few standpoints.
Not all of the cabins had outstanding reviews. Some noted some cleanliness and/or maintenance issues. It seems that most of the vacation rentals in this area are owned independently and managed locally, so getting issues resolved via Vacasa sounds…unlikely.
45,000 Capital One points is more than enough for a business class flight from New York to Lisbon with Avianca LifeMiles or on Royal Air Maroc to Casablanca via Etihad or one of many other sweet spots from Capital One partners. I had to think about whether a transfer to Wyndham made the most sense. Since I have easy access to other points that can get me flights when needed and I don't yet have other easy access to Wyndham points, I ultimately decided that this redemption was indeed worth 45K Capital One miles to me. It just wasn't necessarily a slam dunk thanks to the newfound strength in Capital One partners. If we're able to add the Wyndham business credit card to our wallets, I'll be excited since that will score us 8x at gas stations and 10% off award stays, which would have made this stay even cheaper. Then I'd just use Capital One to top off my account when necessary.
I have this odd rare ability to redeem 64,250 Capital One miles for a $900 Marriott Gift Card. This is something grandfathered on my old Capital One account – most people don't have this redemption. However, since I do have this redemption available, 45K Capital One miles are worth $630 in Marriott gift card money for me (since 45K is 70% of the points I would need for a $900 gift card, I'm figuring it to be "worth" 70% of that gift card). Am I willing to trade $630 worth of potential Marriott credit for this vacation rental? Since I already have tons of Marriott points and quite a bit in Marriott gift card money (and no hotel plans yet this year), I was totally fine making this trade.
At the end of the day, I couldn't shake the temptation to finally take my first trip since the pandemic began and spend a few days in the mountains with my family in our own little bubble. It's possible that the cabin I booked won't meet my expectations or that I'll discover some reason why vacation rentals aren't for me. I probably could have eked even more cash value out of an international premium cabin flight someday down the road. But in the current environment, this seemed like the perfect way to get back into travel and enjoy some family time. Between Wyndham's newly-expanded partnership with Vacasa, Capital One's increase on the transfer ratio, and the timing of our vaccinations, everything just came together perfectly. We'll see how the stay pans out.
Bottom line
Wyndham's unique partnership with Vacasa presents an opportunity for incredible value at just 15K Wyndham points per bedroom per night (particularly for 1-bedroom properties), something Greg has previously reported. Now that Capital One miles transfer at a ratio of 1:1, I find this partnership even more exciting. In Greg's first post about the Vacasa partnership, he said that frustration was "guaranteed". However, thanks to him taking up that frustration and the resulting tips from readers in his follow-up post and an excellent write-up from Travel With Grant about his experience with the booking process, I was able to get a place booked with relative ease and get fantastic value for my Capital One miles. Now I can't stop looking at Vacasa to find the other gems that are out there. This was my first booking success, but I can guarantee that it won't be my last.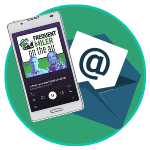 Want to learn more about miles and points?
Subscribe to email updates
 or check out 
our podcast
 on your favorite podcast platform.