Update: I found a link for the 150K Business Platinum "expand your membership" offer! My wife was approved instantly and I was approved after a quick phone confirmation. You'll find the link further down in this post so that you can check for yourself to see if it works for you. I expect it will only work for those who have business cards (confirmed to work even for those with only non Membership Rewards cards) that earn Membership Rewards points (e.g. Business Platinum, Business Gold, Business Green, Blue Business Plus)…
A few days ago, my son signed up for his third Business Platinum card in three years.  If all goes well, he'll earn his third welcome bonus too.  His first Business Platinum bonus was for 75K points.  His second was also for 75K points.  His third is for 150K points.  That's huge!
How can this be?  Amex has its infamous "lifetime rule" where you usually can't get a welcome bonus for a card that you've had before.  Most welcome bonus offers include language like this: "Welcome offer not available to applicants who have or have had this Card."  And then if you go to apply anyway, you'll usually see a pop-up that tells you that you do not qualify for the card.  The general belief is that Amex "forgets" you've had a card about 7 years after you've cancelled it… or sometimes a bit less (see: Bending Amex's Lifetime Rule).  But on both my son's second and third Business Platinum applications, he not only had a Business Platinum card before, he still had one open. The key is that Amex often targets business cardholders with offers to expand their membership with a second card.
Expand Your Membership Variations
Offers to expand your membership aren't limited to those who currently have Business Platinum cards.  As long as you have another Amex business card, you may be able to qualify for either of the following offers even if you've had these cards before.  Below we have included public links so that you can see if you qualify (these are not affiliate links):
Business Platinum 150K after $15K Spend (new link!)
This is a great offer!
If you're not eligible for the offer, you'll probably see a message like this once you log in: "This offer is no longer available. If you'd still like to apply for a Business Card from American Express click here."
Business Gold 90K after $10K Spend
This offer is competitive with the best we've seen for this card.
Keep the card for a full year
Amex has been known to claw back welcome bonuses from those who cancel their card before the next year annual fee comes due.  I recommend always waiting to cancel until the next year annual fee appears on your statement.  Then, call to cancel, but be receptive to retention offers that make the card worth keeping an extra year.
Consider waiting until December
The offers to expand your Business Platinum membership say that the offer ends 12/31/2021.  Some may want to wait until early December to pull the trigger.
The Business Platinum card comes with $200 in airline fee rebates per calendar year.  Those who sign up in December can theoretically collect $600 without paying a second year annual fee.  For example, you can earn $200 in December when you open the card, $200 the following calendar year, and then $200 in January of the year after that before cancelling.
The downside of waiting is that there's no guarantee that Amex will keep the offer around that long.  In my son's case, we had some Dell purchases we wanted to make and so it made sense to sign up now: the Business Platinum card offers $100 in Dell rebates each January through June and July through December.  Plus, we didn't want to risk the 150K offer going away.
Bottom Line
We've written in the past about other types of Amex welcome offers can bypass the lifetime rules.  These include some (but not all) targeted offers such as those you receive in the mail or by email; as well as upgrade offers.  Now you can add "expand your membership" style offers to the list.  In each case, if you've had the card before, it's important to look carefully at the offer's "Offer Terms".  Make sure you do not see language like this: "Welcome offer not available to applicants who have or have had this Card."  When that language is present, it is usually conspicuously shown at the top of the Offer Terms section of the application.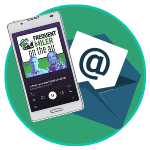 Want to learn more about miles and points?
Subscribe to email updates
 or check out 
our podcast
 on your favorite podcast platform.