In this week's Frequent Miler week in review around the web, we've got some tips on booking and searching smarter: whether one-way or how to find award space the booking tool wants you to think isn't there. Trying not to be Bonvoyed is becoming a challenge, but persistance can pay off. There's also a nice rumor that we can all hope to come true on the Freedom Unlimited. Those things and more — read on for the weekend recap.
I rarely ever book a round trip flight these days, but this post from God Save the Points reminded me of one good reason why I shouldn't: on domestic flights, paying a change fee might cost more than just booking a new flight and no-showing the first. The next time I'm tempted to book round trip, I'll keep this in mind.
This post from Dan's Deals reiterates something I've said time and again to readers convinced of something (incorrect) by a customer service representative: don't take one rep's word for it. That's part of the reason I ended up calling Virgin Atlantic 7 times last year to price a lap infant ticket. I am not the least bit surprised that reps were wrong on this. I expect there will be a lot more of this kind of nonsensicalness in the coming weeks, so either pick up the phone expecting that you'll have to call 3 or 4 times and be patient, or wait it out a bit and hope that Marriott gets their people trained to handle stuff like this.
I've been searching for Star Alliance awards quite a bit lately and have run into both of the issues highlighted in this post from Running with Miles. The broken calender view is probably the most frustrating: even though I know the calendar is not accurate, I still find myself glancing at it and seeing no business class and thinking it's not worth clicking each individual day…..even though I know better. Part of me think it's a reverse psychological trick that United is playing on us — but this post contains good info for those who are not experienced award bookers.
For starters, this post is NSFW (not safe for work). Windbag Miles uses some colorful language in this piece, so if that offends you I suggest you skip this one. I believe that everyone has their own moral compass, and in this game there are no doubt deals on the margins that test the boundaries of your personal ethics. However, in my opinion, accepting a bank's calculated offer to earn a bonus by opening a credit card account and using it to satisfied the requirements they have decided make the offer a competitive business decision for them is not one of those deals on the margins. Windbag Miles gives some reasons why this isn't really an ethical dilemma. Agree or disagree?
Everyone loves a juicy rumor, and this one could be interesting. That 3x back-for-the-first-year deal was only available for a hot minute last year and didn't get talked about nearly enough. I'd much rather see this as a 1 year deal than set categories, but it'll be interesting to see what happens. If you're under 5/24, keep your eye on this situation.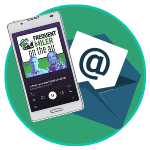 Want to learn more about miles and points?
Subscribe to email updates
 or check out 
our podcast
 on your favorite podcast platform.