Via Business Wire, Netspend announced a new partnership with United Airlines.  Together, they plan to release the new MileagePlus Go Visa Prepaid Card this summer.  Will this card be good for consumers?  Will this card be good for manufacturing spend?  Let's take a look…
What we know so far
Not much is known so far.  Just this:
Card name: MileagePlus Go Visa Prepaid Card
Card website: www.mileageplusgo.com
Rewards for spend: United MileagePlus miles. We don't yet know the earning rate or whether debit purchases will be rewarded.
Issuing Bank: Republic Bank
FDIC insured
Card funds are reloadable "at convenient locations nationwide through Netspend's extensive network of 130,000 reload points and more than 100,000 distributing locations and employers, including check cashers, convenience stores, grocers, pharmacies, insurance providers and tax preparers."
What we guess so far
I expect that this new card will be very similar to NetSpend's current prepaid product.  If so, we can expect the following:
Reload locations can be found via NetSpend's Reload Center Locator.
Reload fees are charged by the reload merchant, not by NetSpend.  Typical fees are $3.95 (MoneyGram centers, CVS, Speedway, Meijer, Office Depot, etc.) or $2.00 at some locations (Advance America, Check 'n Go)
Most reload centers require cash, but some may accept debit cards (including debit gift cards).  Don't expect any to accept credit cards.
Fees:

We can guess that fees may mirror one of NetSpend's current plans:

Pay-As-You-Go: No monthly fee, but per transaction fees for everything (e.g. $1 per signature purchase, $2 per PIN transaction)
FeeAdvantage: $9.95 monthly fee, but no purchase fees within the US
Premier FeeAdvantage: $5 monthly fee. Requires $500 in qualifying direct deposits.

There are additional fees for cash withdrawals, ATM use, foreign surcharges, etc.
Full details of NetSpend's standard prepaid card fees can be found here.
Consumer use: What to look for
At best, prepaid reload cards can be a great alternative to checking accounts.  More often, though, they are loaded with fees and offer terrible customer service.  American Express' Bluebird card, in my opinion, sets the bar for fees.  For almost all typical uses, there are no fees.  The only downsides are that it is an American Express card and so it is not accepted everywhere, and customer service is terrible.
If United is serious about making this product consumer friendly, they should offer the following:
No monthly fee
No signature or PIN transaction fees
No ATM fees (at least within a network of ATMs)
Small or no bill pay fee
To be clear, I don't expect the product to be fee free like this, but if it isn't I can't imagine recommending it to consumers.  We'll see!
Manufacturing Spend: What to look for
This prepaid card is potentially very interesting because it will be the first US prepaid card that I know of to offer airline miles as rewards.  My guess is that they'll offer only 1 mile per $2 spent, but we'll soon see.
The real ms question is whether debit charges will earn rewards.  I'd bet almost anything that PIN based transactions will not earn rewards.  That said, it is possible that PIN-less debit transactions will earn rewards.  This would include primarily online and by phone debit transactions.  Once this card is available, we'll have to test various scenarios, such as:
Pay estimated taxes via debit card with very low fees
Pay credit card bill over the phone via debit card (only a few issuers allow this)
Pay friends with Venmo for free with debit card
If any of these PIN-less debit transactions earn rewards, then this card could be an extremely cheap way to earn United miles.  You could then consider double dipping, as follows:
Earn rewards when reloading the card:

Buy Visa/MasterCard debit gift cards with a rewards credit card (see: Best options for buying Visa and MasterCard gift cards)
Use debit gift card to reload MileagePlus Go card (this is the tricky part!  See: Connecting the dots: Prepaid cards that allow debit reloads)

Earn rewards when unloading the card:

Spend down the card balance with PIN-less debit transactions
Keep in mind that most prepaid card companies, including NetSpend, are quick to shut down or freeze accounts of those who use the cards "not as intended".  Manufacturing spend absolutely fits the "not as intended" categorization.  So, if you do this often, expect this to be a short term win, at best.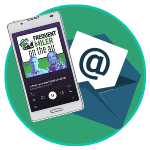 Want to learn more about miles and points?
Subscribe to email updates
 or check out 
our podcast
 on your favorite podcast platform.