Until recently, the only Visa Infinite card available in the US (to my knowledge) was the CNB Crystal Visa Infinite card (which currently has a 50K signup offer).  Unfortunately, that excellent card is extremely hard to get.
Now, Chase has made a splash with two new Visa Infinite cards: The new Ritz Carlton card and the soon-to-be-released Sapphire Reserve.  Both are expensive ($450!), but they make up for that in the first year with spectacular signup bonuses: 3 free category 1-4 nights with the Ritz card, and 100,000 Ultimate Rewards points with the Sapphire Reserve.
Those who have signed up for 5 or more new cards in the past 24 months might have a hard time getting the Sapphire Reserve card, but please read this post for a suggested path to success.
While we don't yet have solid evidence for this, The Ritz Carlton card should be pretty easy to get.  The previous version of the card did not have Chase's 5/24 rule applied to it and so we can hope that the same is true for the Visa Infinite version.  Is it worth getting?  In exchange for the $450 annual fee and $5K spend, you'll get 3 free nights at Ritz Carlton, 10K bonus points if you add an authorized user, $300 in airline fee credits that can be used both this calendar year and next, and quite a few other handy perks.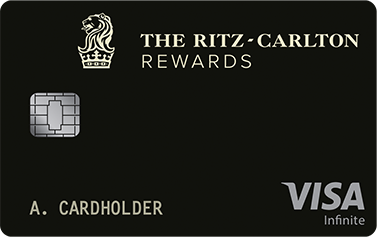 Plus, you get access to a very nice Visa Infinite feature: A repeatable $100 Companion Airfare Discount.
$100 Companion Airfare Discount
The companion airfare discount is simple:  You get $100 off domestic round-trip flights booked for two or more people.
Julian, author of this blog's "Bet You Didn't Know" series, wrote about the $100 Companion Airfare Discount back in January: Bet You Didn't Know: A Repeatable Companion Airfare Discount with the CNB Crystal Visa Infinite.  Julian's key finding was that airfare prices offered through Visa Infinite were usually identical to those found elsewhere, so the $100 discount truly leads to $100 in savings.  Of course, that post had a very limited audience: those that have or could possibly get the CNB Crystal Visa Infinite card.
Now, things have changed.  As explained above, Chase is busy introducing Visa Infinite cards to the masses.  While we don't yet know for certain that the Sapphire Reserve card will offer this feature, the $100 companion discount is an advertised perk of the Ritz card.  I'm pretty sure the benefit will be available to both cards.  UPDATE: The Sapphire Reserve does not offer the $100 Companion Airfare Discount.
Mileage running as a dying sport
Mileage running is the art of flying in order to earn miles rather than to get somewhere.  The main point of mileage running is usually to earn airline elite status.  Most mileage runners seek out extremely cheap long-distance flights for this purpose.  It's not at all unusual for a dedicated mileage runner to fly off to the other side of the world on a cheap fare and to return home without ever leaving the airport at their destination.
It used to be the case that mileage runners would earn not just elite qualifying miles, but also huge numbers of redeemable miles.  These days, though, now that AA, Delta, and United have begun awarding redeemable miles based on amount paid rather than miles flown, the benefit of mileage running with those airlines is greatly reduced.  You can still earn elite status with cheap, long distance flights (as long as you can work around the elite dollar requirements imposed by Delta and United), but you won't earn many redeemable miles that way.  As a result, many who used to mileage run have since decided that it is no longer worth the effort.
The return of mileage running?
Most airlines let people earn elite status either through miles flown or segments flown.  For example, each of the big three airlines let you qualify for first tier status with either 25,000 miles flown or 30 flown segments.
With ready access to the Visa Infinite $100 companion airfare discount, it may now make sense for couples with lots of time on their hands to mileage run once again.
With the $100 discount, mileage running takes on a completely different form.  The new approach will be to seek out dirt cheap flights that will be close to free once the $100 discount is applied.  More often than not, these will be short, non-stop, same day out and back flights.  The idea is to fly as a couple and earn status as a couple.
Examples
I used Google Flights to find cheap fares (e.g. ~$80 per person round trip) on a number of routes and then checked the CNB Visa Discount Air website to see if two people could get $100 off those fares.  In most cases I was able to replicate the cheap fare within the Visa Discount Air website, but there were a couple of deals that I failed to reproduce.
Here are some examples of great fares I found (after the $100 discount was applied):
Chicago to Boston Round Trip for Two on American Airlines: $52.40
Chicago to Boston Round Trip for Two on United Airlines: $41.20
Los Angeles to Las Vegas Round Trip for Two on Virgin America: $41.20
Is it a good deal?
Personally, I've lost interest in mileage running even if it's cheap.  The benefits of earning elite status aren't worth the pain of mileage running.  But, if you're interested, and very flexible with dates, and live near an airport with dirt cheap flights, and if you have a partner to fly with, this just might work.
In the examples above, you can see that it is possible to book some round trip flights for as little as $41.20 for two people.  That means paying just $20.60 per person, or $10.30 per segment (assuming non-stop flights – you could do even better if you find cheap multi-stop flights).
At this price, you can theoretically earn first tier status for $10.30 x 30 = $309 per person.  Plus, you will earn redeemable miles for those flights.  Compared to old fashioned long-distance mileage runs, $309 is really cheap.  For example, if you alternatively flew 25,000 miles on flights priced at 3 cents per mile, you would pay $750 for to get the same level of status.
Is it feasible?
The "good deal" section above assumes that you pay nothing for your time off, transportation to the airport, meals, travel incidentals, etc.  So, depending upon your situation, that $10.30 per segment estimate may be way off.
Also consider that this plan relies on the availability of round trip fares starting at about $70 per person.  Will you be able to find enough of these fares to earn the level of elite status that you're hoping for?  Maybe.  Maybe not.
Wrap Up
The Visa Infinite Companion Airfare Discount truly does save real money in many situations.  And, it is theoretically possible to use the discount to mileage run as a couple, very cheaply.  That said, for most people it wouldn't be practical to do so.  Personally, I think of it as just one of many options for finding discount airfare.  And, I've given up mileage running.  Except, of course, when I can do so at home…