Are those $1,000 Simon Mall Visa Gift Cards a big deal? Do they beat out the supermarket for MS? Why is the United 5K flight-finder method so cool? Watch Greg and I talk it out in this week's FM on the Air (or see the podcast links below to download the audio for your morning commute).
For those who would rather listen during the morning commute or while you're working, the audio of our weekly Facebook Live broadcast is also available for download as a podcast:
iTunes: https://podcasts.apple.com/us/podcast/frequent-miler-on-the-air/id1469319650
Web: https://directory.libsyn.com/shows/view/id/frequentmiler
Google Play: https://play.google.com/music/m/I7hoxlbdqhwybn4go3ik4y2bpcm?t=Frequent_Miler_on_the_Air
On to our weekend recap of the week's top stories:
In Manufactured Spending
This is huge news. While I know they have periodically existed as a unicorn possibility, I haven't physically held a $1K gift card in my hands. However, this deal is going to make the juice worth the squeeze in terms of taking the effort to make it happen. In our FM on the Air above, Greg and I discuss why this is a big deal: you can earn more points per dollar of activation fee than you would even with bonus categories at other stores — and the sky is more or less the limit here. While this is running from 7/17-8/4, I sincerely hope Simon does well enough with these that they bring 'em back down the line. Yeah, liquidation may still be somewhat challenging depending on your area — but this should eliminate the need to split tender in many situations, which will likely make it smoother sailing to liquidate.
---
In award travel
Transferring hotel points to airlines is usually a poor value. However, Marriott's range of partners and consistent ratios make transfers to airline partners more reasonable than with most hotel programs. Still, transfers are slow and if you are earning your miles through credit card spend, you just aren't getting an amazing return on regular spend. However, if you travel for work and your employer is paying for you to amass Marriott points, you may want to consider some of the sweet spots in this post (especially those that are not covered by other transferable currency programs).
Greg recently wrote about gaming the United Excursionist perk while flying around Japan. The problem with that post was that you'd have to get to Japan. Good news: you don't have to get to Japan. In this post, Greg shows how you can narrow down United 5K destinations from any airport with reasonable success. That could definitely save you miles on your next international trip by giving you a free leg in another region, and that sounds like a leg up to me. See the post for more detail. Pro tip: nest these for two!
Dear Hyatt, Hilton, and Marriott: Watch out for IHG. No, seriously. Am I just a cup of coffee behind this morning, or would free breakfast be a big deal for IHG? I don't know for sure that IHG will do anything with these survey results, but if they do indeed add free breakfast, they would instantly gain some street cred. At that point, I would also argue that the old IHG ($49 version) and the newer IHG card would instantly become a pretty hot credit card duo for hotel stays. You still wouldn't want to put everyday spend on the cards: but between the 4th night free on award stays with the new card and 10% back on redemptions with the old card, you're looking at about one third off the average cost per night on award stays. That might make IHG worth another look over an omelet or waffle.
---
This one may not necessarily be related to award travel (in fact, in some cases, you may not be able to avail yourself of these opportunities with an award ticket), but this is an awesome list of free stuff you can do on a long layover/stopover. From free hotel nights to tours that come highly recommended by readers (see the comments), here are some great ways to spend an airport day.
---
In #40Kfaraway news
Here, Greg explains how his secret weapon is going to be using points to buy flights at a value of 1.5c per point and then using those flights to earn some miles. I'm glad that Greg is feeling like he's got an advantage here, but I'm just not sure that any of this is as secret or as advantageous as he thinks. And that's why I wrote a follow-up post called:
Getting 1.5c per point towards travel is undoubtedly one of the strengths of Ultimate Rewards (if you have the Chase Sapphire Reserve). But is it a major strength in our #40Kfaraway competition? In this post, I explain why it really isn't much of an advantage for our purposes and in fact why Stephen might have the strongest position when it comes to paid flights.
---
That's it for this week at Frequent Miler. Check back soon for our week in review around the web and this week's last chance deals.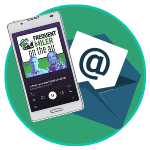 Want to learn more about miles and points?
Subscribe to email updates
 or check out 
our podcast
 on your favorite podcast platform.