This week in our Frequent Miler on the Air broadcast, we discuss recent changes at American Airlines and Hyatt that Nick views as devalutations (that may be bigger than initially announced). Greg, on the other hand, argues why the changes may present some opportunities for great value. Do you see the glass as half full or half empty? Also, are we done with Kiva? Those topics and more here and below.
FM on the Air Podcast
For those who would rather listen during the morning commute or while you're working, the audio of our weekly broadcast is also available for download as a podcast on all of your favorite services:
You'll also find us on Spotify and hopefully your other favorite platforms. If you're not finding the podcast via your favorite source of good podcasts, send us a message and let us know what you'd like us to add.
On to our weekend recap of the week's top stories:
In increasing credit card spend:
If you've seen Greg speak about Kiva over the past couple of years, you have no doubt been bewildered by the math behind his theories on using Kiva for manufactured spending. For the past couple of years, Greg has been "in the lab" testing those theories for the benefit of the rest of us. Unfortunately, he found some bad news. It turns out that Kiva probably isn't a good means of MS, but it's one that Greg and I are still likely to engage in (albeit wit less focus on the MS angle).
---
With valuable bonuses that require heavy spend up for grabs on these business cards, I wanted to include a quick heads up for anyone who may have missed the news that you can once again use those cards for Plastiq payments.
---
As the end of the year approaches, you may be wondering how you're going to met elite status requirements. Before you book a mileage run on Delta, see this post for what else you may be missing.
---
In maximizing value when using your points:
From the pyramids of Egypt to the open plains of the Serengeti and much more, this post gives a run down of some of the best ways to get to Africa using the miles most likely to be accessible to you.
I totally agree with Greg that buying with a plan to keep an eye out for the right value can make sense — I'm totally a buyer when Choice points are half a cent per point also. On the flip side, I think he's wrong to continue buying Radisson points even if they come cheaply for the annual fee. With as rarely as he uses those points, and as many as I believe he has, he should dump those credit cards. It's not like he couldn't get them and their associated bonuses in the future if needed, and it'll take a torrential downpour for him to use the points he's been saving for a rainy day. For readers, I'd add an additional condition to speculative point purchases (beyond what Greg mentions): only buy when your point balance is so low as to not be able to cover 2-3 nights (give or take based on your usual travel patterns/needs).
While I can concede that this isn't as bad as I expected and I'll also concede that Greg made from great points on FM on the Air about why he thinks this news could be pretty interesting, I feel like there is a bit more devaluation below the surface. My initial reaction was that we won't see much more change in the near future, but if we also see properties change category in near term, this devaluation could be more significant than it looks.
---
That's it for this week at Frequent Miler. Check back soon for our week in review around the web and this week's last chance deals.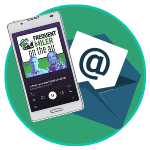 Want to learn more about miles and points?
Subscribe to email updates
 or check out 
our podcast
 on your favorite podcast platform.