This weekend's Frequent Miler week in review around the web is a little bit longer than usual. That's because I was in meetings last weekend focusing on how we can improve this site and it slipped my mind to post the week in review Saturday night. This week, we have a selection of posts from around the 'net over the past couple of weeks: from the latest case of disappearing points to booking cheap positioning cruises and how to stack for max savings on Uber and Lyft (I should have been doing more of this!). Read on for a weekend recap.
Wow: Leana at Miles for Family has most certainly been #Bonvoyed. This is crazy — read this post and then imagine if this had happened with a larger chunk of miles and/or not had another option for topping up her account before she needed to ticket her award. I just don't even understand how the points have totally disappeared I take that back; Marriott losing points into the ether doesn't actually sound far-fetched at all. But that doesn't make it less frustrating. I find myself almost likely to hit 75 nights with Marriott this year, which is kinda blowing my mind since I find new stuff like this every week that makes me want to pull out my hair for people dealing with it. The most frustrating thing is that there doesn't seem to be any contact point when things like this go wrong. With her most recent comment confirming no update as of a couple of days ago, I don't foresee an end in sight and that's just not right.
This article from Forbes struck a chord and rang true in so many ways. I often feel really fortunate to have had my wife as a travel partner for more than a decade's journey to somewhere around 60 countries and most of the United States; we have shared some incredible adventure over the years. And now I'm a blogger, where I basically get to throw the wisdom of this Forbes piece out the window and share the fine details of my trips with an audience that is (mostly) willing to indulge my stories. But don't kid yourself: I don't spend time at parties talking about being #Bonvoyed or the finer points of the baby in business class debate: if you've read two or three trip reports I've written, you probably know more about my trips than most of my friends and family because of just how true this piece is. Maybe that's why events like FM to Go are so much fun: surrounding yourself with others who enjoy this stuff can be just the breath of fresh air to fill up your sails and send you on your next journey.
---
This headline from Turning Left for Less felt slightly sensationalized after I read the post, but the truth is that even though I knew of the Aer Lingus / United partnership, I hadn't really thought about crediting paid United flights to Aer Lingus in order to earn Avios. As someone who is not after elite status, I might consider doing that the next time I fly a paid United flight (though with the great value in redeeming Avianca LifeMiles on the routes I fly most, it's hard to imagine when that time will be). Even more interesting to me were the shopping portal possibilities. I haven't signed up to check the exclusions, but partners like Expedia, Accor hotels and more might be interesting.
---
If my wife reads today's week in review, Drew at Travel is Free will have undoubtedly cost me a bundle of money. If I never step foot on a boat again, I wouldn't feel too disappointed about it, but there's something about the whole European cruise thing that appeals to my better half. In fairness, I would have likely given in on this eventually — I should be thankful that Drew at least put together an easy resource so I can spend less than I would have. Since I'd be buying flights with miles, European repositioning cruises would be perfect — and an angle I hadn't considered on this.
---
I've long known that there are a few different ways to earn something back on ride share services. Before reading this post from Out and Out, I honestly figured that I don't use ride shares often enough for the $1 I could earn here or there to add up. After reading this post, I'm kicking myself a bit for not taking the time to care about it. Even for those like me who don't use these services all that often, the ability to stack so many programs on a single trip makes this post worth a read.
I really like train travel despite the fact that I rarely ever do it. I have taken sleeper cars a number of times in Europe and once between Shanghai and Hong Kong. However, I haven't seen a train with airline-style flat bed seats before. While I'd recommend driving at least one way between Brisbane and Cairns so you can stop at places like Fraser Island, the Whitsundays, and and the Billabong Sanctuary, I could definitely see traveling the return trip by train after reading about its existence in this post by The Flight Detective at Travel Update.
I'm always interested in hearing about places like this: while much of my European travel has been to the major sights and cities, I'm always interested in hearing about places like this since the number of miles to fly to Albania likely isn't materially different than the number of miles to fly anywhere else in Europe. God Save the Points just gave me a new spot to consider the next time I visit Europe.
---
That's it for this week around the web. Check back soon for this week's last chance deals.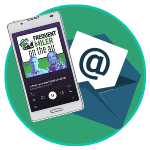 Want to learn more about miles and points?
Subscribe to email updates
 or check out 
our podcast
 on your favorite podcast platform.