Last week, Delta sent an email to many members with the subject heading "SkyMiles Program Developments Worth Noting."  And, its true.  Delta flyers ought to note some of these developments, but they're not easily sussed out from the email.  Here's a quick guide and my take on each change:
Delta said: We know your miles are important, so we want to provide the most notice possible regarding Award price changes.
Delta meant: We're hoping that this notice will stop Gary Leff (View from the Wing) from complaining that we never give advanced notice.
Delta wanted to say: You guys are always bitching about the lack of notice regarding SkyMiles changes.  Well… here's your notice!  Sucka…
Delta said: For travel on or after June 1, 2016, the number of miles needed will change based on destination, demand and other dynamics.
Delta meant: Award prices are going up
Delta wanted to say: Award prices are going up
FM note: I think we'll actually see a combination of award prices going up and going down. In other words, Delta will move even further towards prices awards according to paid ticket prices.
Delta said: Most Award prices will remain unchanged
Delta meant: Most award prices are going up
Delta wanted to say: Here's the reason we don't publish an award chart anymore. We can say stuff like this and you can never prove us wrong!
Delta said: Miles needed to upgrade will increase, and to provide greater access to these upgrades, we've expanded the eligible types of fares.
Delta meant: Tickets bought under the cheapest fare classes are not currently upgradeable with miles, but for flights beginning June 1, 2016, you can use miles to upgrade them.  However, it will cost you many more miles than before (details here).
Delta wanted to say: Remember how you bought that coach ticket to Hawaii and tried to use miles to upgrade only to find out that you couldn't?  Remember how you spent hours on the phone wasting our ticketing agents time begging for an exception?  No more!  Now, in exchange for all of your miles, you can get on the waiting list for those upgrades that are unlikely to happen anyway!
FM note: Crap. My wife, who is Diamond elite, has been getting great value from her global upgrade certificates, but now there will be more competition for international upgrades despite the higher mileage prices.
Delta said: Now you can use Regional Upgrade Certificates in addition to Global Upgrade Certificates for a Delta One™ seat on eligible transcontinental flights starting July 21, 2015.
Delta meant: Nonstop flights between JFK and LAX, and between JFK and SFO have not previously been upgradeable with Regional Upgrade Certificates.  Now they are.
Delta wanted to say: Hey, you Diamond elites… You know how we were giving you complementary upgrades on those transcon routes?  No more!  Instead you get to burn your upgrade certs.  Cool eh?
FM note: Since I rarely fly these routes, this is actually a win for me since it gives me a chance to upgrade if/when I do fly them.  And, I think it is in general a win for Platinum elites who have access to regional upgrade certificates, but weren't eligible for complementary upgrades on these routes before.
Delta said: To see the best availability and deals, search at least 21 days prior to departure and use our Award Calendar by selecting "flexible days" when searching for a flight.
Delta meant: Award prices will be higher for flights within 21 days of departure.
FM note: There's nothing really new here, but its good to see Delta admitting to their version of a close-in booking fee.
Delta said: Starting July 21, 2015, you can now earn valuable MQDs and miles when purchasing Preferred Seats, Delta Comfort+, and paid upgrades to the premium cabin.
Delta wanted to say: Oops, we should have included those fees in the MQD and mile calculations all along!  Our bad!
FM note: Nothing to see here. They want to reward people for spending money directly with Delta.  This just takes it a wee bit further.
Delta said: As part of our ongoing Club investments, enjoy enticing options like Greek yogurt, hot soup and tasty salads. Pair it with a recently expanded selection of premium spirits, wines and regional craft beers.
Delta wanted to say: Remember those sandwiches and other expanded food items we beta tested last year?  Yeah… Not gonna happen.  But here's a pretty good consolation prize.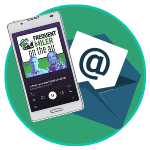 Want to learn more about miles and points?
Subscribe to email updates
 or check out 
our podcast
 on your favorite podcast platform.