Yesterday, Chase had a bombshell announcement: a new Freedom-series card, called the Chase Freedom Flex, is coming on September 15th. Whether you are over 5/24 or not, this card should be catching your eye at least as a potential product change option. The Freedom Flex card is going to offer rotating bonus categories along with some awesome fixed bonus categories that it will share with the Freedom Unlimited. Many readers already have Freedom and Freedom Unlimited cards and find themselves wondering about the best strategy in terms of keeping / product changing / applying anew, and I think this new announcement changes up the best possible Ultimate Rewards wallet.
Earning details of the Freedom cards
When the new Freedom Flex launches on September 15th, here will be the earning rates on all three both Freedom cards:
Freedom Flex Card Details
Card Name w Details No Review (no offer)
Freedom Unlimited Card Details
Card Name w Details No Review (no offer)
Freedom Card Details
Update: The Chase Freedom Card will no longer be available for new applications after September 14th despite details provided by Chase yesterday indicating otherwise. The Freedom Flex will indeed be replacing it.
Earning cash back as Ultimate Rewards
It is important to note that the Chase Freedom cards are marketed as earning cash back, but that comes in the form of Ultimate Rewards points that can be redeemed for a statement credit or check at a value of $0.01 per point.
However, if you have a card like the Chase Sapphire Preferred or Chase Sapphire Reserve, you can move the points from your Freedom-series card to that premium Chase card and then transfer points to partners or use them for more value toward travel, etc.
Are you eligible for any of these cards?
These changes are notable for many who are over 5/24 but who have Chase cards eligible for product change since the new earning structures of the Freedom Flex and Freedom Unlimited may change the value proposition and position in your wallet.
That said, for those interested and eligible, it is worth noting that all three cards are totally separate products. In other words, if you have a Freedom card today, that doesn't prevent you from earning a welcome bonus on the Freedom Unlimited. We expect the same will be true with the Freedom Flex since it is not replacing the Freedom card at this point.
Update: While word from Chase yesterday indicated that they would continue offering the Chase Freedom card after the launch of the Freedom Flex, they updated those details today to indicate that the Freedom card  in fact will no longer be available after September 14th. That makes a big difference here: if Chase were still offering the Freedom card beyond September 14th, I would expect the Freedom and Freedom Flex cards to be considered separate products. There is still the chance that they will be treated as separate products (after all, the Freedom Flex introduces new bonus categories and runs on a separate network), but the fact that they are ending applications for the Freedom means there it as least an increased chance of the new Flex card being unavailable to those who have earned a bonus on the Freedom card in the past 24 months.
Each card is subject to Chase's 24-month welcome bonus rule. That is to say that you are not eligible to earn a welcome bonus if you have earned a welcome bonus on the same card in the previous 24 months. Additionally, Chase doesn't allow you to open a card that you currently have open. In other words, if you have a Chase Freedom Unlimited card right now, Chase won't let you open a second Freedom Unlimited for a welcome bonus. That said, it is possible to end up with two Chase Freedom Unlimited cards through product changes (though you would be more likely to want two Chase Freedom or Freedom Flex cards than two Freedom Unlimiteds).
It is also worth keeping in mind that these cards are all subject to the 5/24 rule.
Chase's 5/24 Rule: With most Chase credit cards, Chase will not approve your application if you have opened 5 or more cards with any bank in the past 24 months.

To determine your 5/24 status, see: 3 Easy Ways to Count Your 5/24 Status. The easiest option is to track all of your cards for free with Travel Freely.
Those over 5/24 will therefore only be able to consider the new bonus categories in terms of a product change strategy (though that is also useful). Keep in mind that product changing will not carry any first-year benefits (including the first-year 5x grocery benefit on up to $12K spend that is being offered for new cardholders).
Big changes coming to the Freedom Unlimited
Starting on September 15th, current and new Chase Freedom Unlimited cardholders and new Freedom Flex cardholders will gain the same set of fixed 5x and 3x bonus categories. It is great to see bonus categories added to the Freedom and downright surprising to see what appear to be uncapped 3x dining and drugstores added to a card with no annual fee.
The addition of those bonus categories is a significant change to the Freedom Unlimited. It also means that your interest in the Flex might be in flux depending on whether or not you currently have a Freedom Unlimited.
What's happening to the Freedom card?
Update: While I had originally heard that the Freedom card would be discontinued for new applicants, Chase had initially indicated yesterday that this was incorrect and the Freedom card would continue to be available even after the launch of the Freedom Flex.
However, Chase has walked that back and now indicated that the Freedom card will no longer be available for new applicants after September 14th.
As I indicated in the original text below, it didn't make a lot of sense to me that they would continue to offer both cards, so I'm not necessarily shocked to find that Chase Freedom is being discontinued for new applicants, though it is somewhat surprising that there were conflicting messages on this out of the gate.
At any rate, I suspect that this update is correct and that the Freedom Visa will no longer be available to new cardholders after September 14th.
However, I continue to suspect that Chase will probably allow people to keep the Visa version for a long time. Those cardholders might get changed to a Mastercard someday, but I'd take the "over" on a year — in other words, I think it will be at least a year and likely more before any forced conversions to the Flex Mastercard if that happens at all.
We don't really know what lies in store for the current Chase Freedom Visa. Rumors circulated yesterday morning that the card would be sunset on September 15th, but Chase quickly shot those rumors down and indicated that the Freedom card would continue to be available beyond that.
However, this doesn't make a lot of sense. First of all, the Freedom and Freedom Flex are almost identical, with both cards offering rotating categories and the same welcome bonuses. The key difference is going to be that the Flex also carries the fixed bonus categories that the Freedom card will not have. It wouldn't seem to make sense on the surface then to get or keep a Freedom over a Freedom Flex.
There is also the fact that the naming conventions here are just confusing. Does Chase really intend to offer a Chase Freedom, Chase Freedom Flex, and Chase Freedom Unlimited with this much overlap? What average consumer in the market for a Freedom-like cash back card will actually understand the differences and find this intuitive? I'd bet nearly none.
So then what gives?
Julian Kheel of CNN Underscored speculates that perhaps Chase has a deal with Visa that isn't set to expire until sometime in the future which makes it impossible for Chase to sunset the current Freedom until that (unknown and totally speculative/theoretical) future date.
There could also be some contractual stickiness in the switch from Visa to MC which makes this situation more complicated than a standard product refresh. Again, my own speculation — nothing confirmed.

— Julian (@JulianKheel) August 31, 2020
That makes a lot of sense to me. If it's correct, we'll likely see the current Freedom card go away at some point down the line. But will that be sometime in 2020? 2021? Later? Nobody knows (or nobody who knows is likely to say any time soon).
So if we're placing bets, I think the smart money is that the Freedom Flex eventually replaces the Freedom, but not yet.
If you speculate that the Freedom may go away, does it make sense to get the Freedom now and pick up the Freedom Flex down the road?
Update: Note that if these cards are considered the same product, you may only be eligible for one welcome bonus.
At least one reader asked if it therefore makes sense to get a Chase Freedom Visa card now if you expect the opportunity to get that card to close at some point.
This might make some sense from the perspective of picking up a welcome bonus on the Freedom while you can. After all, 20K Ultimate Rewards points after $500 spend is pretty low-hanging fruit. The 5x on groceries for a year (up to $12K spent) isn't bad, either. Those things were enough to convince me to add one in my household recently. However, picking up the Freedom now would mean missing out on the fixed 5x and 3x bonus categories of the Flex.
Of course, if you also have a Freedom Unlimited card, you're getting access to those bonus categories — in which case, you may not stand to lose anything by getting the Freedom card now.
All that said, since the Freedom Flex will offer an identical welcome bonus, I think whether or not to get a Freedom card right now comes down to whether you think you want access to more 5x first-year grocery bandwidth by getting the Freedom card now and perhaps a Freedom Flex down the road.
I personally wouldn't be particularly motivated to apply by the 20K-after-$500 part of the welcome bonus. Keep in mind that when the world returns to whatever the new normal becomes, the ability to pick up bonuses on the Ink cards means that there isn't really a shortage of new Chase bonuses to get — so the urgency to get the Freedom may be less important than it would normally feel when a product is being discontinued.
Is there any advantage to the Chase Freedom Visa vs the Freedom Flex Mastercard?
We noted in yesterday's post how the new Chase Freedom Flex will be a World Mastercard and will therefore carry some Mastercard-related benefits like cell phone protection and free Shoprunner shipping. Some readers asked if there was any reason to prefer the Visa version of the card.
From a standpoint of acceptance, I don't think there is a practical difference. I can't recall the last time I encountered acceptance of Visa or Mastercard but not both.
Some readers pointed out that Costco takes Visa but not Mastercard. That wouldn't ordinarily make a difference to me since I wouldn't recommend using either the Freedom or Freedom Flex at Costco at 1x.
However in a quarter where Warehouse Clubs or Gas Stations are a bonus category, you may be giving up on the opportunity to earn 5x at Costco with the Freedom Flex Mastercard.
There is also the question as to whether or not the Freedom Visa and Freedom Flex Mastercard will offer the same bonus categories. Since the cards run on separate payment networks, it certainly isn't impossible that they will offer different rotating bonus categories.
That said, my guess is that they'll be the same. If the speculation that they will eventually end the Freedom Visa is correct, I don't see the value for Chase in offering different bonus categories as it just makes the cards even more confusing for consumers. If the speculation that they'll eventually drop the Freedom card is incorrect and Chase does indeed intend to have three different Freedom variants long-term, I still don't know as though different rotating categories make sense as I don't imagine the goal is to give consumers 5x in every category possible but rather the point of bonus categories is to get you using your card more often so that it'll be at the top of your wallet and you will also use it in instances where the return isn't so favorable.
I'll be happy to be wrong here, but my bet is that there won't be a significant advantage to Visa over Mastercard.
What will the ideal Ultimate Rewards wallet look like?
In the post "Awesome Credit Card Combos", Greg crowned the ultimate Ultimate Rewards wallet as including the Chase Sapphire Reserve, Ink Business Cash, and Freedom Unlimited (with an add-on of the Freedom card for those also interested in rotating categories). Do the new enhancements change that 3-card combination?
I think these enhancements do in fact change the math to some extent. I think my ideal Ultimate Rewards wallet would probably look like this:
Chase Freedom Flex (for 5x travel through Ultimate Rewards, 3x dining, 3x drugstores)
Chase Ink Cash (for 5x office supply stores on up to $25K per year)
Chase Ink Business Preferred (for 3x travel and 3x shipping)
Possibly add a Chase Freedom Unlimited (for 1.5x everywhere)
Why the Freedom Flex over the Freedom Unlimited and why the Ink Business Preferred over the Sapphire Reserve?
There's no doubt that earning 1.5x Ultimate Rewards on otherwise unbonused spend makes more sense than doing any spend at 1x. That said, with uncapped 3x at drugstores via the Freedom Flex and 5x at office supply stores (on up to $25K spend per year) on the Chase Ink Cash, one might consider buying Visa Gift Cards to use for unbonused spend. Even if you're paying the activation fees rather than taking advantage of fee-free promotions, you'd come out ahead of the Freedom Unlimited pretty easily.
For instance, let's say that your drugstore sells a $500 Visa Gift Card with a $6.95 activation fee. That purchase would yield 1,520.85 Ultimate Rewards points. Even if you paid yourself back for the $6.95 fee by redeeming 695 Ultimate Rewards points for a $6.95 statement credit, you'd be left with 825.85 points — leaving a return of 1.65x on the $500 spend. Using that gift card for everyday purchases would then be a better net return.
Of course, that's a hassle. It means carrying gift cards, not having credit card purchase protections, and running into inconvenience if not impossibility in terms of larger-than-$500 purchases. It is obviously possible to do the same with office supply store gift cards and many of us (myself included) don't carry Visa Gift Cards for everyday expenses. I know that some readers do this though and it might make the Freedom Unlimited unnecessary. There is also the risk of shut-down. The annual cap on the Chase Ink Cash makes it clear where the speed limit is in terms of office supply store spend. Uncapped 3x at drugstores on a card with no annual fee seems impossibly generous and inviting shut down. We just don't know where the line will be.
As for the Ink Business Preferred rather than the Reserve, the main purpose here would be for the ability to transfer to partners.
With the Freedom Flex (and soon the Freedom Unlimited) offering 3x dining, that eliminates one compelling reason to pay the $550 annual fee on a Sapphire Reserve. Further, the Freedom Flex and Freedom Unlimited will soon offer 5x on travel booked through Chase Ultimate Rewards. That will make them more rewarding for booking flights — the trade-off here would be losing the travel protections of the Sapphire Reserve. Whether or not travel protections are worth sacrificing 2x depends on your circumstances and travel.
While the Freedom Flex and Freedom Unlimited will offer 5x on travel booked via Ultimate Rewards, they will not bonus other travel — which is where the Ink Business Preferred comes in since it offers the same 3x travel that you'd give up on the Sapphire Reserve but at a much-reduced $95 annual fee.
There are some sacrifices in giving up the Sapphire Reserve: you'd be giving up Priority Pass lounge and restaurant access. That might not be a good trade if you use those benefits more than a couple of times per year.
The other key loss in my new "ultimate" wallet would be losing out on the current opportunity to Pay Yourself Back at a rate of 1.5c per point on the Chase Sapphire Reserve (currently available at grocery and home improvement stores). That feature is expected to continue in some form. If you value the ability to pay yourself back at a rate of 1.5c per point, dropping the Sapphire Reserve may be difficult.
However, those primarily interested in transfer partners would probably have a hard time justifying the Sapphire Reserve long-term. I'm keeping it for another year due to the reduced renewal fee we're facing (at $450) and the DoorDash credits this year and next year. And I may well keep the Sapphire Reserve long-term for reasons that would be irrelevant for most readers (for example, when I write about an airfare sale it can be convenient to have a screen shot of using Ultimate Rewards points at a value of 1.5c each). If not for being a blogger, I would probably drop it in favor of the Ink Business Preferred (actually, in my case, I have the old Chase Ink Plus that allows transfers to partners and I don't spend that much on travel and I also have a Citi Premier for 3x hotels, so I'd be happy to have the old Ink Plus as my transfer card since I don't need the 3x general travel category).
Will Chase enhance the Sapphire cards?
A key detail missing from that analysis is any pending change to the Sapphire cards. No changes to the Sapphire cards have been announced, but I find it hard to imagine that they won't add some sort of bonus category.
As we mentioned yesterday, we expect that at the very least the ability to earn 5x on travel booked through Chase will likely extend to the Sapphire cards. I wouldn't be surprised to see this 5x stack on top of the current travel bonus category for a total of 7x on the Sapphire Preferred or 8x on the Sapphire Reserve. That seems like very generous territory in terms of return on flights given the low margin there for Chase, but I think it's plausible.
Sure, I'd be the first to say that you generally get a premium / ultra-premium credit card for its benefits rather than return on daily spend. However, in this case, I can't can't see them letting the no-fee cards outshine the premium travel cards for booking through Chase's travel system.
Will we see some other bonus category added to the Sapphire cards — perhaps something grocery or gas-related? I'm not sure. While the ability to transfer points to partners will keep a premium Chase product in the hands of those of us in this hobby, I think Chase is going to need to offer a more compelling reason to the average consumer to choose those cards. I won't be surprised to see an enhancement there.
And when that enhancement comes, it is possible that the Sapphire cards will become more attractive. At the moment, I'm not seeing enough value with either of them.
What is your strategy?
Most readers likely have one or more Freedom products already. Assuming you do, what should you do with the cards you have? Here are my quick thoughts about what to do if you have each of the following:
Freedom Unlimited: Keep. If it was worth it to you to have this card for 1.5x on unbonused spend, the new bonus categories are gravy.
Chase Freedom Visa: Product change. The Freedom Flex will be a much better card given the Mastercard benefits. Additionally, you should be able to sync it with SimplyMiles offers from American Airlines (and I frequently see drugstore offers there). It would also be eligible for more categories of Plastiq payments, though with no bonus categories that won't be a huge reason to get/have the Flex.
Sapphire Preferred: If this is your primary card to transfer to transfer partners, keep it. Otherwise, consider downgrading to the Flex when available. However, consider adding a Freedom Flex or Freedom Unlimited for better earn on spend.
Sapphire Reserve: If this is your primary card to transfer to transfer partners and/or you value ancillary benefits, keep it. However, consider adding a Freedom Flex or Freedom Unlimited for better earn on spend.
Bottom line
Chase shook things up rather unexpectedly with the new Freedom Flex and new benefits on the Freedom Unlimited card. Truthfully, I feel like they can't be done: there must be some sort of refresh coming on the Sapphire cards and I wouldn't be surprised to see an enhancement coming on the business side eventually (though maybe not yet given the current pandemic environment). These changes are significant enough as to totally change the recommended ultimate Ultimate Rewards wallet: the launch of these new fixed bonus categories will change which Chase cards I would want in my wallet. That's no small potatoes and it is applicable whether or not one is eligible to apply new to any of these cards. I agree with the speculation that the Freedom card may eventually go away (update: indeed it will no longer be available for new applicants after September 14th), but I don't necessarily feel that is a compelling reason in itself to apply for the card now given the better benefits coming on the Flex.
What is your strategy going to be and what will your ultimate Ultimate Rewards wallet look like?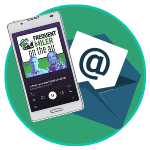 Want to learn more about miles and points?
Subscribe to email updates
 or check out 
our podcast
 on your favorite podcast platform.