A couple of weeks ago I posted about my 40K to Far Away practice run.  I was going to Denali National Park with Rapid Travel Chai and I used it to test out my packing plans.  Can I take everything I need in a small backpack?
That experiment was extremely helpful.  For one, I decided that I didn't like the giant fanny pack that I had brought with me.  It was fine when walking around, but when sitting in an airplane or lounge, I wasn't happy with it.  It was uncomfortable to wear sitting down, and it was awkward to set down on its own. Still, despite that, I do like having certain items in easy reach when walking about, so I downsized to a small fanny pack.  Yes, I'm keeping the dorky look, but on a smaller scale.
I also realized that I needed to bring more clothes. I have two pairs of quick drying t-shirts and boxers which I can theoretically swap every day.  The idea is that each time I shower, I would put on a clean and dry pair and then hand-wash the sweaty pair.  In an ideal situation, the hand-washed clothing would be dry by the time I needed to pack up.  I tried out this idea many times on travels this past summer and it worked every time until Alaska.  For some reason, the quick dry clothes didn't quick dry there.  Luckily our motel had a hair dryer which worked wonders on the clothes.  I can't count on finding the same during the 40K to Far Away Challenge, so I'm bringing extra clothing.
Can you guess where I'm going?
The video at the top of this post includes a few little hints.  I don't think you'll guess my actual route, but you might be able to guess where I'm going or where I'm not going.
Packing List
I've listed below most of the items I'm bringing along.  I did a lot of research to decide what to bring, so you might find this list helpful if you have similar needs.  In many cases, the links to the products are affiliate links.  That means that I'll earn a commission if you click through and buy something.  Keep in mind that in some cases (but not usually with Amazon), you may be able to earn extra rewards by clicking through from a portal rather than from this page.
Recommended Items
Here are things I'm bringing with me which I've used for long enough to feel good about recommending to others:
Maybe I'll recommend soon?
The following items might be great, but I haven't had enough experience with them yet to know.
Not bad, but not perfect
Here are some items that I might recommend under the right circumstances, but they're not quite perfect…
ASUS Chromebook Flip C101PA: This is a tiny Chromebook convertible laptop with a 10.1 inch screen.  Pros: Super light, fairly inexpensive, surprisingly good keyboard, swivels into a tablet, good battery life.  Cons: small slightly washed-out screen. Doesn't run Windows or iOS.
Feiyu pocket sized foldable phone gimbal stick: Gimbal sticks are used to keep your camera (or phone in this case) steady when recording video. I bought this one because it is super lightweight and it supposedly fits in your pocket.  And, it's sort of true… I can cram it into a pocket, but not comfortably.  The stick works pretty well, but there's definitely a learning curve to it.  The app that comes with it has some interesting features, but I prefer to use this gimbal stick without the app.  I just use the phone's built in video recorder.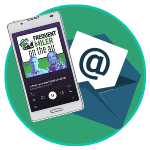 Want to learn more about miles and points?
Subscribe to email updates
 or check out 
our podcast
 on your favorite podcast platform.