As one YouTube viewer commented, we "let Tim and Stephen out of the basement" to join in on the Ask Us Anything episode which went live on November 2nd and introduced questions about award redemption bucket list items, Staples fee-free gift cards, best options for the Philippines, and more.
You'll notice that for our recent Ask Us Anything episodes, we're trying to include as many of the Frequent Miler team as are able to join. So don't be afraid to bring all your burning miles and points questions and one of us will be able to come up with an answer for you, even if we have to throw out the occasional "we have no idea."
Take a look at the full Ask Us Anything episode below.
Or to navigate directly to a specific question within YouTube, click the timestamp below:
3:05 "If you add P2 as an employee card on the Wyndham Business, will that affect their 5/24 status?"
4:42 "What hard-to-get award would excite you the most if availability opened up? Flight or hotel?"
7:42 "Do you foresee Hyatt and American Airlines getting together and offering a status match between Globalist and AA Executive Platinum status in the future?" 
8:47 "Would you advise against using Staples fee-free gift cards to meet 100% of the Chase Ink Cash signup bonus's minimum spend?"
10:05 "Stephen, have you encountered tons of ghost availability in the Capital One spring Priceline deals?"
11:24 "Best way to get to the Philippines with Chase or AmEx?"
15:55 "Have you considered bringing guests onto the podcast?"
17:12 "What banks let you pay their credit card with a debit card either on the phone or online?"
19:23 "Was it a mistake to get the Bonvoy Boundless? Whenever I try to use my free night certificate none of the hotels I want show availability." 
24:31 "Best way to use LifeMiles domestically in the US?"
26:11 "Is it worth it to try for 50,000 more Loyalty Points through the shopping portal to get from Platinum Pro to Executive Platinum?" 
28:15 "For ANA Around the World, would you recommend taking advantage of business class seats opening up 2-3 weeks out by first booking an itinerary that's 2-3 months long and making changes along the way?"
30:15 "Have 7 Chase personal cards and 4 Chase business cards. The last several haven't been auto-approved but I have yet to be declined. Currently under 5/24 Should I keep applying for Chase cards?"
32:43 "When searching for sweet spot awards, what tools do you use if you have a specific time but don't care about the destination versus when you have a specific destination but don't care about the time?"
39:00 "Are there any sweet spots from the east coast of the US to Delhi and back?"
42:25 "Best credit card to put $30,000 through Plastiq?"
43:10 "Are there parts of the world where IHG Diamond status are more valuable?"
43:36 "Are y'all using your Capital One cards less now that they had the issue with no communication when transfers weren't working?"
44:36 "Is the Vegas $20 trick still working?"
45:19 "Any plans to do in-person seminars more often in the near future outside of Chicago/Toronto?"
46:07 "Will Cathay Pacific ever return to its former glory?"
46:35 "Why the flip flop between hosting this show on Facebook and YouTube?"
47:39 "Do you recommend freezing two credit bureaus at a time to force banks to pull specific reports and rotate which is getting pulled?"
49:25 "When is the best time to book Cathay business awards using Alaska miles?"
51:21 "Any tips on getting to an upgraded cabin as a new Premier Platinum with United?"
52:47 "Nick, do you speak Spanish?"
53:38 "I'm sure you know deals that aren't public. How do you keep straight what you can talk about and what you can't? Have you ever messed up and mentioned something you shouldn't have?"
56:11 "Thoughts on the likelihood of more elevated Wyndham Business card signup bonuses?"
57:28 "I can't get any desirable Capital One cards due to Too Many New Accounts. How can I break through?"
58:37 "Whats the best way to maximize rewards on AirBnB bookings?"
59:45 "Is it common for LifeMiles to trick you and show lower taxes and fees initially and then charge you more on the final screen?"
1:00:18 "Are there any hotel chains that give you better value for hosting a destination wedding? Either for extra points, loyalty status, or spend on a cobrand card?"
(Shout out to YouTube user "Miller" for putting together and paraphrasing the timestamps for us!)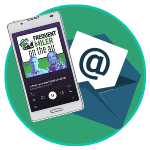 Want to learn more about miles and points?
Subscribe to email updates
 or check out 
our podcast
 on your favorite podcast platform.