Over the past couple of days, we've reported a sale on LifeMiles (See: Buy LifeMiles from 1.35cpp (and earn 5x doing it)) and an increase in the offer on the LifeMiles credit cards (See: Increased Avianca offers: 40K / 60K after $1K in purchases). There's also a Star Alliance award sale going on right now with discounts on select routes. I got a pleasant surprise just yesterday when I booked a domestic award with LifeMiles and noticed the newly-reduced booking fee of $10 on my route of choice (a savings of $15 over the old fee). While there are a lot of things to love about LifeMiles (including that they are both an Amex transfer partner and Citi transfer partner), one of the biggest frustrations any enthusiast will share is that availability at LifeMiles.com does not always match what you'll see elsewhere. That's absolutely true (and frustrating), but for those with non-urgent bookings, a lot of patience, and a little luck, there may be a workaround: LifeMiles manual bookings via email.
The struggles are real
While I'm a big fan of Avianca LifeMiles, I can understand the frustration that some readers express with the program. Not known for its legendary customer service, LifeMiles further frustrates by simply not showing availability on its website that one would reasonably expect to exist.
For instance, just yesterday morning, I was searching for a simple 1-stop itinerary within a single US zone. I found an itinerary that worked at United.com and JuicyMiles showed me that it was also available via a couple of other Star Alliance programs. But not Avianca. They showed no availability.
I emailed Turkish Miles & Smiles to see if they could book it. While I waited for a response, my availability disappeared (and Turkish unsurprisingly came back saying it wasn't available). However, a few hours later, it came back and was now bookable at LifeMiles.com. Yes, I kept searching every hour or two throughout the day. It's kind of annoying to have to do that, but I was looking to book for travel this weekend, so time was of the essence.
Unfortunately, LifeMiles does not display really complex itineraries. You'll generally see 1-stop itineraries, with some 2-stop itineraries now and then (but certainly not always). I typically do not see itineraries with long connections available via LifeMiles.com. That's unfortunate because we all know that the most readily-available award space is often on the least desirable itineraries — which are often the ones with long connections.
Conventional wisdom with LifeMiles is that if something is not bookable via the website, it's just not bookable with LifeMiles. I'd seen such a surprising amount of resignation to that fact that I'd long assumed it as a flat truth: what you see at LifeMiles must be what you get and that's the end of it.
At least, I mostly bought into that. I remembered having read somewhere that phone agents only have access to the same availability you see online but that it was theoretically possible to get a manual booking via email. If the #40Kfaraway challenge has taught me anything, it's that it's worth an email to test the theoretical.
Testing the process
When I searched for more information about manual booking, I found this post from Dominik at Traveling the World. He lays out exactly what you need to do for a manual booking. The steps that follow came from his guide on this, so I suggest you check out his post for more clarity.
Note that I only expect this process to work if LifeMiles.com shows availability for each of your segments separately. A moment ago I noted that (yesterday) I was searching for a 1-stop itinerary within a single zone in the US that did not show up at LifeMiles.com. In that case, neither the individual segments nor the entire itinerary showed up at LifeMiles.com despite the fact that it was available as a saver award for 10K via United and available through some other Star Alliance programs. In that case, I think LifeMiles just wouldn't be able to book it. However, if your segments are individually available but not collectively available, this is worth a shot.
A few weeks ago, I was looking to book a complex international itinerary for the #40Kfaraway challenge. While I won't yet get into the full details of the itinerary here (I've got to keep some pressure on Greg and Stephen), I'll say that I didn't expect the manual booking to work. Using JuicyMiles, I had found a 3-stop (four-segment) itinerary that intrigued me. It intrigued me in part because it had three layovers of eight hours or more. This trip was available for booking via United MileagePlus or Lufthansa Miles & More, but neither of those programs were options for me thanks to having Citi ThankYou points for #40Kfaraway.
Interestingly, the same Star Alliance itinerary was not showing up via other Star Alliance carriers like Aeroplan, Thai Royal Orchid, Asiana, etc. I wondered whether this may be a case of phantom space or of unusually liberal routing rules from United MileagePlus. Both seemed equally likely.
I did some light digging to see if I could find information on Avianca's routing rules. I found a lot of old information about the total lack of routing rules they exhibited at one time. Ben at One Mile at a Time had long ago written that you can't have a connection of more than eight hours or else the itinerary won't show up online. In this case, the itinerary had three connections of eight hours or more, so it wasn't surprising that it didn't show up online….but would it be bookable at all?
It's worth noting here that I had very little worry that the availability I wanted would disappear since it was not available to book via most Star Alliance programs and was made up of segments that I expected probably wouldn't individually be high-demand award segments. Furthermore, since I'm limited to ThankYou points, I couldn't book it anyway….so I had nothing to lose. If I were trying to book something I expected might disappear in a flash, this wouldn't be the method to try.
Having found Dominik's post, I realized that I needed screen shots. I took screen shots of each individual segment to show that the individual segments were available via LifeMiles.com and sent the following email to support at lifemiles dot com:
Hello,

I am writing to request a manual reservation for a LifeMiles award flight itinerary. I am not able to book this online because of a website error (the search engine is not showing the itinerary as available even though each of the flights is available on LifeMiles.com), so I need your help to manually create the reservation. Thank you so much for your help. Here is the information:

Name: Nicholas Reyes
LifeMiles Number: XXXXXXXXX
Itinerary Information:

From: XXX
To: XXX
Cabin: Economy class (all segments)
Depart: XXX
Arrive: XXX

Segments:

1) [Date] Flight: [Flight Number], [Airport code A to Airport code B) hh:mm – hh:mm
Available on LifeMiles.com:
I then proceeded to include a screen shot of each leg on LifeMiles.com as each leg was individually available.
On one of the layovers, I didn't even choose the first available flight out (after all, I was putting this thing to the test — might as well get the flights I wanted), so I turned what could have been a 7-hour layover into a 9-hour layover on one part of the trip. I then confirmed that I would like to use the full number of LifeMiles necessary for the itinerary, not a mix of LifeMiles and money.
The next day, I received the following email from LifeMiles:
Nicholas,

It's a pleasure to greet you.

We apologize for the encountered experience while trying to redeem your booking. We've escalated your manual booking request to the respective department. We recommend you to be aware of your emails, if your request is approved, the itinerary will be sent to your email address and they'll contact you to the provided number.
We'll appreciate your valuable time and comprehension.

Regards,
When I hadn't heard back 3 days later, I sent a reply to the above email thanking them for their help and asking if a manual booking had been created yet. The next day (we're now 5 days from the day I emailed initially), I received this response to my follow-up.
Let us inform you that our specialized department is still evaluating your case; however, we've sent them a reminder. If your request is approved, they'll get in touch with you by phone or via email with the itinerary along with the payment instructions.

Thank you for your understanding.

Regards,
At least it wasn't yet a flat-out denial, but the amount of time this was taking is clearly an indication that this isn't an approach for a time-sensitive booking. In my case, time wasn't of the essence, so I did the only thing I could: I waited.
The next day (day 6), I received an email out of the blue with the sender "Travel Document" (the email came directly from the Amadeus booking system, not from Avianca LifeMiles). Sure enough, it showed my itinerary as requested and had a PNR. At the bottom of the email, it said the following:
GENERAL INFORMATION
—————————————————————————–
PLEASE CALL BACK TO AVIANCAS CALL CENTER FOR BOOKING PAYMENT
PAYMENT DEADLINE UNTIL DD/MM/YYYY BEFORE 11:00 (COLOMBIA TIME)
CONSIDER THE FOLLOWING BUSINESS HOURS:
FROM MONDAY TO FRIDAY 6:00 AM TO 22:00 (COLOMBIA TIME)
SATURDAYS, SUNDAYS AND HOLIDAYS 8:00 AM TO 16:00 (COLOMBIA TIME
While this was obviously fantastic news, there were two major problems:
There was no phone number to call for the booking payment required.
I received the email in my inbox 1 hour and 12 minutes before the payment cutoff time.
While problem #1 seemed simple to surmount (at most it might take me a couple of phone calls or transfers to find the right number / extension), problem #2 seemed like it could be more of a challenge. Luckily at that moment I was able to drop everything and call. Would they have actually canceled my booking if I didn't call in right away? I don't know. But the moral of the story is to keep a close eye on your email if you take this route. I'd have been much less excited about the whole process if after six days my reservation was made and canceled in 72 minutes.
I was pleasantly surprised at how quickly I was able to get through to a human via the call center. I used the number found on this page for the US call center (choose "Estados Unidos" from the menu to get the US number if the menu comes up in Spanish). The LifeMiles site says to choose Option 3, but I think there may have been another option to choose first and then eventually it became evident when I would need option 3 to connect to LifeMiles (rather than Avianca's booking agents). The first agent with whom I spoke took my booking reference number and verified my identity. You'll need to set a PIN in your online LifeMiles account if you haven't done so. I was able to do it while I was on the phone, but save yourself a minute and log in to LifeMiles.com, go to "Manage Profile" and set your PIN now. Once they verified that I am me, they put me on hold for just a few minutes before I spoke with the agent who took payment.
Payment was easy and straightforward. The agent asked me not to use my miles for the next 24 hours or so as the ticket processed. Costs came out as expected (taxes + $25 service fee). The ticket was issued almost immediately and I was able to log on to the airline's website and select my seats. Overall, it was a win for the home team (we'll see how it pans out for #40Kfaraway).
Bottom line
If the LifeMiles website does not show the itinerary that you want, but it is available via other Star Alliance carriers, it may be possible to build a manual booking via email. The process is slow and from what I've now read elsewhere (like in this Flyertalk thread), it can be a mixed bag. I may have gotten lucky on my itinerary, but the process was fairly simple. If you're going to give this a shot, I suggest going in with expectations low and time on your side. I'd also recommend keeping a close eye on your email as I don't know how firm they were on my 72-minute deadline to call and make payment, but it would be frustrating to wait a week only to have your reservation made and canceled at the drop of a hat. Speaking of hats, hold on to yours — this booking really amplified my excitement for #40Kfaraway. Whether or not I win, it's going to be a fun ride; I'm glad I emailed LifeMiles to take a shot in the dark and managed to hit my target.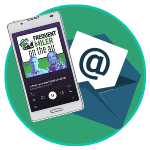 Want to learn more about miles and points?
Subscribe to email updates
 or check out 
our podcast
 on your favorite podcast platform.