UPDATE 11/26/2012: On the weekend of November 10th 2012, Office Depot stopped selling Vanilla Reload cards.  As a result, most of the information below is now out of date.  See Office Depot discontinues Vanilla Reload cards and The reload game is on.
In recent posts, I've shown ways to earn 5X everywhere by buying Vanilla Reload Cards at Office Depot with an Ink Bold card and then loading the money to either an American Express Prepaid card or a reloadable debit card such as the ill fated NetSpend card.'  See '€œOne card to rule them all,'€ '€œNetSpend challenges the throne,'€ and '€œWe'€™re sorry, there is a problem with your account'€ for details.
For this trick to work, though, it'€™s necessary to find an Office Depot that sells Vanilla Reload cards, has them in stock, and allows you to buy them with a credit card.'  The table below shows what I've learned so far from readers regarding each of those points.'  The date shown is not the date of purchase, but rather the date in which the result was reported to me.'  In some cases you'€™ll see multiple entries for the same city because I've entered in data from multiple people, dates, or locations (within the city).
Reader input
If you have experience good or bad with buying Vanilla Reload cards, please report it in the comments below, including the location of the store, and I'€™ll do my best to keep this table up to date.'  I'€™m also particularly interested in finding stores other than Office Depot that sell these (or other reload cards) and allow you to use credit cards for the purchase.
UPDATE Nov 8 2012
Ever since Bluebird launched, stores have begun to sell out of inventory more quickly than before.  As a result, it doesn't make much sense for me to keep updating this table – it's out of date by the time I do so!  Instead, please continue to report your findings in the comments below, and use your browser's search feature to find information about stores in your area.
Also note that since this was written, new stores have been found to carry Vanilla Reload cards.  Most notably, some CVS and Walgreens stores carry them and, of those, some allow credit cards.  Also see VanillaReload.com and hover your mouse over "Reload Locations" to get ideas of other places to look.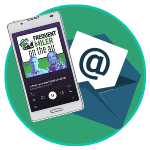 Want to learn more about miles and points?
Subscribe to email updates
 or check out 
our podcast
 on your favorite podcast platform.