As we approach the end of the year, I've ended up with a bit of excess credit to use toward prepaid Amex Fine Hotels & Resorts bookings. As you'll recall, one of the new benefits launched on the Amex Platinum card during 2021 is a $200 annual credit toward prepaid Amex Fine Hotels & Resorts bookings. Here's what I'm doing to deal with my leftovers.
Key Things to know
One of the benefits of the consumer version of the Amex Platinum card is the chance to earn up to $200 in statement credits per year with prepaid Fine Hotels & Resorts bookings or The Hotel Collection bookings. Here are a few key things to know about how it works:
The credit only works on prepaid bookings, not bookings paid at the hotel.
You still earn hotel elite credit and points in most situations and should get your elite benefits. See Better than expected: Earn 5x & get loyalty credit w/ FHR prepaid bookings and The Hotel Collection Mini Guide: Prepaid rates earn hotel points/perks, and more surprising finds for more detail.
Prepaid doesn't mean nonrefundable — see the cancellation policy of the property you want to book. Many of them are flexible until soon before the stay.
Unlike with many similar types of travel credits, Amex is very quick to claw this credit back if you make a future booking and then later cancel it. In other words, if you make a 2023 booking today, you'll get your 2022 credit. However, if you cancel that booking sometime next year, Amex will very likely claw back the $200 credit when you cancel.
Fine Hotels & Resorts stays can be booked for a single night (pending individual hotel availability), but The Hotel Collection bookings must be a minimum of 2 nights to qualify.
Back to back bookings at the same property will not receive the on-property amenity (usually a $100 credit of some sort) multiple times. Back to back nights at different properties are fine, but Amex added language this year expressly prohibiting you from getting the "$100 credit" benefit on separate back-to-back reservations at the same property. That said, you'll still get free breakfast for two, guaranteed 4pm late checkout, and an upgrade based on availability, so it can certainly still make sense to make back-to-back bookings.
Finding Fine Hotels & Resorts "deals"
While many Fine Hotels & Resorts properties are exorbitantly expensive (particularly if you're used to using points for hotels), there are a few handfuls of properties that are at least sometimes available for something around two hundred bucks (give or take a bit). You generally won't find those properties in cities like New York or Milan, but if you look a bit further afield you can sometimes find properties that can be free or close to it after the credit (which is a particularly good value on Fine Hotels & Resorts bookings since you'll also get free breakfast for two and a local amenity like a $100 property credit, which in some cases can be used toward dining at the hotel).
Greg previously published a great post about how to find your own Fine Hotels & Resorts deals. If you're looking for strategies to find value-priced FHR properties (and more importantly how to search wider areas for properties that might qualify), see this post: Find your own Fine Hotels & Resorts deals.
Remember to check both Fine Hotels & Resorts and The Hotel Collection
Personally, I have the bad habit of often only checking Fine Hotels & Resorts when I'm looking to use the credit. That is in part because I value free hotel breakfast, particularly at the type of properties ordinarily included in the FHR portfolio (and you don't get free breakfast at The Hotel Collection properties, though at properties where you get a $100 credit, you may be able to use that credit toward the cost of breakfast).
However, it can be worth checking The Hotel Collection in addition to Fine Hotels & Resorts. I have numerous times found cases where two nights could almost completely be covered with the $200 credit (in some cases it's been possible to cover the entire cost of two nights). It can therefore be well worth checking both.
If you're logged in to your Amex account, you can simply go to AmexTravel.com to search both programs at once.
My strategy for using 2022 Fine Hotels & Resorts / The Hotel Collection credits 
While I had a couple of stays planned to use the 2022 Fine Hotels & Resorts credits on the Platinum cards in my household, plans changed a few times this year and our 3 Cards 3 Continents trip overlapped with the time when I'd otherwise planned to use my credits, so I ended up with cancelled stays.
It's been challenging (to say the least) figuring out which of the credits have been clawed back. Just understanding which line items in your statement activity are bookings, credits, and clawbacks can be a bit difficult to sort out. However, if you pull up a specific line up and click the small link on the right that says "show additional information", it gives enough information to tell the difference between a new reservation:
The $200 FHR prepaid credit:
A cancellation credit:
And a clawback of the credit:
Again, to find that information, click on a line item in your statement and then click the link where it says "Show Additional Information".
I can say with certainty that making a reservation, getting the credit, and then cancelling that reservation a month or two later pretty consistently results in a quick clawback of the $200 credit. As time goes on, the clawbacks have been much more difficult to trace back. For instance, last year, on one Platinum card, I made several reservations on December 31st, 2021 for travel in September 2022. Then, I made a couple more reservations on January 1st, 2022 also for travel in September 2022 (to correspond with the reservations I had made the day before). I received the $200 in statement credits credits for both 2021 and 2022 in January 2022.
Then, in August 2022, I made yet another new Fine Hotels and Resorts reservation for September 2022 and I cancelled all of the reservations I had made on December 31 and January 1. About two weeks later, I received a clawback of $174.88. I don't know why the clawback was in that amount; I expected to lose the full value of the $200 Fine Hotels & Resorts credit from 2021. I did check my activity carefully and can confirm that the other $25.12 never got clawed back and I had no reservations that corresponded with the $174.88 amount. The reservations I initially made to use the credit were all domestic, so there is no currency conversion at play. I really don't understand the partial clawback. I wouldn't be surprised if Amex comes back another six months from now for the other $25.12.
Given the long stretch of time between my 12/31 & 1/1 reservations being made and credited and then cancelled and mostly clawed back (I cancelled on August 31st and got the clawback two weeks later), I know Amex has a long memory. I've seen a data point or two from people who got lucky under similar circumstances and didn't have the credit clawed back (yet), but those situations seem to be rare exceptions (and I have faith in the long arm of the Amex clawback to eventually catch up in that situation).
Instead, I'm going to try a scattershot approach. I thought I had a clearer data point about this, but going back through my own records it appears I don't (did I mention what a pain it is looking back through cards with multiple FHR bookings and cancellations and trying to figure out which credits got clawed back and which didn't?). Hopefully I'll create a new data point in 2023 (but I welcome reader input if you kept good records and have a data point on this approach).
My plan is to make several Fine Hotels & Resorts reservations before the end of 2022 for travel in 2023. We have some loosely planned trips in the first half of 2022, a couple of which could potentially fit with an FHR stay. I plan to make at least two FHR bookings for stays during that would take place during the first half of 2023 that I think we'll be able to use.
However, if I've learned anything in recent years, it is to expect plans to be cancelled. I am therefore going to also make an "insurance" reservation (or possibly two).
We sometimes travel down the east coast to visit family and I've mentioned before on the podcast that the Ritz-Carlton Tysons Corner is conveniently located just off the highway outside of Washington, DC and it is on Fine Hotels and Resorts. It's a convenient stop on the road trip and it is often reasonably priced (between $200-$300 during more normal times, just over $300 lately). It isn't the most luxurious Ritz property and it isn't located in DC so it doesn't make sense for someone looking to visit the city itself. But it sure beats a night at a SpringHill Suites. I'll make a fall 2023 reservation for that property knowing that we could use it for an excuse to take a road trip and visit family.
I'll do the same thing with a reservation in Las Vegas, where I know we can usually get a reasonable enough flight with Southwest (if they ever recover from the epic meltdown plaguing them right now) and there are a number of Fine Hotels & Resorts properties with fine prices.
My thought with these late 2023 reservations is that they can serve as a "backup" in case neither Plan A nor Plan B works out during the first half of 2023.
The rationale for this approach is this: Let's say that today (12/27/22) I make an April 2023 reservation to use a 2022 prepaid FHR credit and I receive that $200 credit now. Then, in April 2023, I cancel my stay (ahead of the cancellation deadline). I expect that the $200 credit will get clawed back if that was my only qualifying 2022 reservation. However, I think that if I have additional qualifying 2022 reservations, Amex will not claw back the credit. In other words, if I make a qualifying booking today for April 2023 and another for June 2023 and a third for October 2023, I believe that the credit will not be clawed back if I later cancel the April 2023 stay so long as I still have the June 2023 and October 2023 stays booked (hence I'd still have a qualifying 2022 use of the credit). If I eventually cancel all three bookings, I'd expect to get a clawback of the $200 credit — but so long as I have a qualifying 2022 use, I expect to keep the credit (and I would certainly argue to get it back and have a good argument if I have another existing qualifying booking made and paid in 2022).
So I'm essentially just prepaying multiple reservations now in the hopes that one of them sticks in 2023. The problem with that strategy is that I'm prepaying for several hotel reservations (knowing that I'm not going to use them all). I'll need to float the cash for each reservation I make. With that strategy, the best case scenario is that I keep the April 2023 reservation, make the stay, and then cancel the other "backup" reservations (assuming I don't just organically want them). That means I'll need to float $200 x at least 3 for the next ~4 months on each Platinum card. In reality, none of the reservations will be exactly $200, so it'll be more than $600 and we have a few Platinum cards in our household. There is obviously some cost in tying up that much cash (or more) for months on end. It's not the end of the world, but it does reduce the value of the benefit some amount since I'll be tying up far more than $200 in order to secure that $200 statement credit.
At the very least, this strategy will be inconvenient (since I'll need to tie up the extra cash) and annoying (since I'll need to keep a close eye on my account if and when I cancel reservations to make sure that I keep my credits). Is it worth all that to use this coupon? I certainly won't argue with someone who says it isn't worth it. There's no doubt that there is going to be some record-keeping involved.
On the other hand, I do believe that in most "normal" years, I'll easily use this credit. My gut feeling is that 2021 and 2022 have been abnormal years for me, and I expect that many others are in the same boat. I'll certainly be looking to use these FHR credits sooner in the future.
Bottom line
My scattershot approach for using 2022 Amex Fine Hotels & Resorts credits is far from perfect. In an ideal world, I'd have just used the FHR credits organically during the year. However, in the absence of a time machine to go back and use the credits on something sooner in the year, I'll take this scattershot approach and make at least 3 qualifying bookings on each Platinum card in the hopes that something will stick for 2023 — and, more importantly, in the hopes that my $200 credit for a prepaid FHR or The Hotel Collection booking will stick. This gives further credence to those who would argue that the $200 FHR "coupon" isn't really worth $200 and I certainly can't argue that I'm getting full value out of the credit this year — but hopefully I'm locking in some value out of it despite the cost in time and annoyance. Here's to easier 2023 travel plans (we all hope!).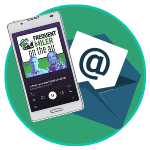 Want to learn more about miles and points?
Subscribe to email updates
 or check out 
our podcast
 on your favorite podcast platform.