There are new Amex Offers out again for 1-800-Flowers. While the inability to sync to multiple cards and/or stack like back in the glory days might make these offers less interesting than they once were, it may still be worth syncing these to save money on that last-minute gift you forgot you needed until it was (almost) too late.
The Deal
New Amex Offers are out for 1800-Flowers: Get 10% back on some business cards or get $15 back on $50 (available on many personal cards)
Key Terms
Offers expire 10/31/18
See your offer for full terms
Quick Thoughts
Neither of these offers are amazing, but they can both save you some money on gifts through 1800Flowers. Additionally, it is often possible to get large portal rewards — in fact, right now you could get 20% back or 20 miles per dollar. Stacked with either of these offers, that's a decent savings if you need a last-minute gift for someone who lives far away.
Remember that 1800Flowers sells more than just flowers. While the prices for food do not match what you can find in your local grocery store, some things are less unreasonable than others. For example, you can order Junior's Cheesecake through 1800Flowers.
Junior's is a bit of a thing in my family — any time we go to New York City, my mother-in-law has a rule that we need to bring her back Junior's cheesecake. While $50 for a cheesecake is outrageous, $35 after an Amex Offer isn't that far off from what you'll pay in person if memory serves me correctly. If you also get 20% back from a portal (on the $49.99 purchase price), you're down to about $25 net, which would be a good price if you picked it up yourself. If you have a Celebrations Passport membership and you get free delivery, that's not a bad deal if you want overpriced New York cheesecake. On the other hand, you could buy a box of brownie mix and some cream cheese and make a cheesecake on top of brownies at home that I would argue is much better than Junior's for much less cost — but it doesn't ship well to great aunt Suzy on the other side of the country, not that it has ever lasted long enough in my house to attempt to ship it.
As always, we have added these to our Current Amex Offers database, where you can see offers that may currently be available on some of your cards.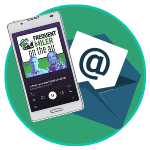 Want to learn more about miles and points?
Subscribe to email updates
 or check out 
our podcast
 on your favorite podcast platform.