A French Horn player finally figures out the best way to deal with long hold times, IHG paring back elite benefits, the debate about deal-killing bloggers is reignited and 20 reasons why you shouldn't intentionally crash a plane. All that and more in this week's Saturday Selection, our weekly round-up of interesting tidbits from around the interwebs (links to each article are embedded in the titles).
One of the more viral pieces of "travel news" last week was the US Attorney General's office announcing that it was prosecuting a 29yo YouTuber who intentionally crashed his plane in November of 2021 in an effort to garner more views for his YouTube channel. He mounted cameras all over his plane, got sponsorships, took off with a fake flight plan and then jumped out of the plane while on video. The fixed cameras on the plane then filmed it as it crashed into the side of a mountain nearby.
Unfortunately, said YouTuber never considered that filing a fake flight plan and crashing a plane on a whim aren't smiled upon by the feds, the state, the forest service and folks who may be living/driving/working underneath him. So, when the safety board asked him to tell them the location so that they could examine the wreckage (and told him to preserve it), he lied about the location, airlifted the wrecked plane out before the board could get to it and then lied and said he had experienced a complete loss of power, forcing him to bail. Alas, he had videotaped and posted the whole thing, making his story, um, hard to prove. He's now staring at up to 20 years in prison.
Last week, Kyle Potter over at Thrifty Traveler wrote a post about getting well-priced Delta One redemptions to Australia by leaving from Mexico City instead of the US. And by well-priced, I mean 95,000 SkyMiles each way instead of the 400,000 price-tag for leaving from the US. This is something that Greg has been writing about for awhile now and can be a great tool for maximizing SkyMiles redemptions. However, Kyle's post triggered a few folks who knew about the deal, figured Delta didn't and thought that now that he had written about it, it was only a matter of time before it died (not even factoring in that we had already written about it months earlier and it was…still there). Dave at Miles Talk took the twitter-war as an opportunity to write about how he decides when to share and when not to.
I love this one. Delta has been having a tough year (or three) when it comes to hold times on its customer service lines, especially in the event of irregular operations. I see a regular stream of tweets directed at Delta showing folks with hold times on their phones of 1-3 hours while waiting for a Delta agent to answer. Well, necessity is the mother of invention…and improvisation. A French Horn player had been waiting for so long that Delta's hold music became her muse and the occasion for a lovely duet.
One of the highlights of Greg the Frequent Miler's travels was when he earned 1.2 million Virgin points in order to book a week on Richard Branson's private island, Necker Island, and got to hang-out with Sir Virgin himself. Since Greg's trips, Necker Island redemptions have returned, but now cost a whopping 1.7 million Virgin points for a week. An independently-wealthy Head for Points contributor recently paid $8,000/night to check it out and wasn't impressed, describing it as "a piss-up that offers no more than a budget holiday to Spain." So, read his review before making a decison between whether to pay for your kids' college education or spend a week on Necker Island.
IHG makes changes to elite benefits
In my opinion, IHG One Rewards has been on the upswing since it's rebranding early last year, especially for top-tier Diamond status members. Recently, IHG published changes to their list of elite benefits that result in both good and bad news. The new terms have removed elite member Priority Check-in, reserved IHG's right to cancel award bookings due to "mispricing" and now allow hotel restaurants to exclude certain menu items from the elite breakfast benefit. On the positive side, it also now explicitly grants members the ability to gift an award booking by adding a second guest to reservation – the catch is that neither party gets elite credit. This is something that many folks did in the past, but now it's officially removed from the YMMV (your mileage may vary) column. Just make sure your "guest" doesn't try to check-in early.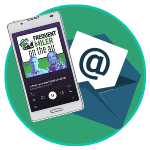 Want to learn more about miles and points?
Subscribe to email updates
 or check out 
our podcast
 on your favorite podcast platform.