Last year, IHG introduced its "new and improved" rewards program, IHG One Rewards. At the same time, they unveiled significant changes to their elite program, the most exciting involving the renamed, top-tier Diamond status. Now, high-level elites would receive guaranteed free breakfast as a welcome choice as well as the promise that suite upgrades and late checkout would move towards becoming the rule rather than the exception. In addition, new Milestone Rewards gave the opportunity for confirmed suite upgrades starting at 20 nights and an annual lounge membership starting at 40 nights.
All of these changes seemed to be quite positive, although there's been "clarifications" to some of the elite benefits that have made it a bit less exciting than we'd originally hoped. There was also the question of how frequently and consistently these new benefits would be honored by the respective properties. When IHG originally rolled out One Rewards, they acknowledged that properties had been uneven in their previous application of elite benefits, but that it would improve dramatically with the new program.
We've been curious to see if that would be the case. So, we decided to check it out ourselves. Between late-2022 and eerly-2023, I visited ten different IHG properties across five different brands to see how the Diamond reception would be. Here's what I found.
Note: All lodging was paid for using my own points. My IHG Diamond status was earned through a promotion last Fall and extended via purchasing Ambassador Status at the end of last year. I received no gifts or compensation from IHG.
IHG On-Property Diamond Benefits
First, let's review the on-property elite benefits for IHG Diamond Members:
Complimentary Upgrades: IHG had informed us that they have taken great pains to better educate member hotels so that this benefit would be more evenly and generously applied.  Free upgrades can include suites, but hotels still aren't necessarily required to offer them. Still, what we heard from IHG led us to believe that the majority of the time standard suites should be in-play as upgrades for Diamond Members.
Free Breakfast Welcome Amenity: Diamond Elite members get free breakfast at almost all properties with relatively few exclusions.  IHG excludes limited-service brands that already offer breakfast as well as Candlewood Suites, Holiday Inn Club Vacations, InterContinental Alliance Resorts (Las Vegas and Macau)​, and Mr. and Mrs. Smith properties.
Early Check-In (Based on Availability)
2pm Late Check-Out (Based on Availability)
It's worth noting that the only thing truly guaranteed to Diamond Members is free breakfast (which is a healthy step-up from the domestic "free" breakfast that's offered by Hilton and Marriott). The other three benefits fall somewhere in the realm of, "we'll do our best!" Technically, late checkout and upgrades were already available before the program switch, the big change was how they were going to be honored for top-tier elites moving forward.
How do IHG Diamond Benefits compare across brands?
I wanted to see how these benefits would be applied across multiple brands, specifically in the US (as my experience is that most chains offer a MUCH better elite experience overseas). So, over the last 4ish months I've completed 10 stays across 5 IHG brands, specifically excluding Kimpton, since Greg and Nick had already checked one out as Diamond Members late last year.
I decided to break it into two groups, concentrating on Crowne Plaza, Holiday Inn and Intercontinental as properties that usually offer full-service restaurants. I also had a couple of stays at Holiday Inn Express and Staybridge Inn and Suites to see what, if any, difference Diamond status made at properties that provide complimentary breakfasts to all guests, usually without a full-service restaurant.
The main things that I wanted to find out were:
Would upgrades be given proactively (without having to ask at the front desk)?
Would suite upgrades be awarded when available?
Would there be standard suites or preferred rooms specifically off-limits to Diamonds?
Would breakfast be proactively offered and executed as advertised?
Would late checkouts be given on request?
Results
Here's a table summarizing what happened:
| Brand | Proactive Upgrade | Upgrade to Suites | Upgrade Exclusions | Free Breakfast | 2pm Late Checkout |
| --- | --- | --- | --- | --- | --- |
| Crowne Plaza | 100% | 0% | 100% | 100% | 50% |
| Holiday Inn | 33% | 33% | 66% | 100% | 66% |
| Holiday Inn Express | 50% | 50% | 50% | n/a | 50% |
| Intercontinental | 100% | 0% | 100% | 100% | 0% |
| Staybridge Inn | 100% | 100% | 0% | n/a | 100% |
| Overall | 70% | 30% | 60% | 100% | 50% |
Complimentary Upgrades
The application of complimentary room upgrades varied tremendously. Interestingly enough, all of the Crowne Plaza and Intercontinental properties that I visited proactively upgraded me to a preferred room, in each case based primarily on view (although I did receive a fireplace room at the Intercontinental Monterey). Also, although each of the properties that I visited had superior rooms and standard suites available, each one of them told me that those rooms were not available to Diamond members as complimentary upgrades.
Oddly enough, the two best upgrades I received were at the Staybridge Suites in Ann Arbor (on a Michigan football weekend, no less) and at the Holiday Inn San Diego Bayside. In San Diego, I was upgraded to a huge, bay-view suite and in Ann Arbor, we were given a two-bedroom, three-bed suite that allowed me and my two companions to all share one room instead of having to use two. I was also upgraded to a suite at one out of the two Holiday Inn Express hotels…the other HIE told me that they didn't have any benefit programs for elite members outside of welcome points.
Probably the worst examples I encountered were a Holiday Inn in Queens and the Intercontinental San Diego. In each case the front desk agent had no idea that there were any upgrade benefits that applied to Diamonds.
Free Breakfast
All told, I think that this is one area that IHG Diamond shines clearly above Marriott and Hilton, at least in the US. All of the full-service properties gave me a voucher for a free breakfast for two in the hotel restaurant that included coffee/espresso, juice and a hot item. In the case of both Intercontinentals, the breakfasts were easily on par with some of the best domestic Hyatt breakfasts that I've had as a Globalist.
The consistency here is what sets IHG apart from the Byzantine World of Bonvoy Brekkie or the food and beverage credits that Hilton supplies domestically (but that rarely seem to actually cover the cost of a full breakfast, unless you like muffins and coffee).
The breakfast benefit wasn't immediately well-known in IHG-land. Last November, when I went to my first Intercontinental, the front desk agent seemed confused about why I would get a free breakfast and I had to talk to a manager in the morning to get a voucher. The front desk agent at the Holiday Inn Queens seemed flabbergasted that I would even want to eat in the restaurant, telling me that there's much better food at a deli around the corner!
That said, over the last 2-3 months, there's been zero confusion about the breakfast benefit and it's been proactively explained to me at all full-service properties that I've been to.
2pm Late Checkout
Along with suite upgrades, this was an uneven benefit across the board. No one really seemed to think that late checkout was a benefit that they should try to offer. Both of the Intercontinentals said that they couldn't accomodate one and, overall, half of the properties I went to refused to even provide a 1pm checkout. Given that IHG only specifies a 2pm late checkout (as opposed to 4pm by Hyatt), this seems like it should be a fairly simple request to accomodate and a place that IHG has much room for improvement.
Final Thoughts
After staying at ten different properties as an IHG Diamond, I came away more impresssed than not. I was pleasantly surprised with the consistency (and quality) of the free breakfast benefit; at the Intercontinentals it was genuinely delicious.
At most properties, there was a noticeable room upgrade proactively applied to my reservation as well. I was actually quite surprised at the consideration given to rooms at the lower-end properties, who generally seemed to make an effort to get me into a better room.
That said, it's certainly not perfect. I think the biggest improvement that IHG could make is to remove the uncertainty from upgrades and late checkouts, at least for top-tier elites. If a standard suite is open, give it to them…or at least clearly define what a Diamond member can expect. And for heaven's sake, guarantee 2pm checkout, except at resorts. Neither of these should be incredibly difficult to execute and would keep most top-tier elite members from feeling as though they have to fight for their benefits.
The other downside of IHG is simply the lack of of great properties domestically. The Intercontinentals I went to were lovely and I continue to be surprised by recently re-modeled Holiday Inns (as well as Kimptons). Overall though, there wasn't much to be excited about. While I was surprised at the room upgrades and late checkouts provided by the middle-tier properties, most were functional and weathered and not inspiring in the least.
All in all, IHG Diamond status is, at the very least, much more compelling than the old Spire Elite used to be. IHG seemed to want to put a shot across the bow of Marriott and Hilton with the way that they redesigned their program and, with a little more consistency, I think they're well on the way to doing that. With the two other major brands' continued movement towards lesser, more inconsistent benefits for their domestic elites, IHG Diamond has an opportunity to assert itself as one of the most desireable elite statuses in the US.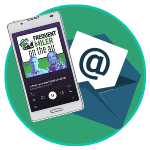 Want to learn more about miles and points?
Subscribe to email updates
 or check out 
our podcast
 on your favorite podcast platform.