Hear me out on this: Yesterday morning, I revealed the disappointing news that I'd gone way over budget for the 40K to Far Away challenge. How could I possibly still convince you to vote for me? Because I did more for less. No, I won't ask you to consider me as a winner based on my full itinerary as that wouldn't be fair. Instead, I'll tell you how I traveled farther than Stephen and almost as far as Greg using the same amount of money and just over half as many points. To be clear, I'll only ask you to consider the cities and activities that took place before the budget breaks. We never agreed that we had to use the entire budget and I think I got far enough before busting the budget to steal away your vote from Greg or Stephen. Here's my awesome and awesomely cheap trip.
First up: credit where credit is due
Before I convince you that I wiped the floor with Stephen and Greg despite what you thought when you read yesterday's post, let me give credit where credit is due: Stephen and Greg did a fantastic job. I definitely didn't see Greg's full trip coming; he had some amazing stops in exotic locales. As I saw his pics from Senegal, Johannesburg, and even from the lounge in Ethiopia, I was jealous. Ever since my first trip to South Africa a few years back, I've been itching to see more of Africa. When I saw his adventures, part of me instantly regretted not using 22K Etihad miles to book Royal Air Maroc in economy class to get somewhere in Africa that hadn't previously been on my radar. Hats off to a hand well played. But he used a lot more points than I did for the travels below and only barely exceeded my distance. Pound-for-pound, I think I have him beat.
And as for Stephen…let's be real: Ask ninety percent of the people in your social network if it is possible to travel to all of the places that he did for 40K points and $400 and they would probably look at you like you had eight heads and wonder if it's a trick question. I can't believe he continued to travel for a week beyond Greg and I and do as many cool things as he did. I'm honestly amazed and think he deserves a ton of credit for the trip he put together. But he didn't get as far as I did below.
So here's a summary of my trip before the budget broke and why you should vote for this for 40K to Far Away champ.
Stop 1: Honolulu: 7500 points + $33.82
Honolulu cost breakdown:
$5.01 breakfast tip at Chef Geoff's IAD
7500 points (Turkish award ticket on United)
$5.60 award taxes
$5.50 bus pass
$7.28 shave ice
$10.43 Uber ride
For my first stop, I learned and demonstrated that you could have a pretty amazing day for almost nothing: just 7500 points and $5.60 got me to Honolulu airport, and an additional $5.50 got me an entire day of bus transportation anywhere in Oahu. By bringing my own snacks / food, I was able to hike here and enjoy these views:
From New York, I literally could have gotten there and back for 15K points and less than $20 ($5.60 each way in taxes and $5.50 for the all-day bus pass). Add maybe $5 or $6 for a bottle of Ibuprofen for my aches and pains after trying to race to my gate with 13 minutes before it closed and then trying to race to the top faster than I should have with a 25lb backpack.
A further $7.28 got me a bowl of natural deliciousness as Uncle Clay's House of Pure Aloha makes their shave ice syrups with real fruit. And real aloha. You don't have to take my word for it — just ask Uncle Clay (pictured).
The night didn't end quite the way I expected since I fell asleep on the city bus and ended up at the transit center several miles from the airport at about 2:45am. I took an Uber to the airport from there ($10.43) and spent the rest of the night split between this concrete slab and chair at Honolulu airport before moving on to the IASS Priority Pass lounge (which has no food) before my friend Susan reminded me that you don't need an inter-island ticket to access the inter-island terminal where the Hawaiian Airlines Plumeria lounge (which accepts Priority Pass) does have free food.
Stop 2: Tokyo: 16,000 points + $55.87 (running total: 23,500 points and $89.69)
Tokyo cost breakdown:
16,000 points (transferred to Virgin Atlantic to book Delta flight)
$5.60 award taxes
$2.22 train to Naritasan Park
$1.84 train back to Narita airport
$9.53 ramen dinner
$36.67 capsule hotel
Still far under budget, I next got to Tokyo with 16K ThankYou points transferred to Virgin Atlantic with a 30% bonus and $5.60 cash. At this point, I took the JR train from the airport to get to Naritasan Park for about $2.22 (and about $1.84 on the return since the Narita Express was even cheaper) and I saw this:
It was peaceful and beautiful. I then enjoyed some tasty ramen in a very apropos aviation-themed restaurant frequented by airline crews.
That night, I checked in to a capsule hotel at the airport that I promise felt a little less like a morgue than it looks.
If that wasn't cool enough, I still had a lot of flying to go before the budget busted.
Stop 2.5: Bangkok (DMK) airport en route to Brisbane: $272 (Running total: 23,500 points + $361.69)
Bangkok costs:
$272 cash ticket on Air Asia (which continued on to Brisbane)
3 years off my life for the increase in blood pressure when I couldn't enter Bangkok (no cash value)
Day 4 did not go at all according to plan. I woke up early in my pod at the Nine Hours Narita hotel — having had at least nine hours of sleep lying flat in a bed felt nice after having spent the previous night on the bus and on a concrete slab at the Honolulu airport. I'll write separately about the experience of a Japanese capsule hotel, but the short story is that I really liked it. There was something very relaxing about the quiet and solitude — almost like one of those silent retreats. 
I then headed into the terminal to check out a couple of the Priority Pass lounges at NRT, almost all of which are landside at Narita airport. That's kind of weird. I'd much rather be able to relax in the lounge post-security knowing that I could just pop out and make it to my gate within a couple of minutes.
It didn't help that both of the lounges I visited sucked. They each have a coffee and soda machine and Wi-Fi and that's about it. Both seem like broom closets, both in terms of size and general spirit. However, I sat and worked in one and drank a horrible coffee. 
Then, about 40 minutes before my flight, I left to head to the line for security. When I got there, my fear about a pre-security lounge was reinforced by the massive lines at both the north and south checkpoints. I sent a message to my wife thinking that I may have messed up:
As you can see, my fear was unfounded. 
Through security I went and then directly to a restroom near the gate. I didn't need a bathroom break but rather needed to reorganize for a few minutes. Air Asia does allow you two carry-on bags (a larger carry-on and a smaller personal item), but they restrict you to a total weight of 7kg — that's total for both bags combined. My bag was tipping the scales around 12kg — almost double the allowance. I proceeded to fill my pockets with every heavy item possible: camera lenses went in my pockets, my selfie stick went in a rear pocket of my pants, tins of Altoids went in extra front pockets, etc. I probably looked ridiculous with stuff bulging out of all of my pockets, but I was aiming to reduce how heavily my bag seemed to be weighing on my back. It either worked or (much more likely) they just didn't care that much. I didn't see anyone's bags getting weighed during the check-in process.
Once on board, I was pretty impressed. Air Asia's plane on this route was pretty nice.
I was seated in a window seat. Someone eventually sat in the middle seat. Nobody occupied the aisle seat and after take-off my middle-seat-mate moved over to the aisle, giving us both some extra space (though I have to admit that I kind of commandeered the extra seat space with the stuff from my pockets and I stretched my legs into the middle under-seat area since my backpack took up most of the space at my feet. He didn't seem to mind).
Unfortunately, upon arrival at Bangkok's DMK airport, I was in for an unpleasant surprise. I went to the immigration counter with my passport and boarding pass, but the agent only needed to look at my boarding pass for a second and immediately said that I could not enter Bangkok and must go to the transfer desk. Confused, I said that I had a 9hr and 40min layover, so I had plenty of time to go into Bangkok. Furthermore, I'm American, so a visa is not required. The immigration agent shook her head and said that I'm not allowed to enter and would have to speak with my airline about it. She motioned me towards the transfer desks. I went to the Air Asia transfer desk with my boarding pass and passport and explained that I wanted to go into Bangkok during my layover. The transfer agent told me that this was not allowed because of my ticket conditions. Confused, I asked what she meant. She explained that my ticket conditions were for travel from Tokyo to Brisbane and did not give me permission to enter Thailand — I would have to stay in the airport. That didn't make any sense at all to me and I made that known. I've many times left the airport on a long layover and many airports offer free local tours to those with long layovers . There was no wavering — she said something about point-to-point ticketing and that it isn't possible. I asked her what happened if I cancelled my flight to Brisbane (not that I could in the context of this competition, but at that point a large part of me wanted to out of spite…which is ridiculous since Air Asia would have just kept my money). She told me that I would have to wait until after I missed my flight to Brisbane in order to enter Bangkok. That seemed suspect to me, but it was neither here nor there. I was stuck.
I paced the international terminal for a good 10 or 15 minutes, frustrated as anything that I'd flown all the way to Bangkok and couldn't get into the city to get some cheap Thai food. I had planned to take a bus from the airport to the Chatuchak market (for about 30 cents USD) since I've never been (my several trips to Bangkok have been on weekdays). From there, I intended to take a tuk tuk towards the river and a ferry up the river to pick up a couple of modes of transport. As I write this sentence, the disappointment of having missed out on cheap Bangkok street food still weighs heavily on my fingertips as they slam against the keys. I also intended to get a haircut in Bangkok as I've often needed a haircut while traveling and I just find it an interesting experience to get one in a foreign country. It's one of those odd little experiences that we all share and even with a language barrier you can usually get it done. It gives you a chance to connect with ordinary folks rather than just the front desk staff at a hotel, and I enjoy that.
Instead, I made my way to one of three Priority Pass lounges at Bangkok's DMK airport and began firing off messages to people who I thought might know more than me about this "ticket conditions" situation. I simultaneously began giving it a Google. After about two hours, I came to realize that entering Bangkok wasn't going to happen. Air Asia is what is known as a point-to-point carrier. That is to say that, until a couple of years ago, you could only buy an Air Asia ticket for a direct flight — they simply had no hubs / layovers. In the past, if you wanted to travel from Tokyo to Brisbane, you'd have needed to buy one ticket from Tokyo to Bangkok and a separate ticket from Bangkok to Brisbane and go through immigration and customs, picking up your luggage and re-checking it. While that would have been ideal for me in this situation, apparently some folks find that to be an inconvenience. As a result, Air Asia began offering what they call "Thru-tickets". They bill this as the way to travel relaxed, without having to deal with going through immigration and picking up your bags. What they leave out is that they don't have permission to let you enter the country when you're buying your ticket like that. I believe this is because they are not paying the associated passenger taxes to Thailand (which is why a ticket on Air Asia is so much cheaper than everyone else). At any rate, I got stuck at the airport. Nothing exciting here — just visits to three Priority Pass lounges for free food, drinks, and Wi-Fi.
From there, it was off to Brisbane. While the plane on the Bangkok-to-Brisbane route wasn't quite as nice (and had no power outlets), I scored an entire row of 3 seats to myself! I was able to lie down completely and sleep for most of the ~9hr flight to Brisbane. #winning.
Next up: Brisbane
Stop 3: Brisbane: $37.01 spent (running total: 23,500 points + $398.70)
Brisbane expenses:
Australia ETA fee: 20 AUD: $13.47
Brisbane Uber from Airport to Eat Street Northshore: $14.94
Lunch in Brisbane: $1.15. Just the overage at Carretto Cafe, a Priority Pass restaurant (where you get $36 AUD per person and it's counter service. I also ate in the Plaza Premium lounge in the international terminal, another Priority Pass lounge that also has a complimentary a la carte menu)
Dessert in Brisbane: $7.45. This is a combo of the 3 AUD entrance fee for Eat Street Northshore plus the 8 AUD cost of dark chocolate fondue-dipped brownies and strawberries
My final stop before breaking the cash portion of the budget was Brisbane.
When I arrived at Brisbane airport, I went to Corretto Cafe, a Priority Pass restaurant, in order to fuel up. Priority Pass covers up to $36 AUD per person at this location, so I grabbed a sandwich, a bottle of water, a bottle of juice, and an acai bowl.
I next hopped an Uber to Brisbane's Eat Street Northshore, which is open on Fridays and Saturdays from 4pm to 10pm and on Sundays from 12pm to 8pm. It's basically a collection of food vendors built into shipping containers, with a couple of stages for live bands, bounce houses for kids, and a number of other vendors. I ended up going back the following week with my family; my son loved the bounce houses and we made some Australian friends. Here's a little video showing a glimpse of my time there during my 40K to Far Away 23K to Far Away challenge.:
Bottom line
I had a great trip. By the time I got done at Brisbane's Eat Street, I'd used up 23,500 points and $398.70. That left me with 16,500 points and just over a buck to go, not including the points earned from charging the flights. I'll hang my trip on the above: 16,061 miles flown and three cities visited (Honolulu, Tokyo/Narita, and Brisbane) with a nice chunk of points left over. There are some awesome highlights from the end point of my trip after I ran out of points, but I'll hold those for after voting has been completed. In terms of getting far away, I think the above both got me very far from the starting point and got me a couple of cool experiences that I may not have otherwise had on a normal trip and for far fewer points than Greg or Stephen spent. Furthermore, I'd go back to each of the above spots — I'd finish the Lanikai Pillboxes hike, I'd definitely spend a layover relaxing at Naritasan Park, and I did in fact insist on returning to Eat Street on my way back home from the trip. Next time, I'll find a more comfortable place to sleep in Honolulu — but otherwise, I don't regret any part of the above trip for my 23.5K to Far Away journey.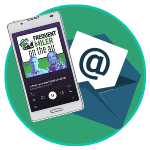 Want to learn more about miles and points?
Subscribe to email updates
 or check out 
our podcast
 on your favorite podcast platform.