Update 4/10/21: Presumably due to the tax deadline getting pushed later this year, the TaxAct Amex Offer has been extended to June 30, 2021.
There has been an Amex Offer out for a while good for 30% back (up to $60 back) on tax filing services at TaxAct.com. Today I also received an email from Visa Savings Edge for alerting me to the ability to get 30% back with a Visa small business card. If you have both available, the Amex Offer is likely better since you should be able to stack that with a shopping portal, but either way this could be a decent little savings (and the Visa Savings Edge is valid until 10/31/21, so it will still be around for the procrastinators after the Amex Offer is gone).
The Deal
There is an Amex Offer out that is good for 30% back on purchases when you file your taxes with TaxAct. Visa Savings Edge is also offering 30% back for small business card holders. Both offers are capped at $60 back.
Quick Thoughts
Either offer here could save you some bucks if you've got a more complicated tax situation that requires more forms / multiple returns.
My preferred option here would be using the Amex Offer if possible. That's because the Amex Offer should stack with the opportunity for portal cash or better discounts. At the moment, here are the TaxAct prices listed through Visa Savings Edge:
However, I could alternatively go through a shopping portal like TopCashBack, which is currently offering 10% back and much better prices:
If clicking through TopCashBack for 10% back and paying with an Amex Offer loaded with the offer for 30% back, the net costs should be:
Deluxe = $11.23
Premier = $15.73
Self Employed = $29.22
That certainly beats paying retail price. Of course, TaxAct will try to sell you on stuff like audit defense and the ability to access your return for years and years, so your final cost may be higher.
I'd actually not recommend committing to this right now though. TaxAct almost always does 50% off regular prices or better in February and March. Since the Amex Offer lasts until April 15th June 30, I'd wait for even better pricing to stack with portal rewards if you don't absolutely need to get started now. If you drag your feet so much that you file for an extension, keep the Visa Savings Edge offer in mind as we see fewer TaxAct discounts when it isn't tax time, so that could become your best bet later on.
Whatever you do, be sure that you're paying whatever you owe with a credit card and maximizing rewards.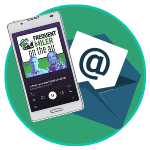 Want to learn more about miles and points?
Subscribe to email updates
 or check out 
our podcast
 on your favorite podcast platform.