An old proverb says, ""He who asks a question remains a fool for five minutes. He who does not ask remains a fool forever." I propose an addendum: "He who is not a fool should not be fooled by whatever a customer service rep tells him." Even the simplest question can get a different answer every time.
In this morning's post about Leveraging the United Excursionist Perk to save miles, I advised that you not call United to try to book a creative itinerary, but rather use the online multi-city tool. Specifically, I said that the website "doesn't rely on how Agent A interprets the rules vs how Agent B sees the world versus what Supervisor C tells you". All too often, customer service reps just aren't well versed in the intricacies of loyalty / rewards programs.
Readers often ask questions — via blog posts, email, and our Frequent Miler Insiders Facebook group — and we certainly try to answer all the questions we can (and we have many helpful commenters here and in our Facebook group who share their direct experience, which is much appreciated). Recently, with the mass confusion brought on by the Marriott merger, all of us have had questions. Early on, we published a Marriott SPG Ritz Transition Guide with answers and information we were given directly by Marriott higher-ups. Most of the information they gave us from the beginning turned out to be accurate, but the integration of IT systems has still led to delays in updating of elite status, lifetime status, etc. People have understandably called Marriott customer service looking to get answers. Some reps have inevitably given out misinformation, causing further confusion and more questions. It's a tough cycle for the average Joe who just wants to know.
Sometimes, people escalate their question to a higher level. You may get a phone call from the Senior Highness of Customer Acquisition and Happiness Enhancement who works in the Presidential Palace of Loyalty Rewards. Unfortunately, in most of my experience, this person's information is no more or less reliable than the information given the first time. I can't count how many times readers have reported misinformation they were fed by this supervisor or that person from the "Executive Office". Unless your question is an extremely simple and basic one, it is likely that multiple calls will yield multiple answers.
In fact, even if your question is pretty simple and basic, you still might get different answers. Case in point…
With the recent point transfer bonuses from both Amex Membership Rewards (now expired) and Citi ThankYou points (still active) to Virgin Atlantic, I'd been thinking about making a transfer. As I mentioned in this morning's post, I have a trip booked for next year that leaves me in Japan needing a ride home.
Thanks to the transfer bonuses, I had been throwing around the idea of flying another round trip — this time from Japan to the USA and back to Japan. That's not so much because I want to visit Japan twice as it is because Virgin Atlantic offers such a stellar deal on ANA bookings, enhanced by the transfer bonuses. A round trip award from the Eastern US to Japan is 120K miles in first class. With the transfer bonus, that's just over 92,000 points transferred from Amex / Citi. For reference, United would charge 110K one way for first class. Aeroplan would charge 105K one way. Transferring 93K to fly round trip in first class is pretty stellar.
But regular readers will also know that my wife and I welcomed an addition this year who will also need some space on the plane. That likely means adding a lap infant. Different airlines have different policies regarding lap infants on international award tickets. Aeroplan charges a flat number of miles or money — currently 12,500 miles or $125 for first class. United charges 10% of the adult revenue fare with taxes and fees. Alaska will tell you to contact the operating carrier. I needed to know how Virgin Atlantic handles this. This all makes a big difference. ANA first class fares between the Eastern US and Japan often run around $13,000 round trip. Paying 10% of that would mean paying $1300. To. Hold. Him. On. My. Lap. Without a seat. Contrast that with paying $125 or 12,500 miles and you'll see why it is important to know what you'll be charged.
A quick Google gave me information about adding a lap infant to a Virgin Atlantic-operated award ticket. However, I couldn't find information about adding one to a partner, and Virgin maintains separate award charts with each partner – so I figured it would likely be an answer unique to ANA bookings.
Since I couldn't find the answer online, I figured I'd try my hand at calling. Virgin Atlantic phone agents are known to be some of the best in the business. The first time I called, the agent said it was a good question and put me on hold to look up the answer. The agent came back, still reading, and then confidently asserted that I would have to pay 10% of the adult mileage. That sounded great to me — 12K miles round trip would mean ~9,300 Membership Rewards points. Awesome.
However, as insinuated at the outset, I've come to learn that phone agents are often wrong. Like, an alarming amount of the time. I wasn't going to take Agent #1's word for it, even though the sensible side of me thought that Agent #1 must have found this information written somewhere after putting me on hold for a while and/or checked with a superior. I called again to make sure I would get the same answer twice and then go back to making a decision, armed with the information I needed.
However, I got through to agent #2 and got a different answer. Odd. I wondered who was right. I called back immediately to speak to a third person, figuring that this person would confirm which of the first two was correct. Except he gave me a third different answer. Up to this point, each rep had put me on hold for some time to check the rules and they came back with different answers. I called a fourth time, now finding it a bit comical. You wouldn't believe that this could happen, but I got a fourth unique answer. When I hung up and called back a 5th time, I couldn't even believe it when I got yet another different answer. I wondered how this could possibly be. On both the 4th and 5th calls, I explained how many times I'd called and gotten different answers, and each agent was sure that their answer was right. Each time I had explained that I was interested in making a partner booking using my Virgin Atlantic miles to book on ANA and I was trying to figure out if I could add a lap infant through Virgin Atlantic and what it would cost. Here are the answers I received:
Agent #1: 10% of the adult mileage plus the taxes
Agent #2: 1K miles economy / 2K miles business / 3K miles first
Agent #3: It's impossible to know without making a booking or putting one on hold
Agent #4: 10% of the adult revenue fare
Agent #5: 1K miles economy / 5K miles business / 7K miles first
Agent #6: This agent read text stating 10% of the adult revenue fare. I explained the 5 calls before and how Agent #4 said that, but everyone else quoted differently. He pulled it up to read the details again. He then said, "Well, I presume that if you're booking your ticket on miles you would have to use miles to add a lap infant" and he then told me 1K econ / 5K biz / 7K first. I laughed and he asked if he'd given me a hybrid answer. It seemed we were getting closer…
Agent #7: 1K economy  / 5K business / 7K first per sector — so double that round trip
As it turns out, Agent #7 was correct. I know this because I led with explaining the 6 previous calls and that I was looking for her to be absolutely sure. She told me things had changed back in March — the policy had previously been 10% of the adult revenue fare, but now if you book the adult with miles, you must use miles for the infant. To be sure, I had her put an itinerary on hold to see how the computer priced it. Sure enough, she was right. The computer came up with 134,000 miles round trip for one person and one infant – that's 120K for the adult and 7K each way for the infant. Taxes came to an additional $396.12 — that's ~$335 for the adult and $60 for the infant.
So what's the point? The point is that had I gotten Agent #4 on the first call and taken his word for it, I'd have given up thinking that I didn't want to spend $1300 on a lap infant ticket. If I'd have taken Agent #1's word for it on the first call, I'd have not moved over enough miles. Sure, maybe if I'd have gotten lucky, I could have gotten Agent #7 or #5 (who didn't mention the prices were each way) on the first call — but a 2 in 7 success rate means that more than 70% of the time I'd have gotten the wrong answer. Had I asked this question in our Frequent Miler Insiders group, I bet there would have been a group member there who has done it and would have known from the get-go. I'll keep that in mind next time. As it turned out, we decided not to book with Virgin Atlantic anyway….and I'm still on the hunt for 3 seats if I can find them…
Bottom line
Sometimes, you have to call and speak to a human to get an answer, but keep in mind that humans are fallible, and the average phone agent probably spends less time reading and thinking about miles, points, and loyalty programs than you do. Keep in mind that even when you speak to a supervisor or the supervisor's supervisor or the grand master of executive relations and VIP customer placation, they just aren't always right. Most of the knowledge you'll get in this game will be based on experience — whether your experience or the direct experience of others. That's not to say that phone representatives are always wrong nor that they aren't trying their best with the information they have — but in the immortal words of Marvin Gaye, "people say believe half of what you see, son, and none of what you hear….."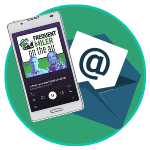 Want to learn more about miles and points?
Subscribe to email updates
 or check out 
our podcast
 on your favorite podcast platform.