Card Details and Application Link
Delta SkyMiles® Gold American Express Card

FM Mini Review: Priority boarding, and free checked bag make this a reasonably good option for Delta flyers who do not have elite status. However, those who can make use of an annual companion certificate would do better with the Delta Platinum card.

---
Card Type: Amex Credit Card
<!–– qBaseq -->
<!–– qDineq -->
<!–– qGroceryq -->
<!–– qBrandq -->
Earning rate: 2X Delta ⚬ 2x restaurants worldwide ⚬ 2x US supermarkets
Big spend bonus: $100 Delta flight credit after $10K in purchases in a calendar year
Noteworthy perks: 15% off when using miles to book an award flight (Delta metal only) ⚬ Priority boarding and first checked bag free on Delta flights. Terms and limitations apply. (Rates & Fees)
Let's take a deep dive into the Delta Gold card. Here's everything you need to know…
Application Tips
Should you apply?
Many cards are worth getting for the welcome bonus alone.  That's often the case with this card.  Welcome bonuses of 60,000 miles or more are common.  If the welcome bonus is lower than that, I recommend waiting.
This card is also worth considering if you plan to fly Delta and check bags more than once or twice a year.  If so, the card's free checked bag feature may quickly pay for itself.
If you're a regular Delta flyer you may do even better with the Delta Platinum card.  It has a higher annual fee, but it includes an annual main-cabin companion ticket that can be valuable, plus it adds the ability to earn elite status through spend.  See: Delta Platinum complete guide.
If you're also interested in SkyClub access and other high-end perks, the ultra-premium Delta Reserve card might be the best fit for you.  See: Delta Reserve complete guide.
Are you eligible?
In most cases with Amex, if you've had the same card before, you can't get a welcome bonus when signing up. Consider, though, that each variation of Delta card is considered a different product. Over time, it's possible for you to earn the welcome bonus on all of the following cards since each one is a separate product:
Here are additional Amex application tips:
Amex Application Tips



Safe to Apply

: Amex is the safest bank for trying your luck at earning a new welcome bonus offer. They don't usually issue a hard pull when denying your application, and if you already have an Amex card, they won't usually issue a hard pull when approved for another one. Plus, they'll now warn you during the application process if you're not eligible for the bonus.


Lifetime Rule: If you've ever had the same card before, you are most likely prohibited from earning a welcome bonus offer for the card if you apply now. Fortunately you'll be warned during the application process if this is the case. Amex is known to "forget" that you've had a card after about 7 years.


90 Day Rule: You can get at most two credit cards within 90 days. This rule does not apply to Pay Over Time (charge) cards.


5 credit card max: Amex usually won't approve applications for new credit cards if you already have 5 or more Amex credit cards or 10 or more charge cards.


Better Offers: You may be able to get a better offer than the best available public offer. Details here.


Hard inquiries combine into 1 when approved same day


Check application status here.
If denied, call reconsideration: 877-399-3083 (new accountholders); 866-314-0237 (current accountholders)
How to meet minimum spend requirements
In order to meet minimum spend requirements, people often look for options to increase spend in ways that result in getting their money back. These techniques are referred to as "manufacturing spend". American Express has terms in their welcome offers that
exclude some manufactured spend techniques
from counting towards the minimum spend requirements for the welcome bonus offer. For example, most new cardmember bonuses have terms like this:
Eligible purchases to meet the Threshold Amount do NOT include fees or interest charges, purchases of travelers checks, purchases or reloading of prepaid cards, purchases of gift cards, person-to-person payments, or purchases of other cash equivalents.
That said, many techniques for meeting minimum spend are perfectly fine. Here are some techniques that are safe for meeting Amex minimum spend requirements (click each link for more information):
---
Perks
Delta Gold cards offer fairly standard airline card perks:
---
$100 Flight Credit
---
Spend $10,000 in purchases in a calendar year and receive a $100 Delta Flight Credit.  Credit is valid for one year from the date issued.  The credit is only valid for payment of tickets, including fare, surcharge and government-imposed taxes and fees imposed on the air transportation. It is not valid for other types of fees (including bag fees, change fees, upgrades or other ancillary purchases or fees with Delta)
15% Off Award Bookings
Delta Gold, Platinum and Reserve cardholders get 15% off the mileage price of award tickets when booking with miles. The discount applies only if the entire itinerary is on Delta or Delta Connection. The discount does not apply when using Pay with Miles, Miles + Cash or on seat upgrades purchased after the initial flight booking. The discount only applies to the mileage portion of the award ticket fare and does not apply to applicable taxes and fees which must be paid using the eligible card. The card member must be logged-in to a SkyMiles account linked to an eligible card to receive the discount.
---
Travel Perks
Priority boarding
First checked bag free.
20% Back on In-Flight Purchases
No foreign transaction fees
Travel Protection
Baggage Insurance: Up to $500 per person for checked luggage, and up to $1,250 per person for carry-ons. Must pay transportation in full with your card to be covered. Details here.
Car Rental Loss and Damage Insurance: Secondary car rental insurance. Must pay for rental in-full with card. Details here.
Purchase Protection
Earn Miles
There are few ways to earn Delta SkyMiles with this card:
Welcome Bonus
Obviously, if eligible, you can earn miles by successfully signing up for this card and meeting the minimum spend requirements:
Refer Friends
---
The refer-a-friend offer shown above for the Delta Platinum card was in effect when this post was first written. Offers can and do change over time. Consider this only an example of the type of offer you may find.
---
By logging into your American Express account, you should be able to find an offer to earn miles when referring friends. It's often the case, but not always, that your friends can get bigger bonuses through your referral link than through a public offer.
---
Note that your friends can use your referral link to apply for
any
Delta card. They are not limited to the one that you have. For example, a friend can use your Delta Gold or Delta Platinum friend-link to apply for the Delta Reserve card.  Similarly, a Delta Reserve referral link can be used to apply for the Delta Gold or Delta Platinum card.  Regardless of which Delta card they apply for, you will earn a referral bonus if they are approved.
---
Bonus Spend
It's always possible to earn additional miles by using the card within it's bonus categories:
Card Info Name and Earning Rate (no offer)
Redeem Miles
You don't need a Delta credit card to redeem Delta miles for award flights, but there is one feature that requires having a Delta credit card: Pay with miles…
Pay with Miles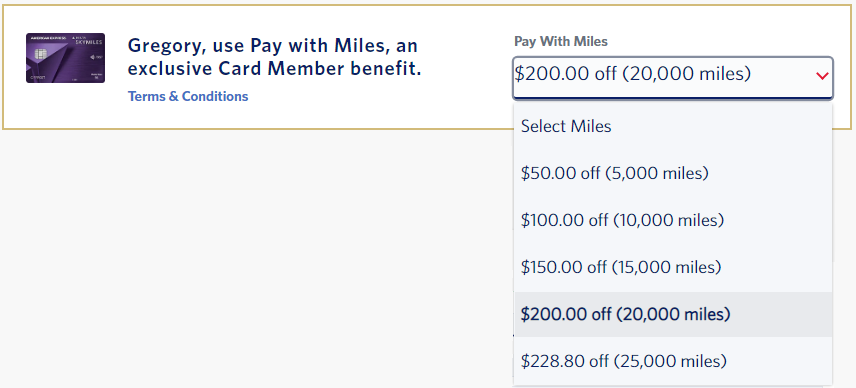 ---
Delta's "Pay with Miles" feature is limited to primary cardholders of any Delta card (Blue, Gold, Platinum, or Reserve). This feature lets you pay for cash tickets in part or in full with Delta SkyMiles at a value of 1 cent per mile. You must pay in increments of 5,000 miles. Every 5,000 miles you apply decreases the ticket cost by $50. In other words, each mile is worth exactly 1 penny with this feature.
---
No miles earned
: Flights that are paid for in this way earn full MQMs (Medallion Qualifying Dollars) and MQSs (Medallion Qualifying Segments). However, only the portion paid in cash earns redeemable SkyMiles and MQDs (Medallion Qualifying Dollars). The latter two issues reduce the value of the Pay with Miles feature.
---
Tip
: Unless the full ticket amount is an exact multiple of $50, I recommend stopping short of paying the whole fare with miles since you'll get lower value from the last 5,000 miles. For example, if you want to use this feature and your ticket costs $228, I recommend paying 20,000 miles to decrease the cash cost to $28. Otherwise you would have to pay another 5,000 miles for that last $28 (which is a poor value).
---
Keep, cancel, or product change?
If you regularly make good use of the card's free checked bags, then the card basically pays for itself with that feature alone.  If that doesn't apply to you, then you're probably better off cancelling or downgrading to the fee-free Delta Blue card.  Many other cards are much better for earnings on spend.  See: Best cards for everyday spend.
Related Cards
Here's a full list of Delta branded cards available in the United States:
Card Name w Details & Review (no offer)