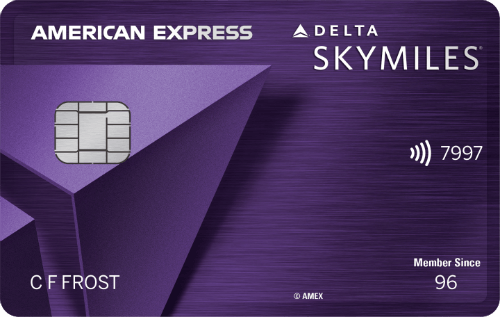 Delta's ultra-premium Amex credit card, Delta SkyMiles® Reserve Credit Card from American Express, underwent big changes as of January 30 2020.  The biggest change is arguably the bigger annual fee.  The card now costs $550 instead of $450 per year.  They also got rid of bonus miles with big spend.  You still get MQMs (Medallion Qualifying Miles — which help you earn elite status) with big spend, but you no longer get matching redeemable miles.  On the plus side, the card offers some new goodies:
Centurion Lounge access when flying Delta
2 Delta Sky Club one-time guest passes (the card continues to offer Sky Club access for the primary cardholder when flying Delta)
4 Status Boosts Annually (previous limit was 2)
Earn 3X miles on Delta
Complimentary upgrades (non-elite cardholders get on the free upgrade list behind any elite members traveling on the same flights)
$100 Global Entry fee credit every 4 years (or 4.5 years for TSA Precheck)
Business Reserve card adds the ability to earn 1.5X on all spend per calendar year after spending $150K.
Let's take a deep dive into the Delta Reserve card.  Here's everything you need to know…
Application Tips
Current offer
Here are the current offers for both the consumer and business versions of the Delta Reserve card:
Should you apply?
Many cards are worth getting for the welcome bonus alone.  In this case, though, it's important to consider the card's $550 annual fee which is not waived the first year.  I recommend signing up for this card only if you highly value the card's perks, or if you are counting on using the card's MQM welcome bonus and/or big-spend bonus to earn or retain Delta elite status.
If you're primarily interested in earning Delta SkyMiles, then consider signing up for one of the less expensive Delta cards:
Are you eligible?
In most cases with Amex, if you've had the same card before, you can't get a welcome bonus when signing up. Consider, though, that each variation of Delta card is considered a different product. Over time, it's possible for you to earn the welcome bonus on all of the following cards since each one is a separate product:
Here are additional Amex application tips:
Amex Application Tips



Safe to Apply

: Amex is the safest bank for trying your luck at a new welcome bonus. They don't usually issue a hard pull when denying your application. Plus, they'll now warn you during the application process if you're not eligible for the bonus.


Lifetime Rule: If you've ever had the same card before, you are most likely prohibited from getting a welcome bonus for the card if you apply now. Fortunately you'll be warned during the application process if this is the case. Amex is known to "forget" that you've had a card after about 7 years.


5/90 Rule: In general, you can get at most one credit card within 5 days and 2 within 90 days. The 5 day limit is not enforced when your applications are automatically approved. Neither rule is enforced for charge cards.


5 credit card max:Amex usually won't approve applications for new credit cards if you already have 4 or more Amex credit cards or 10 or more charge cards.


Better Offers: You may be able to get a better offer than the best available public offer. Details here.


Hard inquiries combine into 1 when approved same day


Check application status here.
If denied, call reconsideration: 877-399-3083 (new accountholders); 866-314-0237 (current accountholders)
How to meet minimum spend requirements
In order to meet minimum spend requirements, people often look for options to increase spend in ways that result in getting their money back. These techniques are referred to as "manufacturing spend". American Express has terms in their welcome offers that
exclude some manufactured spend techniques
from counting towards the minimum spend requirements for the welcome bonus. For example, most new cardmember bonuses have terms like this:
Eligible purchases to meet the Threshold Amount do NOT include fees or interest charges, purchases of travelers checks, purchases or reloading of prepaid cards, purchases of gift cards, person-to-person payments, or purchases of other cash equivalents.
That said, many techniques for meeting minimum spend are perfectly fine. Here are some techniques that are safe for meeting Amex minimum spend requirements (click each link for more information):
---
Perks
Delta Reserve cards come loaded with perks:
---
Travel Perks
---
Domestic first class companion certificate (subject to taxes & fees) each year upon card renewal.  See: Delta companion certificates quick guide.
Delta SkyClub access when flying Delta.  Pictured above is the Delta SkyClub at Washington National (DCA).
2 Delta SkyClub one-time guest passes per year
Amex Centurion Lounge access when flying Delta
Complimentary upgrades: Non-elite cardholders get on the free upgrade list behind any elite members traveling on the same flights.
Upgrade Priority:  Get upgraded ahead of other passengers within the same Medallion tier and fare class grouping
$100 Global Entry fee credit every 4 years (or 4.5 years for TSA Precheck)
Priority boarding
First checked bag free.
20% Back on In-Flight Purchases
Elite Status Boosts (MQMs)
With the Delta Reserve card,
it is possible to earn high level Delta Medallion elite status through credit card spend alone
.  The chart below shows the MQM and MQD requirements for earning each level of status.  With the Delta Reserve card, $25,000 spend per year is enough to waive MQD requirements for Silver, Gold, or Platinum status.  Further, you will earn MQMs with each $30K spend within a calendar year.  You will earn 15K MQMs with $30K spend, $60K spend, $90K spend, and $120K spend for a potential total of 60K MQMs (more than enough to reach Gold status).
---
Amex shows your progress towards these status boosts when you log into the American Express website to view your account:
---
Elite Status Boosts are giftable
Medallion Qualifying Miles (MQMs) earned from high spend on the Delta Reserve card can be applied to the primary cardholder's Delta account or
they can be gifted to any other Delta SkyMiles member
.  When each Status Boost is reached, the cardholder receives an email congratulating them and offering 30 days to gift the 15,000 MQMs to someone else.  If you do not gift the MQMs within 30 days, the MQMs automatically go to the primary cardholder.  Note too that the 15,000 MQMs cannot be split up.  You must keep all 15,000 MQMs or gift all 15,000 to a friend.  The Delta Platinum card does not offer the option to gift Status Boost MQMs.
---
The ability to gift Status Boost MQMs makes it possible to play "two player mode" towards seeking elite status.  For example, a couple could each have their own Delta Reserve card and swap back and forth each year who to assign all of the MQMs to.  As an extreme example, assume that the couple spends $120,000 on each card every year (a total of $240,000 spend).  In that case, the couple would collectively earn 120,000 MQMs from Status Boosts, and could assign all 120,000 MQMs to one person.  This would put that person way above Platinum status with 45,000 MQMs rolling over to the next year.  And that next year, the MQMs could be assigned to the other person, and so on.
---
Travel Protection
Purchase Protection
Return protection: Limited to 90 days from purchase, up to $300 per item and up to a maximum of $1,000 per Card Member account per calendar year based on the date of purchase.
Extended warranty: Up to 1 extra year.
Purchase protection: Covers damage, loss, or theft up to 90 days after purchase.  Details here.
Earn Miles
There are few ways to earn Delta SkyMiles with this card:
Welcome Bonus
Obviously, if eligible, you can earn miles by successfully signing up for this card and meeting the minimum spend requirements:
Welcome Bonus MQMs are not giftable: Note that, unlike Status Boosts, when the welcome bonus includes Medallion Qualifying Miles (MQMs), those MQMs are not giftable.  The MQMs automatically get assigned to the primary cardholder's Delta account.
Refer Friends
---
The refer-a-friend offer shown above for the Delta Platinum card was in effect when this post was first written. Offers can and do change over time. Consider this only an example of the type of offer you may find.
---
By logging into your American Express account, you should be able to find an offer to earn miles when referring friends. It's often the case, but not always, that your friends can get bigger bonuses through your referral link than through a public offer.
---
Note that your friends can use your referral link to sign up for
any
Delta card. They are not limited to the one that you have. For example, a friend can use your Delta Platinum or Delta Reserve friend-link to sign up for the Delta Gold card. Regardless of which Delta card they sign up for, you will earn a referral bonus if they are approved.
---
Bonus Spend
The Delta Reserve card doesn't have any great way to earn redeemable miles through spend.  For most spend, you will earn only 1 mile per dollar.  With spend on Delta, you'll earn 3 miles per dollar.
The business version of the Delta Reserve card does offer a way to earn 1.5 miles per dollar for spend, but only after you spend $150K in a calendar year.  For the rest of that calendar year you'll earn 1.5X miles per dollar on all eligible purchases (except for Delta purchases which continue to earn 3X).
Redeem Miles
You don't need a Delta credit card to redeem Delta miles for award flights, but there is one feature that requires having a Delta credit card: Pay with miles…
Pay with Miles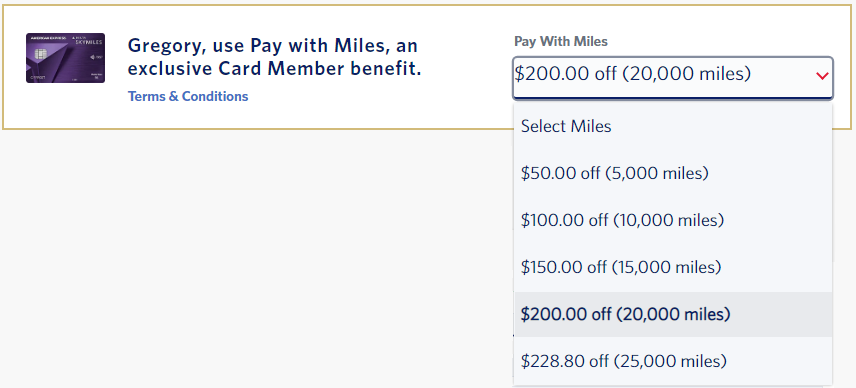 ---
Delta's "Pay with Miles" feature is limited to primary cardholders of any Delta card (Blue, Gold, Platinum, or Reserve). This feature lets you pay for cash tickets in part or in full with Delta SkyMiles at a value of 1 cent per mile. You must pay in increments of 5,000 miles. Every 5,000 miles you apply decreases the ticket cost by $50. In other words, each mile is worth exactly 1 penny with this feature.
---
No miles earned
: Flights that are paid for in this way earn full MQMs (Medallion Qualifying Dollars) and MQSs (Medallion Qualifying Segments). However, only the portion paid in cash earns redeemable SkyMiles and MQDs (Medallion Qualifying Dollars). The latter two issues reduce the value of the Pay with Miles feature.
---
Tip
: Unless the full ticket amount is an exact multiple of $50, I recommend stopping short of paying the whole fare with miles since you'll get lower value from the last 5,000 miles. For example, if you want to use this feature and your ticket costs $228, I recommend paying 20,000 miles to decrease the cash cost to $28. Otherwise you would have to pay another 5,000 miles for that last $28 (which is a poor value).
---
Keep, cancel, or product change?
The decision to keep this card long term is a tough one.  Yes, this card has great perks, but you can find even more perks, including SkyClub access, on the identically priced Amex Platinum card (not to be confused with the Delta Platinum card).  And, unlike the Delta Reserve card, the Platinum card comes with airline fee credits and other credits to help offset the annual fee.
The biggest benefits that the Reserve card has over the Amex Platinum are the annual companion certificate, the ability to earn Delta elite status through spend, and the ability to get free upgrades if you don't have Delta status.  In other words, the Delta Reserve card makes the most sense for those who are sure to use the companion certificate towards good value each year and/or who covet Delta elite benefits.  Others may do better with an Amex Platinum card or the lower priced Delta Platinum card.
One way to decide is to use our spreadsheet to compare similar cards.  See: Which Ultra Premium Cards are Keepers?
Related Cards
Here's a full list of Delta branded cards available in the United States: