Wentworth Mansion is an SLH property in Charleston South Carolina. The inn is charming, gorgeous, offers great service, and in my opinion is well deserving of its place on Travel & Leisure's Top 15 City Hotels in the Continental U.S.
I recently completed my second stay at Wentworth Mansion.  This post has been updated with new information and many new photos.
When Hyatt teamed up with Small Luxury Hotels of the World (SLH), I was excited for an absurd reason. One of my favorite hotel stays ever was the Brenners Park Hotel in Baden-Baden Germany. Brenners is part of the Leading Hotels of the World (LHW) not Small Luxury Hotels of the World (SLH). Still, I reasoned/hoped that SLH hotels would be similar. Since then, my stays at Wentworth Mansion (and Nick's amazing stay at Grand Hotel Victoria Concept & Spa on Lake Como) have shown that my high expectations for SLH weren't absurd after all.
Wentworth Mansion Bottom Line Review
My wife and I stayed here for one night in November 2020 and returned for three nights in November 2022.  We loved it both times.  The Mansion exudes old world charm, and from the moment of arrival, the staff go out of their way to make guests feel special.  We will definitely return.
Price: This is a category 7 Hyatt and so it costs 30,000 Hyatt points per night standard, 25,000 points off-peak, and 35,000 points peak. On our first visit we paid with a category 1-7 free night certificate, and on our second visit we paid 80,000 points for three nights (30K for Saturday night and 25K for Sunday and Monday nights).
Value: Good.  In my opinion, this hotel is well worth the points-price.  After taxes and fees a room usually costs over $500 per night and so it's easy to get at least 2 cents per point value from your Hyatt points.
Location: Very good.  Wentworth Mansion is in a very pretty historic residential area and a short walk to Charleston's historic downtown or to the waterside walkway along Murray Blvd which leads to White Point Garden and The Battery.
Room:

First stay: Fantastic! We were upgraded to a huge and beautiful "Mansion Room". Want to feel like royalty? This will do it.  The only downside was that our shower's water pressure wasn't quite up to snuff.
Second stay: We weren't upgraded this time to a spectacular room, but we did gain an outdoor balcony and an even larger bathroom and spa tub.  The shower pressure this time was better than on our first stay (but still not that great).

Parking: Free self or valet parking.
Service: Awesome.  The staff were uniformly attentive, cheerful, and eager to help.
Turndown service: Good.  Each evening a "turndown bag" was left hanging from our door.  The bag contained truffles and a card showing the next day's weather.
Perks for all guests:

Coffee and pastries: Available in the hotel's parlor daily from 6:30 to 11am.
Full breakfast: A full menu-service breakfast is free for all guests.  Order from the menu or pick the special of the day. We loved it!
Lemonade and iced tea: Available in the hotel's parlor daily from 2pm to 5pm.
Afternoon wine & hors d'oeuvres: Hors d'oeuvres and wine are available in the sun porch from 5pm to 6pm daily.  While the wine wasn't great, we did enjoy the hors d'oeuvres and the chance to chat with other guests at the hotel.
Evening cordials (port, sherry, & brandy): Available 24/7.
Hot tea and hot-chocolate: Available 24/7.
In-room snacks: A mini-fridge was full of sodas and other bottled non-alcoholic drinks.  A bag of cookies was in the room as a small welcome gift.
Bottled water: Available at all times in the cooler by the parking lot entry.
Rooftop Cupola: The mansion has a dome on top which is available to all guests capable of climbing stairs.  The dome has a seating area around the outside.  It's a fantastic way to view the sunset!  If anyone reading this is planning a wedding proposal, this would be a great choice.

Hyatt Benefits:  SLH hotels do not recognize Hyatt elite status, but they offer all guests who book through Hyatt the following perks:

Free continental breakfast: Wentworth offers all guests free full breakfast, so this perk was not relevant.
Room upgrade, if available: On our first stay, we were automatically upgraded to a King Mansion Room which was absolutely fantastic.  We weren't upgraded on our second stay (probably because our stay including a busy Saturday night)
Early check-in (noon, based upon availability at check-in): On both stays, we arrived at about 4pm, so didn't test this perk
Late check-out (2:00PM, based upon availability at check-in): On our first stay we requested late checkout, but were only given until 1pm.
Free wifi: All guests get free wifi, so this perk wasn't relevant.

Would I stay again?  Definitely.
Pros and Cons
Pros
Beautiful old-world charm hotel
Fantastic service
Terrific free full breakfast at adjacent Circa 1886 restaurant
Afternoon hors d'oeuvres & wine
Free in-room non alcoholic drinks
Cons
Shower water pressure wasn't great
It's often very difficult to find nights available to book with Hyatt points
Image Gallery
Exterior
Bedroom (first stay)
Bedroom (second stay)
Turndown Service
Hotel Amenities
Hotel Restaurant: Circa 1886
Experiences
During our stay we enjoyed two experiences booked through the hotel: a 1920's tour of Charleston in a 1928 Model A Ford Sport Coupe and Secrets of the Sommeliers wine tasting.  Details about each can be found here.  While both experiences were pricy, we learned a lot and had a great time with each.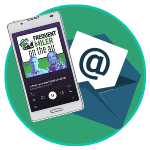 Want to learn more about miles and points?
Subscribe to email updates
 or check out 
our podcast
 on your favorite podcast platform.