Amazon is once again targeting some customers with an offer to get a discount when using at least 1 Membership Rewards point at checkout. The best offer appears to be 50% off up to $60. There might be even better offers available, so it's worth checking to see if you've been targeted.
The Deal
Get 10-50% off (up to $60 off of $120) on Amazon when redeeming at least 1 American Express Membership Rewards point. Note that there may be other versions of the offer as well.
Direct link to activation (our affiliate link).
Key Terms
This is a limited time offer. The promotion will end on the earlier of (a) 11:59pm PT on 12/31/2022, or (b) the time at which 40,000 customers have redeemed the offer. The promotion button will expire concurrently.
Amazon.com reserves the right to cancel or modify this offer at any time.
Offer is available by invitation only, is non-transferable, is not redeemable for cash, and may not be resold.
Offer applies only to the purchase where Membership Rewards points are used for at least a portion of the purchase and the promotion is applied at checkout.
This offer only applies to eligible purchases. Eligible purchases are products sold and shipped by Amazon.com. Products sold by third-party sellers or other Amazon entities are not eligible, even if they are fulfilled by Amazon.com or Prime eligible. Digital content purchases are also not eligible.
Shipping charges may apply to eligible purchases.
Maximum benefit you may receive from this offer is $40 per eligible Membership Rewards enrolled card or per one Amazon account.
Offer may not be combined with other offers.
Shipping charges may apply to discounted promotional items.
Offer discount will be allocated proportionally among all promotional items in your original order. If any of the items in your original order are subsequently returned, your refund will equal the original price of the product, less the proportional amount of the discount. The total discount on the unreturned amount of your original order will then be less than the maximum discount availed.
If you used points for all or part of your order and any of the products related to your original order are returned, subject to Amazon's return policy, you will receive a refund of the amount charged to your card. If you would like Membership Rewards® points returned to your account instead of a refund to your Card, you must contact American Express.
If a refund cannot be processed by American Express for reasons including but not limited to closure of your Card Account, Amazon will issue an Amazon Gift Card to you for an amount equal to the value of the Membership Rewards points used towards your purchase.
Promotional codes (including those placed directly in accounts) may not be redeemed for Amazon Gift Cards.
This promotion is available only to Amazon.com customers with an eligible Membership Rewards® enrolled Card issued in United States. Promotional credit is applied before taxes and fees.
If you violate any of these terms, the offer will be invalid.
Terms and Conditions for the Membership Rewards® program apply. Visit membershiprewards.com/terms for more information. Participating partners and available rewards are subject to change without notice.
The value of Membership Rewards points varies according to how you choose to use them. To learn more, go to www.membershiprewards.com/pointsinfo. See full Shop with Points Terms and Conditions for details on www.amazon.com/amexmr.
Quick Thoughts
Amazon frequently runs these types of deal and they're a great way to save on purchases if you're targeted. The targeting is often on two levels – the first is whether or not you get an offer in the first place, then there's often a second level of targeting as to what type of offer you get. DOC reports that some were targeted for up to 50%. Maximum dollar amounts can vary –it's worth taking a second to see if you're targeted.
There are a few important things to be aware of with these types of deal. For starters, only redeem 1 Membership Rewards point as redeeming more than that offers poor redemption value for your points.
You also have to ensure that the items you want to buy are sold and shipped by Amazon. That requirement can sometimes be a little bit of a pain as many items listed on Amazon are shipped by them but sold by a third party seller.
If you're targeted for this promotion and would have a hard time using this organically, an easy way to use it is to buy third party gift cards from Amazon. Buying Amazon gift cards doesn't work, but third party cards are eligible.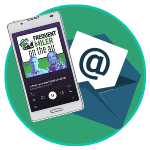 Want to learn more about miles and points?
Subscribe to email updates
 or check out 
our podcast
 on your favorite podcast platform.