I first heard about this from TravelBloggerBuzz, and then read this Dan's Deals post.  According to Dan's post, starting May 1 American Express will no longer grant signup bonuses to people who have had the same card in the past.
Often, when I tell people about how easy it is to earn hundreds of thousands (or even millions) of points and miles each year through credit card signup bonuses, they ask why the banks allow it.  That's a good question!  Chase was perhaps the first to change their stated policy: according to their rules, you can only earn a bonus once per product.  However, when a credit card changes enough to be considered a new product (such as when it changes from a MasterCard to a Visa card or vice versa), they'll generally allow a new signup bonus if you no longer have the old card.  Barclaycard has a different approach: they simply make it very difficult to get approved for new cards if they think you're signing up just for the bonuses.  And, Citibank is all over the place with different rules for different cards that seem to change regularly.  Sometimes the rules are enforced, and sometimes not.
American Express, for the past two years or so, has had a fairly simple rule: you can't earn a signup bonus if you've had the same card within the past 12 months.  Where the rule was complicated was with cards in the same "product line".  For example, Platinum and Gold cards are considered part of the same line.  Rules about getting a new card bonus were often based on whether or not you've had other cards in the same product line in the past 90 days or 1 year (rules vary by card).   You can see examples of these rules in the tables of the post "How to keep your Membership Rewards".
According to Dan's post, he received confirmation that the rules will change for all consumer American Express cards as of May 1.  He received conflicting information about whether this will be true of business cards as well.  So, we'll have to wait to learn more about that.
Silver lining?
The one possible advantage of this change is that I can imagine Amex increasing their signup bonuses.  Once they're pretty sure that each individual can only get the bonus once, they might be more willing to target customers with 75K, 100K, or even 150K offers.  Only time will tell!
What to do?
First, keep in mind that this is just a rumor at this point.  Even if an Amex rep tells you that it is true, that doesn't mean that Amex will really roll out this change as expected, nor can you be sure that the Amex rep fully understands the planned changes.  And, even if the reps are 100% correct about American Express' plans, it is still possible that plans will change, or deadlines will be missed, or technical implementations will falter.
With all of that said, though, it does seem reasonable for Amex to roll out these new rules, so its smart to plan accordingly…
If you've been hoping to get a signup bonus for a card you've held in the past, this is apparently the time to go for it.  For example, I've had both the personal and business SPG cards in the past, but currently have neither.  I was planning to wait until August to see if Amex would increase their signup bonus to 30K (as they've done every August for the past several years), but now I think I need to apply for one or both cards before May 1.
If you've been planning to get a new card that you haven't had in the past, you may want to wait.  I think that there's a reasonably good chance that Amex will surprise us with some nice new signup bonuses sometime after May 1, so wait for those if you can.  One exception to this suggestion is with respect to the Delta Platinum cards (business and personal).  Both currently offer 5K MQMs and 35K redeemable miles with a $150 annual fee (see "Best credit card offers").  Starting in May, though, the annual fee goes up to $195 so applying now will save you $45 for the first year.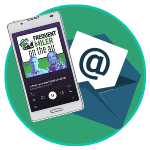 Want to learn more about miles and points?
Subscribe to email updates
 or check out 
our podcast
 on your favorite podcast platform.