Is the PayPal debit card worth a look?
PayPal confusingly offers three different physical cards:
The PayPal Debit card
This is just like any standard debit card that comes with a bank checking or savings account. When you spend money with this card, money is withdrawn directly from your PayPal balance. The PayPal Debit card is free.
The PayPal Prepaid card
PayPal also has a prepaid card which differs from a regular debit card primarily in how you load money to it. Rather than pulling directly from your PayPal balance, you must load money to this card. The card comes with a convenient $4.95 monthly fee.
The PayPal payment card
PayPal offers the ability to use PayPal to pay in specific stores. These stores have special PayPal keypads for making your payments, so you don't need a physical card. If you really want a physical card, though, PayPal will send one. Why would you want a physical PayPal card? I have no idea. You can read about an experiment I did with this card / payment approach in the post "Pursuing the Other Vanilla Reload card."
An eye on the PayPal Debit card
OK, so you see above that there are several types of PayPal cards. The one I'm looking at here is the standard debit card. Not the prepaid card.
A marketing bullet for this card caught my eye:
Earn 1% cash back whenever you sign for a purchase1
That's not very interesting in itself because when you sign for purchases that means that you are applying a credit card transaction not a debit transaction, and we know that many credit cards offer better than 1% return. What is interesting is the footnote:
1 Requires enrollment in the PayPal Preferred Rewards Program.
Actually, I lied. That's not interesting. What's really interesting are the details in the PayPal Debit Card Cardholder Agreement (bolding is mine):
Eligibility. To be eligible for the cash back program:

You must have a PayPal Premier or PayPal Business Account.
Your Business Debit Card purchase must be an online or signature-based purchase that does not require a PIN (personal identification number). Some merchant locations offer you the option of choosing "Credit" or "ATM/Debit" when making a payment. To qualify for cash back, you must choose the "Credit" option.
There appears to be a bit of a loophole here. According to the above text, online transactions that do not require a PIN should get 1% cash back. So, what about online debit transactions… Would those qualify? For example, I know from experience that you can pay taxes online for a lower fee with a debit card than with a credit card, and they do not require a PIN for these transactions. Hmmmm….
Taxes
The service Pay1040.com will let you pay your federal taxes online with a debit card for only $2.99 per transaction. With a $300 payment, that comes to a fee of only 1%. With larger payments, the fee is much smaller as a percent of total. Theoretically, PayPal ought to pay 1% back if you pay with the PayPal debit card since these online services do not require a PIN. Unfortunately, the PayPal card has a $1000 per day limit for "purchases". So, it looks like $1000 is the biggest transaction you could make. And, most tax payment services limit you to two transactions per tax period. If this trick works, you could make a profit of $7 per transaction and you could scale up a little bit by making quarterly estimated payments and even by using multiple tax payment services. Still, that seems like a lot of trouble for little gain, so I haven't yet tried this. If anyone does try it, please let me know what happens!
Prepaid Reloads
Some prepaid cards and services allow funding from debit cards online. It would be interesting if one could get 1% cash back from PayPal to fund a prepaid card that could then be used for bill payments or cash transfers. Amex Serve would be worth a try now that they've added Bill Pay, but I don't have a Serve card. Bluebird allows online debit loads but charges a $2 fee for the max $100 load so that's no good. You can load Bluebird in-store at Walmart with a debit card, but there you do need to use a PIN, so those loads would not qualify for 1% back. GoBank originally allowed debit card loads online, but they now restrict those loads just to the initial account setup. There are other options worth exploring, but I haven't had a chance to look into them yet.
Experiments to-date
Even though I signed up for the PayPal debit card quite a while ago, testing it hasn't been a high priority for me, so I've tried just few things so far. Here is what I found:
Regular online spend
I wanted to see how the cash back process works, so I made a very ordinary credit card type of purchase online.
I couldn't find any indication that I got cash back until 3 weeks later when I received an email congratulating me for earning almost 50 cents:
Congratulations. You've received a cash back reward of $0.43 USD after spending $43.18 USD with your PayPal Debit Card.
At that point, the cash back was viewable in my PayPal account:
Suntrust account setup
I opened a SunTrust account in March because I really wanted a debit card that earns 1 mile per dollar for all purchases. Unfortunately, it didn't work out very well for me (see "Million Mile Headaches: SunTrust"). SunTrust allows you to make your initial deposit to your new account with a debit card. I first tried a gift card for this purpose, but that didn't work, so I then used my PayPal debit card. Even though it was processed as a debit card signature purchase, I did not get cash back.
GoBank
GoBank is a new prepaid card very similar to Bluebird (see "GoBank takes on Bluebird. Which is better?"). When you open your account, you are asked to make an initial deposit and you are allowed to use a debit card at that point. So, I used my PayPal card:
I don't know how this was different from funding my SunTrust account, but this time I did get cash back (again, it took about 3 weeks):
I compared the "details" page between the Suntrust and GoBank loads to see what was different, but they looked exactly the same other than the date of purchase, merchant, and net amount. Strange. The only thing I can think of is that the Suntrust transaction was handled by a person whereas the GoBank transaction was entirely automated. Maybe that made a difference? Anyway, it's too bad GoBank doesn't allow reloading via debit card anymore!
Bottom Line
Finding ways to eek out 1% cash rewards isn't going to make anyone rich, but it's the type of challenge I love exploring. Is there a perpetual money machine to be found here? Could one use the PayPal debit card to fund an account which could then be used to fund PayPal? Any ideas?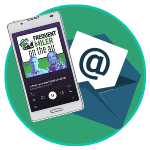 Want to learn more about miles and points?
Subscribe to email updates
 or check out 
our podcast
 on your favorite podcast platform.