Offers listed in this post have expired
Original post follows…
---
In a move that even Miss Cleo couldn't have predicted, Capital One has introduced a couple of huge new welcome bonuses (that require massive spend) and announced that miles earned on the Venture Rewards and Spark Miles cards will soon be transferable. This is huge news and a fascinating shake-up in the transferable currency game. It furthermore falls in line with this morning's post about the opportunity cost of earning miles — though in this case, Capital One is kind of giving you a chance to have your cake and eat it, too.
Two Big Welcome Offers
The first piece of news is that Capital One has introduced two very large new welcome offers — one good for $2,000 and the other for 300,000 miles. Notice that I am no longer putting the word miles in quotation marks since these are now actual transferable miles — sort of, anyway. Here are the two offers, followed by information about the new transfer partners and ratios.
Capital One® Spark® Cash for Business
The offers previously listed here have expired
Quick Thoughts
Both of these offers require big spend in order to max them out, but they reward that spend with a nice return.
As you can see above, with either offer you'll trigger the first part with $5,000 in purchases in the first 3 months — that level of spend will get you a welcome bonus of $500 on the Spark Cash for Business card or 50,000 miles on the Spark Miles for Business card.
But the second tier is where things can get interesting. That tier of the bonus on either card requires $50,000 in total purchases in the first 6 months. Cash back enthusiasts would unlock an additional $1,500 bonus on the Spark Cash for Business card at that level of spend. That's a total of $2,000 in bonus cash back on $50K in purchases in addition to the 2% earned on all purchases on that card. That means you'll have earned a total of $3,000 in cash back if you were to make $50K in purchases in the first 6 months.
Those interested in miles will pull in a similar bonus on the Spark Miles card — but with a key difference. That is to say that after $50,000 in total purchases in the first 6 months of cardmembership, you'll earn a bonus of 150,000 miles — that's in addition to the 50K bonus you earned after $5K in purchases in the first 3 months. In total, that's 200K bonus miles — and add that to the 100K miles you'll earn on $50K in purchases since the card earns 2 miles per dollar on all purchases. You would have a total of 300K Capital One miles after all bonus miles and everyday miles are summed.  As anyone familiar with Capital One miles surely knows, those miles are worth $0.01 each when redeemed toward travel and thus could offset $3,000 in travel purchases. However, things get interesting in that those miles can now also be transfered — and at a better ratio than I'd have guessed if you told me yesterday that this was coming today….
Capital One miles will soon be transferable
One Mile at a Time reports that Capital One miles will soon be transferable to 12 airline partners. The transfer ratio will be 2:1.5 to each partner (at a rate of 1,000 Capital One miles = 750 airline mile). That means that the Spark Miles card earns at an effective rate of 1.5 airline miles per dollar on all spend. What's more, after completing $5K in purchases in the first 3 months plus $50K in purchases in first 6 months, you'd have enough Capital One miles to transfer them to an airline and have 225,000 airline miles. That's a massive new cardmember bonus in terms of sheer size, even if not in terms of miles-per-dollar in required minimum spending (compared to other welcome offers). Still, it amounts to a total return of 4.5 miles per dollar spent. Being able to do that to the tune of $50,000 on a single card will certainly be attractive to those looking for a simple card solution.
Transfer partners
Here is the list of airlines to which you will be able to transfer miles (all at a rate of 2:1.5 in increments of 1,000 Capital one: 750 airline miles):
Aeromexico Club Premier
Air Canada Aeroplan
Alitalia MilleMiglia
Avianca LifeMiles
Cathay Pacific Asia Miles
Etihad Guest
EVA Infinity MileageLands
Finnair Plus
FlyingBlue (Air France & KLM)
Hainan Airlines Fortune Wings Club
Qantas Frequent Flyer
Qatar Privilege Club
While that list isn't quite as useful as some of the other transferable currencies, it's a stronger showing than I'd have predicted. There are a number of particularly useful currencies included, like Air Canada Aeroplan (nice to have an option other than Membership Rewards or Marriott!), Avianca LifeMiles, Cathay Asia Miles, Etihad Guest, and Flying Blue. Surely there are some sweet spots to be found in other programs as well, but that's not a bad start in terms of useful partners. While the $50K in total minimum spend required on the Spark Miles card is steep, I'd say that 225K total Aeroplan miles would be a great haul. That would be enough for round trip business class for two passengers to Europe 1 on Star Alliance carriers. That's great for those who can meet the spend.
It's also good news for those sitting on a stash of Venture miles or considering the Venture card. Doctor of Credit reports on an increased offer on the Venture card of 75K miles after $5,000 in purchases in the first 3 months. That offer is worth 63,000 airline miles.
Reduced opportunity cost?
This morning, I wrote about the cost of the points in your pocket by comparing cards that earn transferable miles with those that earn cash back to determine your cash cost in choosing a transferable currency. In some cases, you're paying handsomely for those transferable miles (See: How much do you pay for your miles and points?).
The Spark Miles card and Venture Rewards card now present a very interesting scenario in that both earn 2 Capital One miles per dollar on all purchases, which can be redeemed for 2 cents towards travel (a similar return a 2% cash back card). But Capital One is now additionally giving you the opportunity to transfer those two Capital One miles to 1.5 airline miles. That makes the comparison a bit more direct – it's almost like buying miles at a rate of 1.33c each. Of course, you'll still run into the scenarios I mentioned earlier where you're essentially choosing miles over a greater amount of cash back and need to consider the cost of letting that cash back slip through your fingers. Capital One just makes at least one of your options — getting 2 cents towards travel — readily apparent.
Should everyone be excited about this?
I'm pleasantly surprised by Capital One here as I definitely didn't expect something like this. I think this is a net win for Venture cardholders and a nice opportunity for those who can easily meet the spending requirements (especially without sacrificing on other offers).
On the other hand, those fully engaged in the hobby will point out that many of Capital One's partners on this are also partners with other transferable currencies — and that you can earn a better rate of return than 1.5 of those airline miles per dollar with Card A, B, or C. That is absolutely true. I won't be particularly excited about earning 1.5 Flying Blue miles per dollar when I can earn 4 Membership Rewards per dollar at US Supermarkets or 5 Ultimate Rewards per dollar at Office Supply stores and transfer those points to Flying Blue.
Furthermore, one could easily open 10 different credit cards and and earn a much greater haul of miles by spreading $50K in purchases over multiple welcome offers on other cards.
However, for one reason or another, some folks will prefer not to open multiple cards and juggle different currencies. There is definitely a peaceful ease in having one card for everything that doesn't earn a bad return — and I think that the Venture and Spark Miles cards now fit into that niche nicely, whether or not you're looking to spend $50K in six months.
I further find it interesting that everyday unbonused spending on a Venture card looks pretty good in comparison to doing so on a Chase Sapphire Preferred or Reserve card. That's because the Chase cards only offer 1 point per dollar on unbonused spend — which is only worth 1c or 1 airline mile. The Venture and Spark Miles card now offer the possibility for 2 cents in travel or 1.5 miles, a significantly better rate of return.
Bottom line
I won't be throwing out my wallet in favor of Capital One miles any time soon, but I know some folks who would be happy with the type of single-card solution Capital One is floating here. And in fact, I have members in my family who only use a Venture card (despite my impassioned pleas with them to add to their portfolios) who will now see the value of their miles balance increase exponentially with the ability to also transfer to partners. In fact, that may be the gateway drug to get them to try other transferable currencies. That surely isn't Capital One's intention, but I'll be thankful nonetheless.
What do you think? Big news, or ho hum?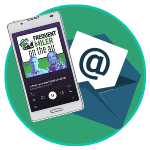 Want to learn more about miles and points?
Subscribe to email updates
 or check out 
our podcast
 on your favorite podcast platform.