Yesterday we learned that Capital One "Miles" will soon be transferable to airline miles.  This is big news because it's finally possible to get better than one cent per mile value from those "Miles".  We also learned that Capital One is offering huge intro bonuses for their cards, but with huge spend requirements.  For more on both of these topics, see: Wow! Capital One miles now transfer & a huge bonus.
Below you'll find my thoughts about these developments…
The power behind airline transfers…
Through a news release (found here) I learned that Capital One isn't building out the technology for airline transfers themselves.  Instead, they're using a middleman service called Ascenda Loyalty (previously known as Kaligo Solutions).  Kaligo Solutions is the company that Aeroplan was going to use to make their points transferable when they split with Air Canada (press release here).  But then Air Canada bought back Aeroplan and probably scrapped the Kaligo deal.
Ascenda lists Barclays, Amex, and Citi among their financial clients and partners.  Amex has been doing this for a very long time, so I doubt they use Ascenda for airline mile transfers.  And I'm not sure about Citi since they've been doing this for a couple of years.  Barclays, though, may have used Ascenda Loyalty for the short lived Arrival Premier.
Capital One has stated that they plan to add additional transfer partners.  And on Ascenda Loyalty's website, they list travel partners.  Among those partners, here are some that I think are likely to come to Capital One eventually:
Singapore Airlines
British Airways / Iberia / Air Lingus
Turkish Airlines
Hawaiian Airlines
We can also hope for Japan Airlines, but my guess is that they'll be too expensive for Capital One to maintain the same transfer ratio.
Capital One Transfer Partners
Interesting transfer ratio: Capital One "Miles" transfer to airline miles at a ratio of 1,000 "miles" to 750 airline miles, also known as 2 to 1.5.  I find this very interesting because I've long used 2% cash back as the benchmark with which people are inadvertently buying miles when they use a miles-earning card (see Nick's recent post on this topic here, and a really old post of mine here).  When you use a card that earns 1.5 miles per dollar, it's like buying miles for 1.33 cents each (since you're giving up the 2 cents per dollar you would have earned: 2 cents / 1.5 miles = 1.33 cents per mile).  So, with this 2 to 1.5 transfer ratio, Capital One has basically determined that airline miles should cost consumers 1.33 cents each.
New transfer partner page: We maintain pages that list all of the transfer partners for each transferable points program.  Here's the new one: Capital One Transfer Partners.
Partner assessment: These are pretty good!  For Star Alliance awards (to fly United, for example), two great choices are Air Canada's Aeroplan and Avianca Lifemiles.  For SkyTeam awards (to fly Delta, for example), Air France is a solid option, and Alitalia can be a cheap option for round trip awards.  For OneWorld awards (to fly AA, for example), Cathay Pacific Asia Miles is pretty good for long distance flights (and somewhat hackable).  An even better option for American Airlines flights is to use Etihad Guest miles.  Etihad has cheap award prices for flying AA.
New post needed: Unless Nick beats me to it, I'm hoping to write up a beginners guide to using the above partners to book award flights.
New Reasonable Redemption Value (RRV): I've previously argued that most airline miles can reasonably be redeemed for 1.4 cents per mile or more. With transferable points programs, the opportunity to get more value is much higher than with any one airline program since award availability is better when you can look across many airlines and many partnerships, and you can pick and choose from many different award charts and program sweet spots.  For that reason, I calculated RRVs of the main transferable points programs (Amex, Chase, Citi) as 30% more than the RRVs for most airlines.  This led to a transferable points RRV of 1.82.  With Capital One, though, the transfer ratio to airline miles is not one to one, it's 2 to 1.5.  So, I multiplied 1.82 by (1.5/2) to arrive at the Capital One Miles RRV = 1.37.  This new value is now reflected here: Reasonable Redemption Values (RRVs) and in our estimated first year values on our Best Offers Page and our individual card pages.
Credit Cards
Huge Business Card Offers: If you're able to spend $50K in 6 months, you can earn a total of $3,000 cash back ($2K from the welcome bonus + $1K from 2% rewards) or a total of 300,000 Capital One miles (200K from the initial spending bonus + 100K from 2X rewards).  The ability to earn 6% on spend is pretty awesome.  On the miles side, after the 2 to 1.5 transfer ratio, you're looking at 225K airline miles, or 4.5 airline miles per dollar of spend if you spend exactly $50K.
75K Capital One Miles: The Venture Rewards card is currently out with an offer for 75K Capital One miles after $5K spend (details here).  After the spend, you'll have 85K "miles" worth $850 towards travel.  This amounts to 17% back on that $5K spend, or 12.75 airline miles per dollar.  That's very good too!
Ongoing value is good but not best in class:  The Venture Rewards and Spark Miles for Business cards each earn 2 "miles" per dollar for all spend.  This means that they earn your choice of 2% back towards travel expenses or 1.5 airline miles per dollar.  Among consumer cards, there are better options for cash back (as discussed recently here) and other options for earning 1.5X airline miles (such as the Chase Freedom Unlimited when paired with any premium Ultimate Rewards card).  On the business side, the Spark Cash card may be the best cash back option for very high spend.  If you prefer miles, the best bets are the Amex Blue Business Plus which offers 2X on up to $50K per year spend (then 1X) or the Chase Ink Business Unlimited which offers 1.5X everywhere, unimited.
Hard to get: All of this talk about Capital One may be academic for many of us.  Capital One is known to be extremely sensitive to how many cards you've opened recently.  People with great salaries and great credit scores are often denied for new Capital One cards due to having opened a number of cards within the past couple of years.
3 credit bureau non-issue? Unlike most other banks, Capital One is known to issue hard pulls from all three credit bureaus.  This used to be a big issue since banks used to be very sensitive to how many recent inquiries you've had when you apply for new credit.  Lately, though, there's been a trend towards looking at the number of new accounts rather than recent inquiries.  While it is probably still a negative to have too many recent inquiries, I wouldn't worry to much about this particular issue.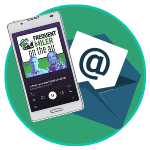 Want to learn more about miles and points?
Subscribe to email updates
 or check out 
our podcast
 on your favorite podcast platform.