As you have surely noticed if you have logged into your American Express online account over the past few days, Amex has been rolling out a completely new online interface. One of the interesting side effects has been the disappearance of synced offers that have previously been claimed on other cards.
Note: Thanks to US Creditcard Guide, you do not have to live with the new interface. Click here to view a very old Amex interface where you can see all of your offers. Read on for more information.
The Disappearance
As an example, I used an Amex Offer a few weeks ago for $35 back on $175 or more at Hampton by Hilton / Hilton Garden Inn (covered within this post). I used that offer on a Business Platinum card and received the $35 statement credit. I had added that same Amex Offer across multiple cards so that I could potentially use it more than once (see our Complete Guide to Amex Offers for information on syncing an offer to multiple cards). However, since the new interface has launched, that Hampton/HGI offer no longer shows in my added offers on the other Amex cards in that same login.
And that's not the only one. All of the offers that I've used on one card in that login have disappeared from all of the other cards in the same login.
How does it work for multiple logins?
If you have separate logins for your Amex cards, you probably haven't experienced this disappearance. While slightly different than multiple Amex credit card logins, I have a separate Serve login. An offer that I used on my Serve card still appears in my synched Amex offers on other logins. This gives further credence to those who advise separate logins for each card.
A solution
When logging into your account via an old interface found here, you can see all of the offers synced to your card — even those that appear to have disappeared in the new interface.
In that interface, if you go to "Amex Offers for You" and click on "My Offers", you can see the offers you have synced to your card. As you can see above, the old interface shows that I have 19 offers synced to my SPG card.
However, in the new interface, it only shows 17 synced offers on my personal SPG account:
The two offers missing in the new interface are offers that I previously used on another card — including the Hampton/Hilton Garden Inn offer mentioned above. The good news is that this offer still shows up under "My Offers" in the old interface:
But will the offer still work and trigger the credit?
Update 7/26/17: Multiple readers have have confirmed they have gotten the statement credit on offers that had disappeared from the interface. This seems to answer the question: yes, the offer will still work and trigger the credit — at least for the time being.
This is the tricky part — the synced offer shows up in the old interface, but does that mean it will actually trigger the statement credit? That's the million dollar question. We won't know the answer to that one for a few more days as we wait for test purchases to post. I suspect that if the offer doesn't work (either doesn't trigger the "Congratulations! You've used your offer!" email or doesn't trigger the statement credit), you're not going to get a lot of help from Amex.
Final Word
Amex is clearly making some big changes to the interface. Will this limit access to Amex Offers in the long term? I certainly hope not. In the short term, it will certainly make it a bit more challenging to keep track of which offers you have used and/or still have available. Let's hope the old interface sticks around for a while.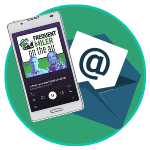 Want to learn more about miles and points?
Subscribe to email updates
 or check out 
our podcast
 on your favorite podcast platform.