American Express has finally made it possible to generate short referral links via text message, Facebook, and Twitter. Additionally, you can now earn 7,500 Starpoints per referral on both the personal and business versions of the Amex SPG cards.
In the past, you have needed to enter your friend's first name and email in order to generate a link. If you emailed that link to yourself, you could copy the link address from the email and share it with others, but this created a long and cumbersome link. It is finally possible to generate an easy referral link for your Amex cards. While Greg first discovered this in his online account via desktop, subsequent attempts to generate the links in desktop mode have had spotty results (Amex seems to be rolling out a new referral portal, but it's not opening every time on desktop). However, it's easy to generate the links via the mobile app.
Step 1
Select your card and choose "Membership" in the menu (menu looks a bit different between iPhone and Android, the SPG examples to follow are Android and the Delta and Business Platinum examples are iPhone).
Step 2
Select "Refer A Business" or "Refer A Friend" depending upon whether it's a business or personal card.
Step 3
Choose whether to generate the link via text message, email, Twitter, or Facebook. Note that you see the Facebook link in the Business Platinum example below, but not the SPG example. That's just because the Business Platinum is from Greg's phone and the SPG is from mine. I don't have the Facebook app loaded on my phone (blasphemous, I know), so it didn't give me the option to make a Facebook referral.
One nice surprise — on both the personal and business SPG cards, my referral link showed I could earn 7,500 Starpoints per referral. That's better than the standard 5,000 per referral — and this offer is showing both in mobile and via desktop. The max is still 55,000 Starpoints per year, but you can hit that in 8 referrals instead of 11 with this increase.
Sharing your links
This is an awesome way for you to generate links that are easy to share with friends. We understand that many readers would like to be able to share referral links with each other. We plan to set up a way for readers to share their referral links, but for now please don't post yours here. Referral links are automatically caught by our spam filter and are unlikely to appear if posted. Once we get a solution set up, we will post with a way for you guys to share with each other.
Bottom Line
It's great to finally be able to generate Amex referral links without needing to enter an email address and wait for the link to arrive. Furthermore, the new link format looks like this: http://refer.amex.us/XXXXXXXXXX <–that's exactly how long mine was. For now, use this as an easy way to create your links and we will keep you updated with how and where to share your links.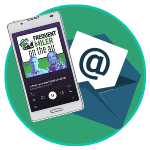 Want to learn more about miles and points?
Subscribe to email updates
 or check out 
our podcast
 on your favorite podcast platform.