Last Updated: 5/18/2016
Extreme Stacking is the art of combining discounts, credit card rewards, store rewards, and portal double-dips in order to save money and earn rewards.  We are developing ExtremeStacking.com into a one-stop shop for finding the best Extreme Stacking deals.  Most Extreme Stacking deals involve buying gift cards at a discount as just one of the many steps involved.  In the case of eBay, buying gift cards at a great discount is usually the end-game.  Or, think of it as the first step towards many other Extreme Stacking deals…
eBay Extreme Stacking components
Extreme stacking with eBay involves the following components:
Credit card category bonuses
Portal rewards
eBay Bucks
eBay gift card discounts (or merchandise discounts if your end-game is to buy stuff from eBay)
An ideal stack would go like this:
Buy eBay gift cards at a discount or with big rewards
Wait for gift card sales
Ideally wait also for eBay Bucks promotions
Shop through a portal to eBay to earn portal rewards
Buy discount gift cards and pay with eBay gift cards or with a credit card offering a category bonus
Let's look at each component of the stack…
Buy eBay gift cards
Here are a number of options for earning rewards or getting discounts on eBay gift cards:
eBay sales (eBay gift cards are occasionally available on eBay for 5% off)
Grocery stores (earn a credit card category bonus and fuel points)
Amex Offers (When available, enroll your Amex card in an offer such as Spend $100, get $20 Back with a store that sells eBay gift cards).  See our Complete Guide to Amex Offers.
Staples.com (Earn 5X when you pay with your Chase Ink card – portals don't currently work with this option)
Target.com (Use Target REDcard to get 5% off).  Note: A reader name Steve says that you can get banned from Target.com if you use this approach too often.
Gyft (Pay with Chase Ink through PayPal for 5X rewards)
United's MileagePlus X app (earn bonus miles from the app plus travel category bonus with credit card)
For more ideas, please see our Extreme Stacking page: Merchant gift cards, best options for stacking deals.
Gift card sales on eBay
I don't recommend buying used gift cards from individuals through eBay.  Instead, look for sales of new, unused gift cards from companies such as PayPal Digital Gifts, Gift Card Mall, SVM Gift Cards, and Cardency.  To find discounted gift cards:
Availability of discounted gift cards varies tremendously from day to day.
eBay Bucks
eBay offers eBay Bucks as rewards for most purchases on eBay.  You will earn eBay Bucks when buying merchant gift cards, but not when buying eBay's own gift cards.  And, eBay Bucks can be used to buy gift cards.  Normally, you'll earn 2% back in the form of eBay Bucks with each purchase.  That said, eBay frequently runs targeted promotions (watch your email!) in which they offer bigger rewards.  For example, here's one that recently appeared in by inbox:
10% on "all other items" is terrific!  That's 5X the usual rewards rate.
Keep in mind that eBay Bucks are not immediately available for use and they do expire if not used.  Miles to Memories has a primer on using eBay Bucks, here: How to Claim Your eBay Bucks & What to Spend Them On.
Portal Rewards
Portals don't usually offer big rewards for shopping at eBay, but every bit counts.  Find the latest best offers at Cash Back Monitor (here).  At the time of this writing, cash back rewards top out at 1.3% and airline mile and bank bonuses top out at 1X:
Credit Card Category Bonus
Chase Ink cards earn 5X points when used to buy from PayPal Digital Gifts on eBay (see "A new way to increase rewards beyond 5X").  There are many ways to earn credit card category bonuses when buying eBay gift cards (see the section above, titled "Buy eBay Gift Cards"), but if you'd rather skip that step, you can save time and frustration by buying gift cards directly from PayPal Digital Gifts and paying with your Chase Ink card.
Gift card limits
eBay imposes frustrating limits when buying and using gift cards.  And, the rules seem to change regularly.  Luckily some of the most strict limitations have been recently lifted.  That said, I expect that the rules will continue to change.  Rather than repeating the information here (and trying to keep in up to date), I'll point you to a couple of useful resources: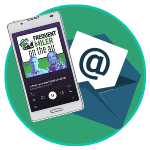 Want to learn more about miles and points?
Subscribe to email updates
 or check out 
our podcast
 on your favorite podcast platform.