The following deal is valid until November 24 2012.
On Friday I mentioned a lucrative deal from Staples: Buy $100 in Visa or MasterCard gift cards and get a $15 Staples gift card as a Staples Easy Rebate (limit 10 Staples Gift Cards per name/address/household).
This is a pretty nice deal by itself, but there are a couple of ways to make the deal even better:
Use a credit card that offers extra points or cash back at Office Supply stores. For several examples, see "Best Category Bonuses". If you use a Chase Ink card to buy $1000 worth of gift cards, for example, you'll earn over 5000 Ultimate Rewards points in addition to a $150 Staples gift card!
Or, use a credit card with which you are working on meeting minimum spend requirements. This is a nice way to spend $1000 and get even more spending power in return.
Buy $200 Visa gift cards. Reports from SlickDeals and Dan's Deals show that when you buy a $200 Visa gift card, you qualify for a rebate of $30 in Staples gift cards. By buying Visa cards in $200 increments, you substantially lower the fees as a percentage of card value. $200 cards have a fee of $6.95 each (3.475% fee) whereas $100 cards have a fee of $5.95 each (5.95% fee).
How it works
To take advantage of this deal you need to go in person to a Staples store and buy up to $1000 worth of Visa or MasterCard gift cards. The register will automatically print out a rebate receipt. Take the receipt home and fill out the rebate online. Wait 4 to 6 weeks to receive your Staples' gift card in the mail. Note that Staples gift cards can be used in-store, but not online.
According to reports, you will receive one gift card containing the entire value of your rebate. For example, if you buy $1000 worth of MasterCard or Visa gift cards, you will receive a single $150 Staples gift card rather than 10 separate $15 cards.
What to do with all those gift cards
The Visa and MasterCard gift cards can be used like regular credit cards almost anywhere that credit cards are accepted. If you need to liquidate those cards for actual cash, please see "Using the Target Amex card to run up spend" for one good option.
With the Staples gift card, of course you can use it to actually buy merchandise at Staples. Another option is to look for in-store Free After Rebate offers at Staples and buy those products. It's a slow, but viable way to turn your Staples credit into cash. Finally, if you really can't wait, consider going through TopCashBack to Plastic Jungle to sell the gift card. You won't get the full value of the gift card, but at least you'll get paid fairly quickly (in my experience).
Rebate step by step instructions
Step 1: Buy gift cards at Staples
Go to Staples in person and buy no more than $1000 worth of Visa and/or MasterCard gift cards. If possible, pay with a credit card that earns extra points or cash back at office supply stores. Make sure that you get a Rebate Receipt in addition to the normal purchase receipt. As I mentioned above, the best value at Staples are the $200 Visa gift cards.
Step 2: Fill out the online rebate form
Go to www.stapleseasyrebates.com to fill out the online rebate form.
Step 3: Click "store purchase"
Step 4: View the example rebate form
On the next screen, there is an example of the rebate redemption form that came with your receipt. Note that this screen shows you where to look to find both the Rebate Offer Number and the Easy Rebates ID number. Scroll down within the screen to see an example of the latter. Then, press "Start Now".
Step 5: Enter the rebate offer number and your easy rebate ID number
Both numbers can be found on the form labeled "Rebate Redemption Form" attached to your store receipt. The rebate offer number is 12-28680. The Easy Rebate ID number is unique to each purchase and can be found at the very bottom of the Rebate Redemption Form directly under the bar code. This number isn't labeled so you'll just have to trust that it's the right number. In my case it was a 17 digit number.
Step 6: No need to add another rebate offer
If you purchased all of the gift cards in one transaction at the store, then you only need to do this process once. So there should be no need to add another rebate on the next screen. Instead, just press "Next".
Step 7: Tell Staples where to send the rebate
If you've filled out Staples Easy Rebates before, you may be able to click "retrieve" to get Staples to fill out this section for you. Otherwise, fill out your name and address.
Step 8: Press Next
Nothing to do on this screen, but press "next". With some rebates you are given the choice to switch from a gift card to a check, but not in this case.
Step 9: Submit the rebate
Check that the info is correct and press "Submit Rebate".
Checking status
After you submit the rebate, you will receive an email confirming the submission. Within that email is a link to check the status of your rebate. If you click that link soon after submitting the rebate, you'll see a screen like this one:
After a few hours, you'll receive a new email with the heading "Update! Your rebate is being processed!" At, that point, if you check the status you will see something like this:
Notice that the screen now shows the products I purchased and the expected rebate.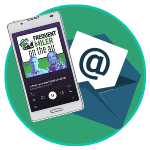 Want to learn more about miles and points?
Subscribe to email updates
 or check out 
our podcast
 on your favorite podcast platform.