On Saturday I reported that Office Depot has stopped selling Vanilla Reload cards. This came as a shock and disappointment to many because it put an end to the "5X everywhere" technique I first wrote about in "One card to rule them all" and then later refined with "Bluebird takes flight and changes the game."
One problem with the 5X everywhere technique was that it was easily available to everyone, and it created a sort of "Tragedy of the Commons." As more and more people rushed out to buy Vanilla Reload cards, the cards became harder and harder to find. Now, regardless of whether the deal was killed by bloggers, FlyerTalk, or, more likely, by thieves who found ways to illicitly activate and steal reload cards, there are now many in our community looking for alternatives.
The new game
What we have now is a new game with a new playing board. Before, I told you step by step how to win. That contributed to the aforementioned Tragedy of the Commons. I realize that repeating history is inevitable, but let's try to avoid, or at least delay, that fate this time. With the new game, I'll describe the rules and the pieces, but I'll leave it up to you to figure out how to win.
Start with a credit card
To play this game, you need a credit card with one or more of the following characteristics:
Earns valuable points within bonus categories. For a nearly complete list, see "Best Category Bonuses".
Earns a valuable sign-up bonus after required spend is met (see "Best credit card offers").
Earns bonus points or perks with high spend. A great example is the Delta Reserve card and the Delta Platinum card. Both award bonus miles and elite qualifying miles to big spenders. In fact, I use these cards to maintain high level elite status with Delta without flying (see "Mileage running, from home"). For more examples of cards that offer elite status for high spend, see "Preparing for Miles".
Find a store
This may be the hardest part of the game. You need to find a store that sells reload cards and will let you pay with a credit card. If your goal is to increase spend to earn a signup bonus, or to reach a high spend threshold, then it doesn't matter what store you find. Try supermarkets, drug stores, convenience stores, and gas stations. The interesting thing here is that there doesn't seem to be a set rule for where you can find and buy reload cards. For example, some Walgreens stores will let you buy Vanilla reload cards with a credit card, but other Walgreens stores have registers that are hard-coded against it.
If your goal is to earn a high category bonus (e.g. "5X everywhere"), then this step gets a bit more complicated. If you can find a reload card in a store that gives you a category bonus, then you're all set. If not, then an alternative is to go to a store that gives you a good category bonus (such as Office Depot) and buy a prepaid Visa or Amex card. Then, use that card elsewhere to buy a reload card.
Buy a reload card
Vanilla Reload cards are not the only reload cards around. Below is a roundup of all of the cards that I'm aware of that can sometimes be bought with a credit card.
| | |
| --- | --- |
| | Vanilla Reload cards cost $3.95 each and can be loaded up to $500. Use the card to load an American Express Bluebird card and then you can use the Bluebird card for everyday expenses, to pay bills, to transfer money to your bank account, or to withdraw money from ATMs. |
| | |
| | PayPal Load Money cards cost $3.95 each and can be loaded up to $500. Use the card to load money to your PayPal account. From your PayPal account, you can use the money for online purchases, to transfer money to others, or to withdraw money to your bank account. |
| | |
| | Green Dot MoneyPak cards cost $4.95 each and can be loaded up to $500. Use the card to load a compatable permanent prepaid card such as the AccountNow Prepaid Card (which has bill pay features), or load directly to your PayPal account. You can find more information about this card here. |
| | |
| | PayPower REloadit cards cost $3.95 each. Some of these cards can be loaded up to $500. Others can be loaded up to $950. Use the card to load a permanent prepaid card such as PayPower, NetSpend, AccountNow, etc. Of all of the reload cards in this list, this is the only one that I haven't personally bought with a credit card, but I've heard from quite a few others who have succeeded. You can read more about buying and using this card here, here, and here. |
| | |
Despite the recent news from Office Depot, reload cards are a big, growing business. I expect that the list of cards shown above are just a drop in the bucket compared to what is now or will soon be available.
Use caution
History has proven time and again that many people will gorge on great deals when they're found. There are many reasons not to go to extremes:
Credit card account closure: If you abuse the perks available to you as a credit card holder, you run the risk of the issuing bank shutting down your accounts. It has happened before. Please see "Why Chase cancels accounts (and how to protect yourself)."
Prepaid account (or PayPal) shutdown: In order to use the reload cards shown above, you need a reloadable prepaid card or a PayPal account. If you load money onto one of these accounts, then completely withdraw all the money, and repeat over and over, you run the risk of getting shut down. Your activities will appear to be fraudulent. Plus, the bank behind the account would probably not be making any money from you and so would be happy to lose you as a customer.
Killing the deal: If you go hog wild buying and liquidating reload cards, you may inadvertently draw unwanted attention to what you're doing and the deal may be killed either locally (i.e. your local store will stop selling the cards) or nationwide.
Some people went hog wild with Vanilla Reload cards because they believed the end was in sight and they wanted to get as much out of it as they could before the deal died. I don't think this is a good approach. It increases your chances of account closure and it ignores the fact that there are, and always will be new great deals. Take your time, go at a pace you're comfortable with, and be ready to adapt as things change (which they will!).
Huh?
If you've gotten to this point in the post and are totally confused about the information presented above, that's OK! Yes, normally I walk people step by step through point-earning opportunities. And, I will continue to do so with many other deals, but not with reload cards. If you don't understand how to take advantage of the game presented here, start with simpler schemes or network with others at in-person events. A good way to find in-person events near you is to keep your eye on FlyerTalk's Community Buzz forum.
Let the game begin!
I have no doubt that many readers have already been playing the game described above. Others will rush out to different stores to see what they can find. If you learn about new useful products, please let me know. If you find a great store for buying those products, consider keeping the details for yourself and some friends.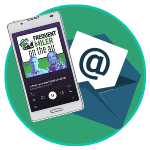 Want to learn more about miles and points?
Subscribe to email updates
 or check out 
our podcast
 on your favorite podcast platform.