Yesterday I had an email conversation with the other Frequent Miler authors, Nick and Stephen, and I realized that this might be interesting to readers. So, in a style somewhat similar to Milenomics' Shop Talk series, our discussion is below.
First, make sure you're familiar with this: Ouch: Amex clawing back Amex Offers credits.
The following dialog was about the latest AT&T Wireless Amex offers (details here).  As an AT&T wireless customer, the latest offers are an awesome way to get cash back or earn Membership Rewards points with almost no effort whatsoever.
Greg:
So here's the question regarding Amex enforcing the once per cardmember rule with the Staples offer…
If they do the same with this AT&T offer, then consider this realistic scenario:
Greg has offer on his own account
Greg has offer on an AU card where his wife is primary
Greg's wife has offer on her own account
If I don't want to take a chance in breaking the rules, I would simply stick with 1 card each where we are each primary (1 and 3, above). If I were to also do 2 above, what would Amex do? The double rebate would be on my wife's account, but she can't realistically stop an AU from using an offer, right? Meanwhile, I'm the one who technically broke the rule (since I'm the same cardholder on both cards), but there's only one rebate in my account.
Should I push it and try all 3?
I don't expect you guys to know the answer, but curious if you have thought about how it might work
Stephen:
Given that we're restricted to only one statement credit version of the offer and one MR version, I'd think it'd be fine if AU cards were used, even if the main cardholder loaded the same offer.
The AT&T offer is probably the best offer to actually test that on seeing as it's something you'd have been paying for anyway; if it's clawed back by Amex, you wouldn't be out anything other than 5x on an Ink card.
Nick:
You'd also be out cell phone insurance for a few months if you normally use the Ink Business Preferred — though you'll save enough here to mostly make up for that.
Here are my thoughts on the clawbacks:
It's only been one offer. With the rampant abuse of Amex Offers for years and years, why did they only choose to claw back one offer and make it on a business card if they are looking to curb this behavior long-term? Maybe it was a warning shot. Or maybe those who said the pushback came from Staples are correct. I'm starting to think it's the latter….
Do we know that they have actually clawed Staples back? I know the email said they were going to claw it back. I haven't seen whether anyone has actually had their cards charged for it yet.
As far as using it multiple times, I would expect that if Amex were serious about it, they could say that your wife should know if her AUs (employees in this case) are trying to use an offer she has already used.
That said, I think Amex is only half serious about this. It was either meant as a warning to heavy hitters or it was something pushed by Staples, and I'm thinking the latter – otherwise why not at least claw back on the Lowe's and Exxon Mobil offers that came out at the same time? If preventing it was important, why not just flip an IT switch to stop paying out the statement credits?
I think I only overdid it on the Staples offer by 1 gift card (i.e. I received $120 back over two cards — $100 on one and $20 on the other), and I didn't receive any clawback email for what that's worth.
I will say this: they seem to be getting slightly more serious. I waited until last week to sync the Marriott card. Tried the multi-tab method and as soon as I synced it to one card, it gave me a message saying "sorry, you have already synced this offer to another card" on the second tab. I made sure to sync it to the Lux upgrade card first and that'll be good enough for me if I do get the $300 credit twice, but maybe the tides are turning after all….
In summary, "I have no idea".
Stephen:
You may well be right about the pushback coming from Staples. I'd wondered if they'd done it because of people taking advantage of the offer with their 99 AU cards, but what you suggested makes sense given that it hasn't happened on the Lowe's offer.
I'd also gone slightly over on the Staples offer – $1,500 across two cards – and didn't get a warning email. I decided to leave it at that after those emails went out so as a) to not have them reverse credits and b) to not put eyes on my account.
I've not heard any DPs of the clawbacks happening yet which I'd assume means they haven't happened yet as I'm sure the Facebook group would have several mentions of it if people had suddenly been charged $$$ by Amex. I'm sure that email put the fear of God in those that received it – hell, it put the fear of God in me as I'm concerned they'll do the same with the Best Buy offer as we've hit that with ~25 cards so far and a few more to come.
Greg:
It turns out that I couldn't load the offer to multiple cards anyway, so reality is a bit different that I first suggested.  I have just the one offer on a primary card (Spend $150+, Get $50), and my wife has two versions of the offer loaded to two primary cards (both the cash back version and the Membership Rewards version).
I do have a way to test this a bit, though: My son's AU card (employee card) where I'm primary has the same Spend $150, Get $50 offer that I have.  So, I'll be able to see if there are any clawbacks when one person's account (mine) gets multiple rebates.  I'm 99.9% confident that it will be safe.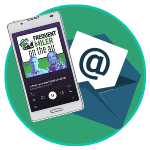 Want to learn more about miles and points?
Subscribe to email updates
 or check out 
our podcast
 on your favorite podcast platform.