When I was very young I invented a perpetual motion machine (a machine that runs on its own power, forever).  I drew a picture of a little car with a vertical gear that was driven by heavy bricks.  The idea was that the higher up bricks would be pulled down by gravity, forcing the entire wheel to turn.  Of course, this wouldn't really work, but I didn't know that at the time.
The other day, I thought I had discovered something even better:  a perpetual point machine.  A perpetual point machine is a scheme in which, after a little push, points and/or miles are accrued over and over again, forever, with little or no additional work.
The idea hit me when I was online buying a Sears e-gift card, following my own advice from a previous post showing how to earn 40,000 Aadvantage miles from $2000 Sears spend.  So, I was buying the e-gift card and I saw this:

Wow, it looked like I could buy a gift card with a gift card!  Why would I care about that?  Well, with the Aadvantage Shopping Mall offering 10 miles per dollar spent at Sears, I figured I could spend real money just once to buy the first gift card, then go through the portal again to buy another gift card, using the first one to pay, and then go through the portal again and buy another gift card, and so on forever.  Ergo, we would have a perpetual point machine!  Let's say I bought a $500 gift card each time.  Then, each transaction would result in 5000 Aadvantage miles.  200 transactions later I'd have a million miles!
Of course, just like my perpetual motion machine, the point machine doesn't work either.   After entering my gift card number (yes, I really tried to pull this off!), the website immediately informed me that "Gift Cards can not be used to purchase Gift Cards at this time."  Rats!  The wording, "at this time," does make me wonder, though.  Is there a time in which gift cards can be used to purchase gift cards?  If so, what time?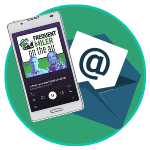 Want to learn more about miles and points?
Subscribe to email updates
 or check out 
our podcast
 on your favorite podcast platform.