Last week, my wife, son, and I vacationed in California at the Hyatt Carmel Highlands.  The hotel is on Highway 1 just south of Carmel and just north of Big Sur.  The Hyatt Carmel Highlands is a Hyatt category 6 hotel.  As such, rooms are available for 25,000 points per night.  And suites are available for 40,000 points per night.  We opted, instead, to pay with Points + Cash: 12,500 points & $150 per night.
During the brief period in which Hyatt was matching almost everyone to Diamond status, my wife was able to match her Hilton Gold status to Hyatt Diamond (and she later matched her Hyatt Diamond to Hilton Diamond!).  With her new found Hyatt Diamond status, she had 4 suite upgrade certificates that would expire at the end of February.  So, we called to apply one of the upgrades.  Interestingly, online, the Points + Cash rate was not available for one of the nights we wanted, but the phone agent was able to book it without trouble.  And, the upgrade too was easily applied.  We then had a confirmed booking in the Ocean View Townhouse Spa Suite which would otherwise sell for $689 per night:
I previously wrote that those without Diamond status can book the Points + Cash rate and then use 6,000 points per night to upgrade, for a total of $150 (+ taxes) and 18,500 points per night.  It turns out, though, that Hyatt cannot combine points + cash with 6000 point upgrades.  As far as I know, the only options for those without Diamond status are: 1) Book a suite for 40,000 points per night (3 night stay minimum); 2) Book a regular room and check to see if you are offered an option to buy up to a suite via the eStandby program (one commenter was offered the upgrade for only $39 per night); 3) Book the suite directly; or 4) Book a two night package through their timeshare sales department and negotiate an upgrade (I have no idea if this would work, but its worth a try).  You can find their timeshare offer here.
The Hyatt Carmel Highlands suite is a two story townhouse with a living room (which has a comfortable pull-out sofa) and fireplace), kitchen, and bathroom on the main floor.  The master bedroom & bath is downstairs.
Hyatt Carmel Highlands Review
Overall, we loved the vacation.  The Hyatt Carmel Highlands and the surrounding area are incredibly beautiful.  Thanks to having diamond status, breakfast in their California Market restaurant was free.  If we didn't have diamond status, though, we could have easily made more use of the suite's full kitchen.  We passed on the hotel's extremely expensive dinner restaurant: Pacific Edge, but we did order room service a couple of times and it was very good.  On Valentine's Day we had reservations for the restaurant, but cancelled.  We later learned that we missed out on dining with Robert Redford.  Bummer.
Our townhouse suite was very comfortable, and the views from the suite balcony were amazing.  Going north, the hotel is only about a mile from the incredible Point Lobos State Park.  A few miles past there, you get to the beautiful towns of Carmel and Pacific Grove.  And, just past Pacific Grove, you'll find the famous Monterey Aquarium.  Just to the south of the hotel is perhaps the most stunning parts of Highway 1 – in the area called Big Sur.
I'll let photos do the rest of the speaking…
Living Room:
View from balcony (looking to the right):
Sunset view from balcony (looking to the left):
Kitchen:
Full bathroom on main floor:
Master bedroom (downstairs):
Master bathroom (downstairs):
Point Lobos State Park:
Pacific Grove:
Monterey Aquarium:
Bixby Bridge (on Highway 1, south of Carmel Highlands):
Julia Pfeiffer Burns State Park (on Highway 1, south of Carmel Highlands):
Andrew Molera State Park (on Highway 1, south of Carmel Highlands):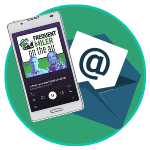 Want to learn more about miles and points?
Subscribe to email updates
 or check out 
our podcast
 on your favorite podcast platform.