This week's Frequent Miler on the Air saw us discuss the merits and drawbacks of this week's big news: now that we can book Hyatt suites and premium suites online, is that a huge win? Who are the potential losers? We also re-introduced our newly-named new segments: Mattress Running the Numbers and Post Roast — and I skewered Greg's post about mattress running Marriott Platinum to bridge the gap between the two (OK, that's a bit strong — perhaps I lightly seared his post). All that and more in our Frequent Miler week in review: watch, listen, or read on for more.
FM on the Air Podcast
For those who would rather listen than watch, the audio of our weekly broadcast is available on all popular podcast platforms, including:
You can even listen right here in this browser:
If you can't find the podcast on your favorite podcast platform, send us a message and let us know what you'd like us to add.
This week at Frequent Miler:
In award booking:
Hyatt allows you to book suites with points!
Hyatt unsheathed its double-edged sword this week: you can now book suites and premium suites online using points. On the one hand, that's awesome. In some cases, you can book yourself the Presidential suite for a really reasonable number of points. But on the other end of the spectrum, as we discussed on Frequent Miler on the Air, this might dilute the value of Globalist status by making space-available upgrades more scarce and it will certainly mean that those who knew how to book these before will no longer enjoy the advantage of this being a more hidden gem. But I'm upset with Hyatt for another reason altogether: I'm really annoyed that they are now taunting me to make bad decisions. It doesn't make sense to transfer from Chase and lose the flexibility of Ultimate Rewards with no idea what future travel will look like and it feels even more painful to fork over 30K or 40K points when I know that those points could put $450 or $600 in cold hard cash in my pocket (or retirement savings!) — meaning that even if I did throw caution to the wind, my joy of free would be dampened.
Just a quick update on this one: Bald Thoughts informs us that Intercontinental Ambassador elite status' Free Weekend Night can now be used at Kimpton hotels any day of the week. That might make this status well worth considering for more people.
In credit cards:
Last year alone, I flew to at least a dozen foreign countries, spent nearly a week's worth of hours flying in premium cabins, and redeemed points for rooms that cumulatively would have cost well over ten thousand dollars with cash. And yet that still pales in comparison to what some silly retirement planning mistakes have cost me over the past ten years. Luckily, thanks to the hunt for better credit card rewards, I will now also hopefully reap the long term rewards of a major savings on my retirement planning investments thanks to waking up to what I was losing.
In our latest episode of Card Talk, we meet with Parker, who is trying to plan an epic honeymoon to either Bora Bora or the Maldives and Australia. Looking back at this chat, I find it amazing to even be talking about this stuff: years ago, a trip to a place like the Maldives or Bora Bora or Australia would have been the kind of thing a couple might have saved up for over the course of decades, yet here we are talking with Parker about how to plan a credit card application strategy to save up points for a year so he can book his 2022 trip. If you're curious about what we recommended, check out the post and/or video. Feel free to share with the soon-to-be newlyweds in your life.
In loyalty programs
I roasted Greg over this one during Frequent Miler on the Air. In this post, Greg attempts to help you work out whether or not it makes sense to go after the necessary 7 stays for Marriott Platinum if you earned Gold status last year and you have the right two credit cards in your wallet. But I took him to task: I think this post overvalues Marriott Platinum status from two standpoints: First, for the same price, you could buy Hilton Diamond status along with $500 in annual statement credits and not need to consult a chart to know whether or not you get breakfast. If you're spending more than that — like the 75K points that Greg suggests might be OK — I think you need to re-evaluate your loyalty. And a $200 valuation for the suite night awards? Marriott has clearly been putting some extra sugar in the kool-aid and Greg has been drinking it. Everybody and their brother, sister, and dog's fleas is about to have Platinum status and both suite night awards earned last year and new ones earned this year are valid through the end of next year. Good luck getting one of those to clear — no way I'd pay $200 to maybe be able to use them and likely run out of time before any of them clear. I'm not saying that Marriott status is worth less, but $450? Nah, it's worth less.
In our latest loyalty program reference guide, Greg has published almost everything you need to know about Hyatt. I say almost because our goal with all of these guides is to continue to add more as we uncover key details and readers share helpful input. If you're a Hyattaholic, you'll want to bookmark this one.
Home rentals have been growing in popularity in recent years, with sites like Airbnb, Vrbo, and the sort gaining what seems like growing traction. Many travelers already preferred the more "authentic" feel of staying in an actual neighborhood and now many are surely drawn to the perceived greater safety in having one's own space rather than sharing elevators with strangers. I'm actually not too excited about vacation rentals — and yet I still spent at least a couple of weeks in Airbnbs last year because circumstance dictated that it made sense. If I could rent the same property for around the same price and also earn Marriott points and elite-qualifying nights, that's a nugget of wisdom that I'd keep tucked away for a rainy day — and I can, so I will.
The Deal of the Week:
Stephen had already recently reported that the Fluz app is successfully triggering Amex small business credits when buying discounted gift cards and he now shares news that comes from eGifter advertising that they qualify for the offer. I'm including this one for those who may have missed the previous Fluz post to alert readers to the fact that there are a number of easy online gift card options that will apparently work for these credits. If you have a nearby qualifying small business, I think it's great to use this shop small credit to support that type of place, but these discounted gift cards can be a great way to stack savings for those who more often shop elsewhere.
Note that the other amazing deal this week is the BOGO Miraval deal (See: BOGO Miraval offer & stacking with 25% back). There's no doubt that the Miraval deal is "bigger" – but with the current travel landscape it seems less accessible to the masses than the gift card tip above. Still, it's worth checking out if you have Miraval on your mind.
---
That's it for this week at Frequent Miler. Check back soon for our week in review around the web and this week's last chance deals.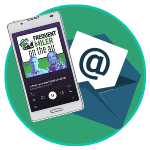 Want to learn more about miles and points?
Subscribe to email updates
 or check out 
our podcast
 on your favorite podcast platform.