Chase has unveiled a new fee-free Marriott Bonvoy card: Bonvoy Bold.  Is the new card worth getting?  Is it worth keeping?  Let's dig in…
Confusing Bonvoy card names
Why do credit card companies love alliteration?  This just confuses customers.  Consider the currently available Marriott Cards: Bonvoy Bold, Bonvoy Boundless, Bonvoy Business, Bonvoy Brilliant.  Can you keep track of which is which?  Nope.  I can't either.  But my Marriott credit card comparison chart should help.  This has been updated with the new Bonvoy Bold:
---
Confusing Bonvoy signup rules
If you have any other Bonvoy cards, or if you've received a bonus for one in the past 24 months you probably won't qualify for a new bonus for the Bonvoy Bold.  This chart may help you figure out if you would qualify: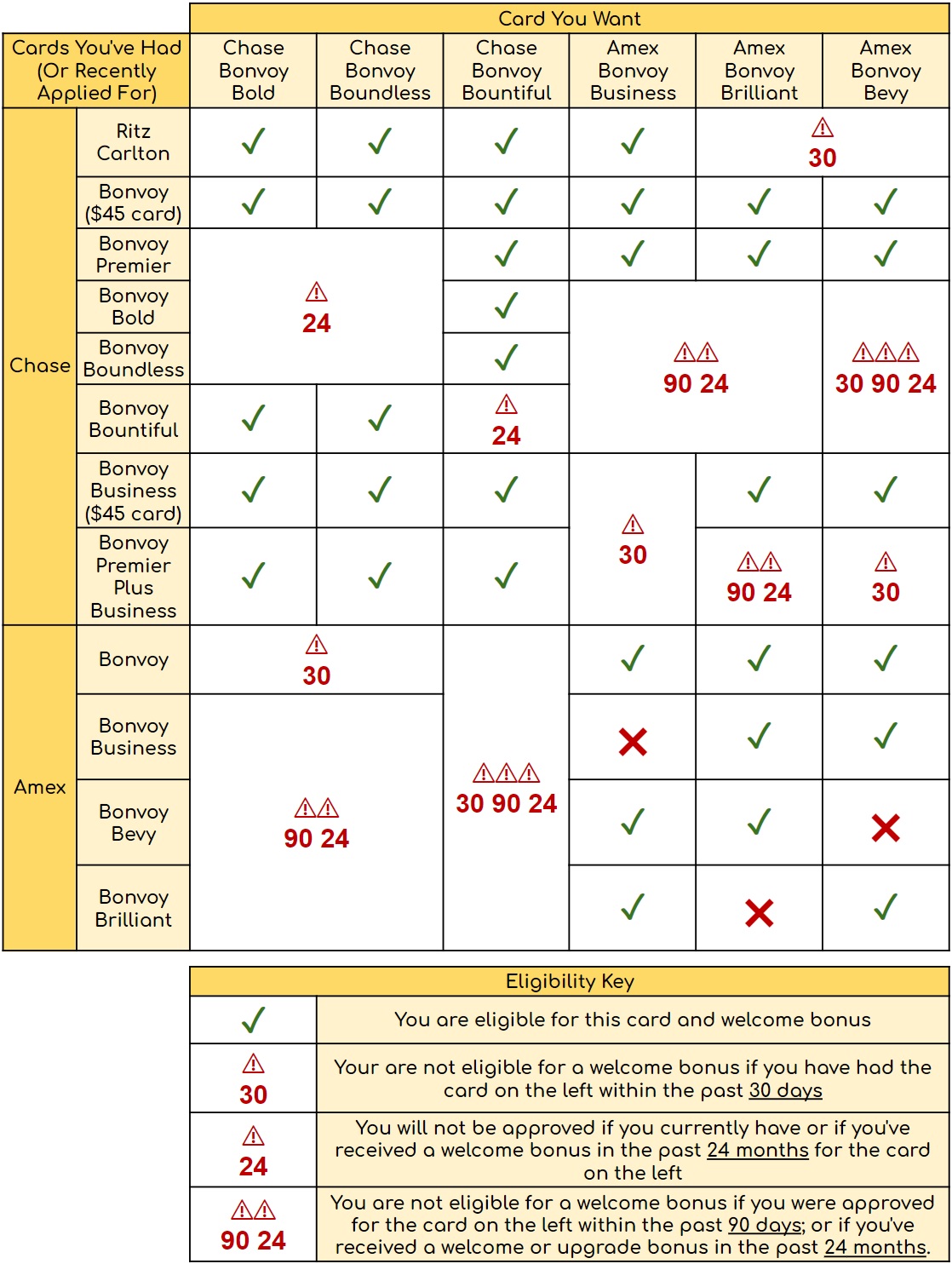 ---
5/24 is still a thing
Don't forget that Chase now applies 5/24 rules to all of their cards.  This one is surely no exception.
Chase's 5/24 Rule
: With most Chase credit cards, Chase will not approve your application if you have opened 5 or more cards with any bank in the past 24 months.
---
To determine your 5/24 status, see:
Easy Ways to Count Your 5/24 Status
. The easiest option is to track all of your cards for free with
Travel Freely
.
---
Bonvoy Bold has no free night
The best feature of most of the current Bonvoy cards is that they offer a free night each year.  I like to keep these cards open because I can usually use the free night award towards much better value than the card's annual fee.
The Bonvoy Bold doesn't come with a free night.  But that's OK since it doesn't have an annual fee either.
Bonvoy Bold is bad for spend
This card offers only 1X rewards for most purchases and only 3X at Marriott properties.  You can do much better with almost any other rewards credit card.  See: Best Rewards for Everyday Spend.
Card Info Name and Earning Rate (no offer)
Earning rate: ✦ 3X Marriott Bonvoy ✦ 2X travel ✦ 1X everywhere else
Who is it good for?
I actually think that this card does make sense in certain situations…
Poor credit bonus seekers
The welcome bonus for the Bold isn't as good as the bonuses on other cards.  That said, it is likely that Chase will approve the Bold more easily than the Bonvoy Boundless card.  So, if you have mediocre credit and/or a low income, it could make sense to signup for the Bold.  It also helps that the Bold has a lower spend requirement.
Of course, you would probably do better with any number of other credit cards out there.  Checkout our post "Best offers for low spenders," for ideas.
For reference, here are the current Bonvoy welcome bonuses:
Status seekers
If you want Marriott elite status, but you don't want to pay an annual fee, this card can help.  The card offers 15 elite nights towards status each year.  That's enough on its own to give you Silver status, for what that's worth (not much).  But it also gives you a considerable leg up towards higher level status:
This may actually be the perfect card for those who travel a lot for work.  If that's you, you probably earn enough Marriott points from paid stays so that you don't need the annual free night certificate that the premium Bonvoy cards offer.  The Bold will help by giving you 15 elite nights each year so that you'll get to Platinum, Titanium, or Ambassador elite status faster.
Before you ask: No.  If you get multiple Bonvoy cards, you won't get more than 15 nights credit towards elite status.
Those who want to say bon-voyage to Bonvoy, but maybe not forever
If you have a Chase Marriott or Ritz consumer card and you no longer want to pay the annual fee, I highly recommend product changing to the Bonvoy Bold instead of cancelling your card.  Once you cancel, it can be very difficult to get that card again.  But if you product change down to the Bold, it will most likely be possible to upgrade sometime in the future to the Ritz card, or to the Bonvoy Boundless, or to the not yet announced but inevitable Bonvoy Badass card.
In other words, the Bonvoy Bold is the ultimate Bonvoy parking lot card.  If you're sick of everything having to do with Bonvoy, but you're not 100% sure the breakup will be permanent, then switch to the Bold.  Make sure to put a few dollars spend on the card every 6 months or so.  Otherwise they may cancel the card for non-use.
Conclusion
Bonvoy Bold is a decidedly "meh" card.  That said, it does make sense for a select few.  In fact, I wouldn't be surprised to find lots of readers interested in using it as a no-fee Bonvoy parking lot card.
If you have questions about Bonvoy credit cards, free nights, shortcuts to elite status, etc., please checkout our all-inclusive post: Marriott Bonvoy Complete Guide.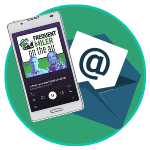 Want to learn more about miles and points?
Subscribe to email updates
 or check out 
our podcast
 on your favorite podcast platform.