Welcome to our weekly list of what's ending this week as well as a collection of some of the best ongoing deals around. There are a number of deals ending today. While the rest of this week's list is not scheduled to end today, you will notice a long list of deals in the "Won't Last Long" section. A number of those airfare sales have persisted — tons of sub-$400 economy class fares to Europe and sub-$2K business class fares to Europe (and sub-$1200 RT from Europe to the US), as well as flights to Mexico under $200 round trip and to Asia under $500 round trip. If you are a Business Platinum card holder looking for some opportunities to use your pay-with-points rebate while you still can, check out some of this week's airfares.
If you're interested in any of these deals, there's no time like the present and no telling when some may end. Here are this week's Last Chance Deals.
Deals in bold were posted this week.
Expiring today
#Business Class on Skyteam & Star Alliance: $1300's RT Europe to USA: The fares from Brussels are gone, but those from Berlin continue to be available on both alliances between $1374 and just over $1400. These could be a great use of the Business Platinum pay-with-points rebate if you're looking for a last chance at it.
Airfare: San Francisco to Mexico City $153 RT, Cancun $190 RT: The fare to Cancun is no longer available, but Mexico city still is. Other cities in Mexico may also be available — for example, San Francisco to Acapulco for just $225 round trip.
HOT: Business Class, Jun/Jul/Aug NYC-Naples from ~$1860 RT; Sicily less / France for $2k: Surprised these are still around, though great business class fares are becoming more and more common. All of the fares in this post (or very close to them) are still available — though you will need to change dates on some of them when clicking through to Google Flights. Terrific use of the Business Platinum pay-with-points rebate while you still can or British Airways Extreme Stacking / Alaska Airlines premium bonuses. Check the post for details.
Fly away Friday: Business Class to Europe or South America under $2K, Economy deals to Asia: The vast majority of these fares are still available (+/- $20). Most of the Chicago to China fares are gone (though Chicago-Beijing is still alive) — but the flights from Boston to China and those from both the East and West Coast to Europe are all still alive. The sub-$2k round trip business class fares from New York to Frankfurt, Barcelona, Naples (noted above), or Stockholm (direct) are all still available as well.
#Business Class to Europe under $2K on Singapore, Delta, United, American & more: Again, all of these city pairs continue to have sub-$2k fares — and Toronto to Moscow has now dropped again to $1769 RT on Oneworld carriers (great way to bank a nice haul of Alaska miles! Read my post from this past week for a little bit of info on that idea).
Fly to Asia or Europe: From $599 on Singapore economy, $1100 in premium economy: Great fares for travel on one of the world's best airlines. The premium economy fare can be upgraded to business class with miles. Of note, Delta has dropped premium economy pricing on to $860 RT, but those flights are not direct.
Ooh la la – Paris for Valentine's Day: $367 round trip and many more airfare deals: Tons of  sub-$400 round trip flights to Europe still available, some starting as early as mid-August.
New Amex Offers: Saks, Hilton Garden/Hampton, Nike, Reebok, Uniqlo and more: These offers have varying expiration dates, with most in May, June, and July. Popular offers sometimes disappear sooner, so add them to your cards before they are gone.
Get 50k AA miles with new DirecTV service & contract: When I click the link, the offer initially shows 25K AA miles. After a minute or two, the offer refreshes to show the higher bonus. 50K miles is more generous than what we normally see for DirecTV sign up incentives. The current "promotional" pricing is slated to end May 20th, but the 50K mileage payout could end sooner. If you're interested, consider taking advantage sooner rather than later.
Autumn fares to Europe fall: East and West Coast to Scandinavia from $360's RT (or less) and From ~$309 RT Aug/Sept/Oct on Star Alliance, Oneworld, & Icelandair: East Coast to Scandinavia: Many of these great fares continue — with prices from the $360's on Oneworld/Skyteam/Star Alliance. Some of these routes are covered in sales above, but others are uniquely in these posts. Remember that flights within Europe can be very cheap — so even if these don't fly into the city you'd like to visit, you may be able to combo these sales with a cheap one-way to the city of your choice.
$100/10k points per referral with Chase Freedom and Sapphire Preferred [Targeted?]: Chase referral bonuses come and go. I do not see an end date in the terms of any of my referral offers, but these increased offers surely won't last forever.
Other Limited-Time Offers
Sign-up Bonuses
Travel
Shopping/Spending Deals
Bank Account Bonuses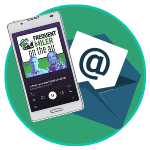 Want to learn more about miles and points?
Subscribe to email updates
 or check out 
our podcast
 on your favorite podcast platform.